Falcons WR Roddy White ruled out for Week 8 vs. Cardinals
The Falcons have ruled out Roddy White (ankle/hamstring) for Sunday's game against the Arizona Cardinals.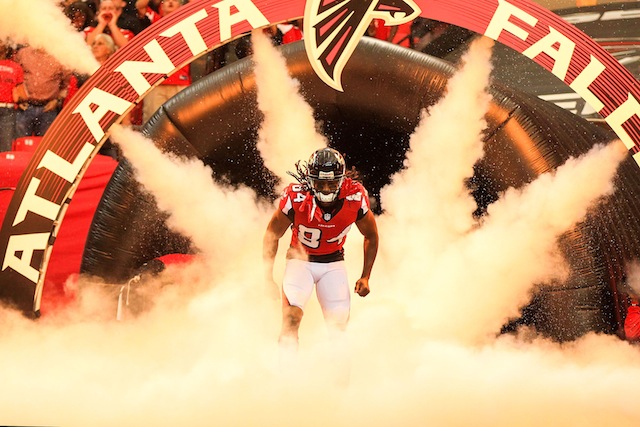 Falcons wide receiver Roddy White officially has a new streak going now.
White, who played in 133-consecutive games before missing the Falcons Week 7 game against Tampa Bay, will miss his second game in a row due to the same hamstring and ankle injuries that sidelined him for the Buccaneers game. 
It's been a rough month for the iron men of the NFL. Three players who hadn't missed a game in over eight years all missed a game in October. Besides White's 133-game streak, the 134-game streak of Cowboys defensive end DeMarcus Ware also ended. The 189-game streak of Colts wide receiver Reggie Wayne will officially end in Week 9. Wayne tore his ACL against the Broncos in Week 7 and will miss the Colts next game on Nov. 3. Indianapolis has a Week 8 bye. 
The longest active consecutive games streak by a non-kicker currently belongs to Redskins linebacker London Fletcher, who's played in 246 straight games dating back to 1998. 
As for White, before Week 7, he had never missed a regular season game in his nine-year career. Quarterback Matt Ryan made the most of a bad situation in Week 7, playing without White or Julio Jones (fractured foot), Ryan threw for 273 yards and three touchdowns in a 31-23 win over Tampa Bay. 
Falcons receiver Harry Douglas, who shot up the depth chart after the Jones and White injuries, caught seven passes for 149 yards and a touchdown in the win. 
Backup running back Jason Snelling (ankle) has also been ruled out. With Steven Jackson still hobbled by his hamstring injury, the Falcons could find themselves relying on Jacquizz Rodgers against Arizona. 
The NFC is going to be a blast to watch down the stretch, but don't sleep on the Patriots'...

The Dolphins just created a serious shock in the AFC and MVP races by beating the Patriots

With their 2017 season basically over, it's time for Texans fans to turn their attention to...
Now 10 different players have intercepted Tom Brady multiple times in one game

Brady lofted it between two defenders and Lewis snatched it with one hand