Favre jersey retirement likely off in 2014 because Packer fans might boo
Brett Favre probably won't be getting his jersey retired in 2014 and one of the reported reasons is because the ol' gunslinger is worried about getting booed at Lambeau Field.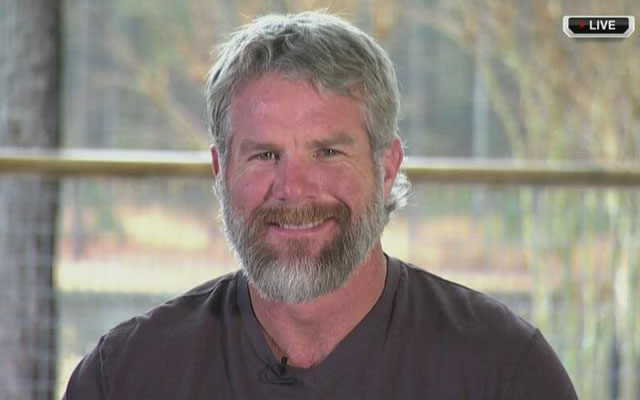 Green Bay Packers president Mark Murphy has said for over a year now that the team plans to retire Brett Favre's jersey. Apparently that retirement ceremony won't be happening in 2014 though. 
Murphy said on Thursday that the two sides have a good relationship, but it's unlikely Favre's No. 4 will be retired this year. 
"I don't anticipate having him retire a number this season, in a game this year," Murphy said, via ESPNWisconsin.com. "We have very good relations, and very good communication, but I don't anticipate that this year."
If Murphy's going to stick to his original plan, that pretty much leaves the 2015 season as final chance for the Packers to retire Favre's number. Murphy has said he'd like the ceremony to happen before Favre's inducted into the Pro Football Hall of Fame, something that could happen as soon as 2016. 
Asked if that was still the timeline, Murphy said, "That's still our hope."
One thing that's been holding back a potential retirement ceremony at Lambeau Field is Favre himself. The former Packers quarterback is apparently worried that he would be booed and he doesn't want to be honored if he's going to be booed. 
"That is an issue. He doesn't want it, and neither do we," Murphy said. "He wouldn't want to come back and get booed. You can't control 80,750 people... [but] I really think as time goes on, every year that passes, it's less likely that he would get booed, but that is an issue."
According to ESPNWisconsin, the Packers wanted to bring back Favre for a game in 2013, but the whole booing thing worried him. At the time, Favre said he couldn't go because his job as a high school offensive coordinator was keeping him in Mississippi. 
The ball's in your court Packers fans. If you promise not to boo Favre, he'll show up at Lambeau Field. 
The Dallas Cowboys running back has high expectations for his performance against the Seah...

Mike Tierney has owned NFL totals and has a strong play for Chargers-Chiefs on Saturday

The former No. 2 overall pick drew interest this offseason but did not play in 2017
This matchup isn't quite as glamorous as it looked when the schedule was released in the s...

Patriots-Steelers highlights a week filled with playoff-caliber games

Cleveland's quarterback has recently improved, but his turnovers have been a big part of the...