Film study: Anthony Barr, Kyle Van Noy, Scott Crichton, Trent Murphy
Pat Kirwan takes a closer look at some front-seven prospects in the draft. He finds that Anthony Barr's best fit is as an OLB in a 3-4 defense.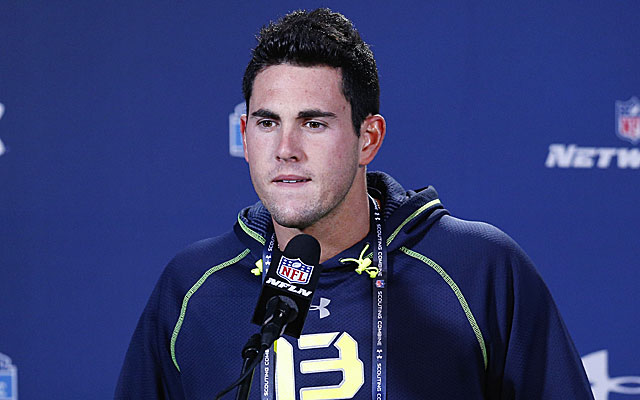 More NFL offseason: Mock Drafts | Prospect Rankings | Pro Days | Top free agents
Recently I sat down for some film review, focusing on some front-seven players who will be available in the draft. I studied Anthony Barr of UCLA, Scott Crichton of Oregon State, Trent Murphy of Stanford, and Kyle Van Noy of BYU.
Barr is a first round-talent and the other three are solid second-round players.
I watched Barr against USC and he has the first-step quicks and explosion to be a very good edge rusher and be schemed into the pass-drop aspect of the game. His best fit appears to be an outside linebacker in a 3-4. I sat down with him at the NFL combine and was more impressed with him then than I was watching the game tape.
Crichton was a pleasant surprise as a 4-3 defensive end. I watched the Utah game and it was clear he plays with a nonstop motor. He is not a dynamic pass rusher and does get squared up by offensive tackles but he plays to the whistle, pursues plays away and regularly passes his own teammates chasing down runners and receivers. He had 74 plays behind the line of scrimmage in 38 college games mostly from effort. I see him as a rotational player that runs out of gas from great effort.
Murphy lines up as an outside linebacker in a 3-4, as a 5 technique, as a 'spinner', and out on a slot occasionally. He reminds me of Mike Vrabel and Jeff Lageman, a guy we had at the Jets and eventually the Jaguars. Murphy's best trait is versatility with a strong FBI (football intelligence). Murphy is a scheme pass rusher and will win by changing up how and where he rushes from. Murphy can cover a tight end in coverage and has zone drop skills. Coaches like Bill Belichick or Dom Capers would love having Murphy on their team.
Van Noy is another hybrid player who lacks the size of Murphy but can play in space and has a few nifty pass rush moves. I watched the Washington game and felt like I watched a combination of Chad Greenway and Teddy Bruschi. Van Noy is a solid open-field tackler that may not show up with big stats but he is a good football player. He diagnoses plays quickly and is efficient in his movement. He does struggle a bit against power.
First 10 free agents to sign
When free agency opens there will be some quick signing as usual. Agents and clubs have already talked and I would think some deals are already done. Ten guys I think will go quickly when Tuesday rolls around, in no particular order: Jairus Byrd, Linval Joseph, Arthur Jones, Eugene Monroe, Eric Decker, Michael Johnson, Alterraun Verner, Jared Veldheer, Brandon Albert and Michael Bennett.
Rule changes a hard sell
The NFL's competition committee is in Naples, Fla., dealing with potential rules changes. Safety is the driving force as well as scoring when it comes to change in the NFL. I don't expect the committee will recommend any changes in the extra-point play. As one member said, "There are too many traditionalists to make that decision." I thought the seventh team to the playoffs was a layup but I was warned that may be tough to get through as well.
Cap shenanigans
Both the Cowboys and Redskins were heavily penalized last year for signing players prior to the lockout in what was perceived as a cap manipulation. This is their rebound year from the punishment. Dallas is still using the "credit card" system of pushing off cap issues into the future. The Redskins have rebounded well with more than $21 million of cap space and are ready to do business.
A mind for the game
I spent some time with former Georgia quarterback Aaron Murray this week and was very impressed. Murray injured is knee in November but will be ready for his pro day to do everything, which should raise his draft stock. Murray was voted the toughest quarterback to face by the SEC defensive backs I interviewed at the Senior Bowl and combine. Murray is already taking his 3-5-7 step drops and throwing the ball and I expect him to make a favorable impression on his pro day and in private workouts. Wait till the coordinators and QB coaches put Murray on the board to dig into his football knowledge. We talked X's & O's and he is outstanding.
Free agents like Colts
The signing of linebacker D'Qwell Jackson on a four-year, $22 million deal is just the tip of the iceberg in Indianapolis. The Colts have close to $40 million in cap space and as Jackson said he wanted to go to a team with a good young QB and a team with a chance to win now and for the next few years. I got the feeling a number of good young veterans on the free agent market are looking at the Colts as the place they want to go. I could see an offensive tackle like Monroe, a wide receiver like Decker, a safety like Byrd, and a corner like Verner in their sights when Tuesday rolls around.
Baker Mayfield and Josh Allen took the field, but RBs and defensive front seven players stole...

Joseph cited Drew Brees when explaining why he's not concerned about the Oklahoma quarterb...

'She was dead serious,' Feely said
Place your bets, you proud and degenerate Americans

The Lions fired Jim Caldwell and kept some assistants in place, so Patricia is setting his...

Is there an NFL conspiracy that will help the Patriots win another Super Bowl? We investig...