Finding coordinators can be tougher than finding head coaches
Unless teams have targeted a free agent for their coordinator opening, they might find their first choice is unavailable.
• 1 min read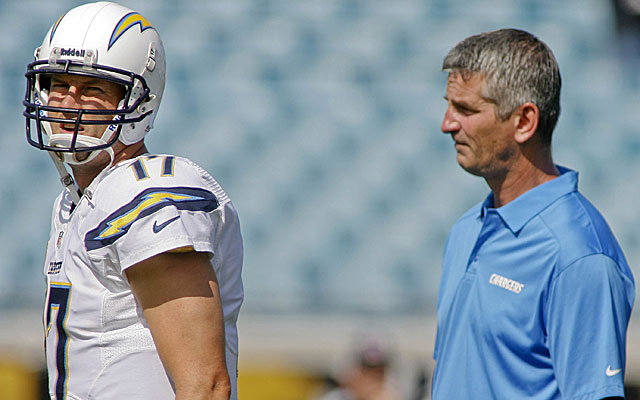 Candidates for offensive and defensive coordinator positions who are not contractually bound to another team have a distinct advantage.
In an era when NFL teams have made a habit of blocking top assistants for coordinator jobs, other coaches who were either out of the league last season or who have expiring contracts could be well positioned to fill any openings.
As head coaches begin to get hired, the task turns to finding the right staff. Many position coaches who might be coveted as coordinators -- Chargers quarterback coach Frank Reich or Eagles quarterback coach Bill Lazor, for example -- might not be allowed to leave. San Diego in particular covets Reich as the replacement for offensive coordinator Ken Whisenhunt, who was asked to interview for four jobs.
However, Packers quarterback coach Ben McAdoo, whose deal is up, is expected to be a top candidate for the Dolphins coordinator opening, and he could interview for the Giants' coordinator vacancy as well. Longtime former coordinators Ed Donatell and Gregg Williams, whose deal is expiring with the Titans, are well positioned (Williams could get consideration for the Titans' head coaching vacancy). So are Browns coordinators Norv Turner and Ray Horton, who are free to pursue other jobs. Former Bills head coach Dick Jauron, who led the Browns' defense in 2012, could also be in the mix somewhere.
In many ways it is more difficult to get premier coordinators than it is to get head-coaching candidates, given how frequently teams block assistants from interviewing, but it remains a crucial part of the process.
The Steelers beat the Falcons while the Saints topped the Chargers

Boldin, 36, who ranks ninth in career receptions, is calling it quits after 14 NFL seasons

Reed's toe is healed but can the oft-injured tight end stay healthy?
The Cardinals rookie safety might have a career in break dancing when he's done with the N...

All signs point to Lynch, the former first-round pick, not beating out Siemian in Denver

The NFLPA executive director comes out out firing in a 'Real Sports' segment