Fired Dolphins trainer Kevin O'Neill hires law firm to defend name
Former head Dolphins trainer Kevin O'Neill, who was fired last month based on the findings in the Ted Wells report, has hired a law firm to represent him.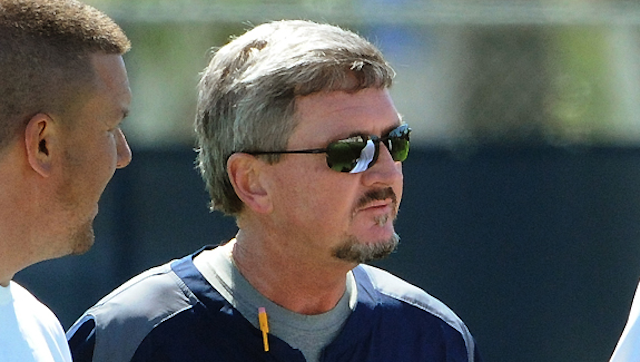 More NFL offseason: Mock Drafts | Prospect Rankings | Pro Days | Top free agents
Former head Dolphins trainer Kevin O'Neill, who was fired last month based on the findings in the Ted Wells report, has hired a Palm Beach-based law firm to represent him in what could be a contentious wrongful termination lawsuit, the Palm Beach Post reports.
O'Neill, who was with the Dolphins for 18 years, was accused in the Wells report of being uncooperative and expressing "hostility toward our investigation."
Dolphins tackle Johnathan Martin, who left the team in late October amid accusations that he was bullied by teammates, alleged that O'Neill would sometimes laugh when other players would make jokes and crude remarks about Martin's sister.
"Martin maintained that Kevin O'Neill, the Dolphins head trainer, also heard such remarks [about Martin's sister] and even laughed at them from time to time," the Wells report read. "On one occasion, according to Martin, O'Neill pulled him aside and told him he was too nice and needed to stand up for himself more."
Along with players Richie Incognito, Mike Pouncey and John Jerry, O'Neill was also accused of making fun of an assistant trainer's Asian heritage.
O'Neill's attorneys deny that the former Dolphins trainer laughed at racial jokes, and when he did laugh it was no different than Martin laughing at those very same jokes.
More details via a rebuttal from O'Neill's attorneys provided to the Post:
The Wells Report comes nowhere near supporting the decision of the Dolphins' management to sack Mr. O'Neill Instead it demonstrates that Kevin O'Neill was improperly singled out to placate an understandable public outcry for action in response to what was publicly portrayed as intolerable workplace bullying.

The Wells Report invited 'anyone with a stake in this matter…to disclose any additional information [they might have].' On behalf of Kevin O'Neill, whose stellar and hard-earned reputation is at stake in this matter, we accept that invitation.

We begin by examining the totality of the 'evidence' described in the 148- page report relied upon to justify Mr. O'Neill's termination. In fact, Kevin O'Neill is referenced with respect to only two incidents:

* first, there is the uncorroborated assertion by Jonathan Martin that Mr. O'Neill heard unspecified vulgar comments about Martin's sister 'and even laughed at them from time to time;'

* second, Mr. O'Neill 'allegedly even laughed at some of the racial insults' directed at his Asian Assistant Trainer.

We do not ignore the fact that vulgar verbal attacks on one's sister can be "fighting words," but the fire-able offense with which Kevin O'Neill was charged had nothing to do with his speaking those words. There is no assertion that he ever spoke such words. The crime he is said to have committed was "laughing," If laughing at vulgar, tasteless humor is to be elevated to cause for terminating without warning an employee with decades of flawless service, then our entire country will face a monumental labor shortage.
The rebuttal concludes with this: "Since the publication of the Wells Report, Mr. O'Neill's character and integrity have been called into question in a very public way, and he has lost his employment. The law firm of Searcy Denney Scarola Barnhart & Shipley, P.A. is honored to have been chosen by Mr. O'Neill to represent his interests in these matters. We are prepared to take every appropriate legal measure to restore Kevin O'Neill's good name."
Days after O'Neill was fired, he was honored with the Outstanding Athletic Trainer of the Year award.
Cowboys rookie Jourdan Lewis got some good news on Tuesday.

The Ravens might need some help at running back

The Jaguars are making people rich
It looks like Michael Vick is hoping to make the transition from player to coach

The former undrafted free agent is about to get a huge raise

Both Malik Hooker and Andrew Luck are on the PUP list, so maybe it's time to start worryin...