Fired Miami Dolphins trainer wins NFL trainer of the year award
Former Dolphins athletic trainer Kevin O'Neill was honored as the NFL's trainer of the year on Friday, just two days after the team fired him.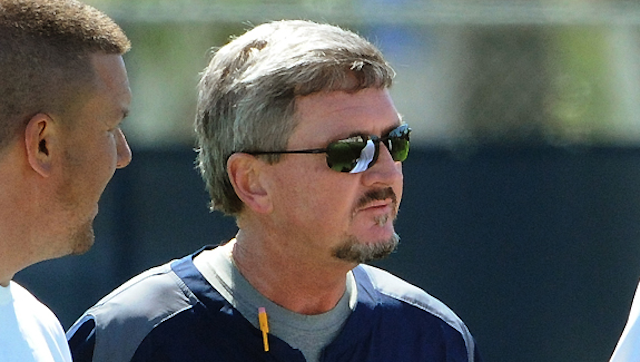 The best athletic trainer in the NFL isn't even an athletic trainer in the NFL anymore. Former Dolphins trainer Kevin O'Neill, who was fired by the team on Wednesday, was honored with the 2014 Fain-Cain Memorial Award for Outstanding Athletic Trainer of the Year by the NFL Physician's Society on Friday. 
According to the Professional Football Athletic Trainer's website, the award is given to the athletic trainer 'who best reflects the virtues of a certified athletic trainer and displays the highest level of professionalism.' The executive board of the NFLPS is responsible for selecting the winner each year. 
O'Neill was in Indianapolis on Wednesday when the Dolphins fired him, but he wasn't in attendance for Friday's ceremony. According to ESPN.com, Dolphins assistant trainer Troy Maurer accepted the award for O'Neill and read a statement on behalf of the fired athletic trainer. 
The award given to O'Neill marks the second time in less than a year that he's been honored for his work as an athletic trainer. Back in June, O'Neill was named the recipient of the 2013 Tim Kerin Award for Excellence in Athletic Training. O'Neill was only the fifth NFL trainer to win the award, which has been handed out since 1994.
O'Neill won't be winning anymore awards with the Dolphins though because he was let go on Wednesday along with offensive line coach Jim Turner. Both moves came after Dolphins owner Stephen Ross had a chance to review the Ted Wells report. In a statement, Ross said that he felt that both men exhibited 'poor judgment' and therefore had to be let go.
In the report, Wells noted that O'Neill was uncooperative and 'expressed hostility toward our investigation.' O'Neill had been with the Dolphins since 1996 and had been in the NFL since 1990 when he was the head trainer for Jimmy Johnson's Dallas Cowboys. 
The former Buccaneers kicker did not have things start well for him in Chicago

Bears special teams showed up in a big way against Arizona

Beast Mode got loose with Oakland and looked pretty impressive in the early going
Beast Mode was one of several players to sit during the Raiders-Rams game

The cleaning staff in Houston missed a couple of things while cleaning up after Super Bowl...

Marvin Jones had some serious fun in the end zone after scoring against the Jets