Five from Sunday: Rookies flying; RG3 is off; 0-2 not a Giant problem
Let's hear it for Buffalo rookies Doug Marrone and EJ Manuel after their first win together. Year 2 isn't being kind to Robert Griffin III.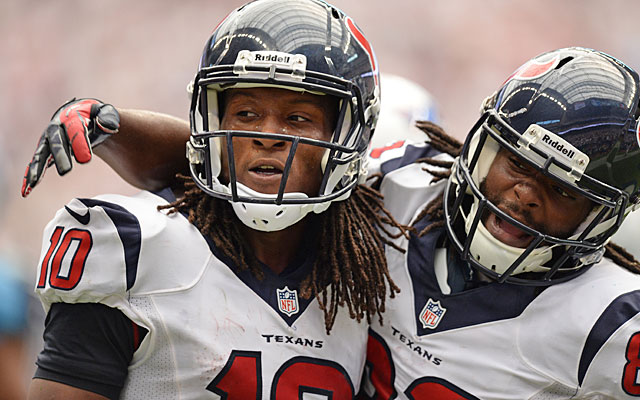 All the talk leading up to Week 2's games was DON'T GO 0-2 if you want to have a good season. The Manning brothers had a showdown that frustrated Giants fans but ignited Broncos fans with another 40-point game. There are some surprise teams that I didn't see coming and there are some real concerns emerging. I was reminded this week that you can never have enough running backs as Eddie Lacy, Steven Jackson, Reggie Bush and Ray Rice couldn't finish for their teams this week.
1. Rookie coaches and players
It's tough to make an early splash in the NFL but I am impressed with the efforts of some rookies -- both coaches and players. Last week the seven first-year coaches went 2-5 with wins from Chip Kelly (Eagles) and Marc Trestman (Bears). This week they were 4-3, again led by Trestman and first-time wins by Bruce Arians (Cardinals), Doug Marrone (Bills) and Mike McCoy (Chargers).
Last week I pointed out rookies in the trenches who played well. This week it's time for skill players. It's tough for rookies to shine on offense this early but two guys are already looking like they belong.
Texans wide receiver DeAndre Hopkins had the winning touchdown catch in overtime and finished with seven receptions for 117 yards. At the end of two weeks he has 12 receptions and if he keeps this pace up he could end up with over 90.
EJ Manuel was awesome when I visited with the Bills this summer. Just like practice, he stood tall in the pocket Sunday and delivered the ball. Last week it was 27 pass attempts; this week it moved right up to 39. Manuel got his first win and is on pace for 3,500 yards and 24 touchdowns. EJ has a long way to go but there's something special about this young man.  
2. RG3 can't keep going this way
The Redskins defense has its own problems, allowing 1,023 yards and 71 points in two games, but it really isn't getting enough help from the offense.
It's clear the Redskins are trying to get through a few weeks without exposing Robert Griffin III to the read option and the run. He ran four times for 1 yard Sunday. Consider last week's numbers (five carries, 24 yards) and Griffin is just not a threat to run. Last year in his nine wins he averaged 7.67 runs at 7.3 yards a carry. Right now he's averaging 4.5 runs per game at 2.8 yards a carry.
Compounding the Redskins' desire to protect him is that the club has asked him to sit in the pocket and throw. In two games RG3 has called and attempted to execute 94 pass plays. Griffin throwing mostly from the pocket 47 times a game is a recipe for disaster. Last year he was 1-5 when he threw 28 or more passes and he was sacked 17 times in those six games. He has been sacked four times in the first two games this season so you have to wonder how safe it is in the pocket.
The next few opponents will come with a plan to rush him and not worry about the read option. That could mean teams give their outside pass rushers a two-way go on the offensive tackles without worrying about Griffin breaking loose. Redskins left tackle Trent Williams told me over the summer no one crossed his face rushing Griffin last year because they were afraid of Griffin breaking containment. There will be more stress on the offensive tackles in the coming weeks.
3. The 0-2 Club
Much was said late last week about the perils of being 0-2. In the past three seasons, 21 teams were 0-2 and none made the playoffs or even finished with a winning record. Well, I choose not to go by the numbers and won't cancel the season for all the 0-2 teams.
I see the Giants as a team that pulls itself out of the early-season woes and fights its way back into the playoff race. After two games New York has turned the ball over 10 times. That will be cleaned up under Tom Coughlin. Eli Manning has thrown for 812 yards in two games and connected with nine different receivers. Remember, the Giants were 0-2 back in 2007, when they crawled back into the race and went on to win the Super Bowl.
As for the other 0-2 teams, I don't think they have the quarterback play to turn their fortunes around.
4. Sometimes it goes unnoticed
The NFL is turning into a tight-end league. With all the rules about contact on receivers past five yards and coaches flexing tight ends out into slot positions, the big men are getting a lot of free releases and balls coming their way.
I sat watching the games Sunday with Hall of Fame tight end Shannon Sharpe, who started the trend of athletic tight ends who sometimes need to be treated like wide receivers. This past weekend the Saints' Jimmy Graham was the headline story with his 10 receptions but he wasn't alone. Around the league, 41 tight ends caught 127 passes and eight touchdowns.
Sometimes it is so subtle when tight ends are hauling in passes. I watched the Broncos-Giants game and there were 18 receptions by tight ends. There's still a game to go Monday night with tight ends like Tyler Eifert, Jermaine Gresham and David Paulson.
5. Some things to think about
• The Broncos have scored 90 points in two games. If they keep up this pace, they will destroy the scoring record. They could be the first 600-point team. The "Greatest Show on Turf" Rams averaged 533 points over 1999 and 2000. The two highest-scoring Patriots teams (2007 and '12) averaged 573 points. Denver plays the Raiders at home this week and should be able to keep the pace up. To get to 600 points, a team has to average 37.5 points over 16 games; the Broncos just need 36.6 over the final 14 games.
• The Kansas City Chiefs, who haven't had a turnover in two games, could be a challenge to the Broncos.
• The Eagles went from some kind of futuristic offensive machine right back down to earth in one week. The little regarded Chargers -- playing on a short week, traveling across the country -- reduced the Eagles offense to 58 plays while having 79 plays themselves.
• There were 15 400-yard passing performances last season. It's only Week 2 and we already have six 400-yard games from quarterbacks. I have a feeling there will be at least twice as many 400-yard passing games this year as 2012. To grasp where the passing games are headed, consider that in 2008 QBs cracked 400 yards just eight times; in 2009, seven; in 2010, 11; in 2011, 18 times. We are watching the passing game headed to new levels.
Pick Six Newsletter
Get the day's big stories + fun stuff you love like mock drafts, picks and power rankings.
Please check the opt-in box to acknowledge that you would like to subscribe.
Thanks for signing up!
Keep an eye on your inbox for the latest sports news.
Sorry!
There was an error processing your subscription.
Andrew Luck and Lamar Jackson had some trouble on Monday night, while Joe Flacco was impre...

Josh Allen is still getting closer and closer to winning the Bills' starting job

The Browns are holding firm in their belief that Mayfield shouldn't be given a chance to s...
Right tackle Rob Havenstein scored a four-year extension on Monday

Ryan's comments came in the context of getting it's a business, but he won't get another chance...

Floyd, the Bears' only good pass-rushing outside linebacker, might be forced to play with a...