Five questions (or more): NFL punter/book author Chris Kluwe
We have an update on former Vikings punter Chris Kluwe, now a free agent punter who's selling a book of essays.
• 6 min read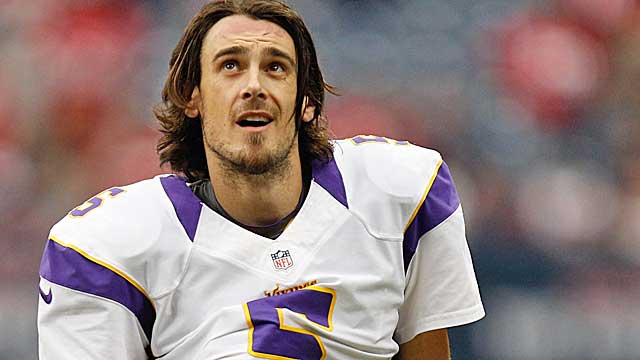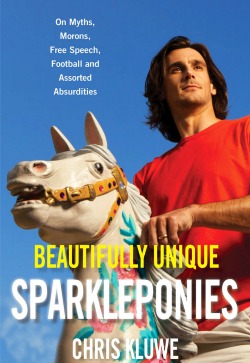 Chris Kluwe is a free agent punter, and by most accounts, he's the most outspoken free agent punter that we've ever seen. Which might, in part, be one reason he's currently a free agent punter in the first place. But Kluwe isn't staying quiet, and he's not staying inactive.
I talked to Kluwe for my personal podcast, Mightier Than the Sword to discuss the process of writing and his new book, Beautifully Unique Sparkleponies, but we also got to talking about his current free agency and how he's dealing with a change in routine. If you want to hear the full hour-plus long interview, click here or subscribe in iTunes -- a warning: some of the language is explicit.
1. CBSSports.com: So, what's life like for you now? I've talked to people in the past about what they've done [when they're free agents during the season and trying to find a job], but what's it like for you now as a guy who is a free agent and the future is unknown? It's almost like you're in purgatory. How are you dealing with that, and what do you do?
Chris Kluwe: Pretty much just the usual. Diving for sunken treasure in the Mediterranean, fighting off Nazi smugglers, wrestling bears. Just trying to stay in shape.
CBS: Right, right.
Kluwe: It's the standard football-not-employed lifestyle.
CBS: Is it tough, though? I mean, you've been employed since 2005.
Kluwe: Yeah, yeah. It's definitely a change in routine in that I'm used to during the season having a very regimented schedule. You wake up at certain time, you go to the facility, you have meetings, you have practice, you come home and you have six or seven hours to unwind. Then you go to sleep and wake up and do it all over again the next day. Having that schedule not be the same is very different. But at the same time, I'm really enjoying being able to see my family, which is nice.
2. CBS: I guess at some level, football players are used to that kind of regiment, much as you would if you were in the military. Now, you're in a free-flowing freeform kind of [lifestyle]. Do you like being free to do what you have to do?
Kluwe: I enjoy it. It's probably a little different for me, just because I'm a specialist and I'm used to more doing my own thing. A quarterback has to know the gameplan for that week, has to study film, and they have to be prepared for what plays they're running in practice that day. My schedule is essentially: kick it straight, kick it right, kick it left. It never really changes. It's a lot easier for me [now] to go out and be like, "I'm going to get my 45 minutes to an hour of punting today and then go weight-lift, and then I'm good for the day."
3. CBS: The book is obviously the big thing right now. It seems like a lot of people are digging this thing … Just the concept of doing it, you said about how these were ideas that had been running around in your head. What made you decide to do it?
Kluwe: Initially, it was because I had multiple publishers come to me and say, "You should write a book." The first couple I was like, "No, I'm busy with football right now. Maybe once I'm done playing football." After six or seven publishers say you should write a book, it occurred to me that this was kind of the same thing that if six or seven NFL teams said you should play football. These people are in charge of books. If they say you should write a book, you should write a book.
One of the main things was I didn't want to make it the standard autobiographical football book. That's what everyone does. I wasn't done playing football. That can wait until after football. What people seemed to latch onto was the letter I wrote to [Maryland state] delegate Emmett Burns that went viral [Ed. note: you can read that letter here, but be forewarned: it's graphic]. That was kind of a quick essay-type piece that addressed one specific topic. I wanted the book to be a whole series of those essay-type pieces that dealt with different topics or the continuation of one topic. One of the main themes is this idea of rational empathy. Then the trick was finding a publishher who would allow me to do it. Little, Brown and Company said, "Write whatever you want, and we will print it." I said, "That's great. Let's go with them."
CBS: That's great freedom.
Kluwe: From talking to people, I hear that generally doesn't happen with your first book.
CBS: Or your second or third or your fourth book ... I've written a couple of books, and the main [issue] is that you need to be writing about someone who's famous or you need to be famous yourself. And it's like, "Well, how do you get to be famous if you can't write a book unless you're famous?"
Kluwe: A complete catch-22.
CBS: Most of those people who are writing autobiographies, it's not written in their handwriting or their own words and they have ghost writers. With you, it's like, "At least, this guy can write. Even if he gets to the head of the line, it's deserved because it's good."
Kluwe: One of the great compliments I've gotten is from people who say that I'm not a football player who knows how to write, but that I'm a writer who happens to play football.
4. CBS: Are you a writer who plays football? Is that how you see yourself
Kluwe: I would say that's how I see myself. Football is how a lot of people know me. But one of the key things I point out in the book is that you can't describe somebody by just one label. You can't boil someone down to one concept and expect to encompass the entirety of who they are. I've been reading books and playing video games far longer than I've been playing football. Football is basically the way I fund my nerdy hobbies. … I like to look at the world. I like to see what happens. I like to comment on it. That's what everyone should do, because we all live in this world.
5. CBS: This question was asked when you parted terms with the Vikings, but your special teams coach said you were a distraction. Did your outspokenness, even if it wasn't all about marriage equality, did that hasten the end in Minnesota?
Kluwe:(Laughs) So many people have asked about that. I will go with the stock answer. I do not know what the coaches and the GMs use as their rationale. At some point when I'm done playing football, I'm sure I will a write a book, and I'm sure those issues will be addressed.
Follow Josh Katzowitz on Google+
Josh Nagel went 4-1 on Super Bowl prop bets and shares his favorite props for Vikings-Eagl...

At least one reputable online sportsbook took the Pats off the board due to hand injury ne...

Diggs has turned into a top receiver with Shurmur calling the Vikings' plays
Stormy Daniels says that the president had the Steelers QB walk her to her room after an e...

One of the weirdest athlete couples in recent memory have been friends for a while

There is a lot on the line for everyone involved in Conference Championship weekend