Five-time Pro Bowler Irving Fryar indicted on conspiracy charges
Irvin Fryar is a pastor at a New Jersey church that he founded. On Wednesday, he was indicted.
• 1 min read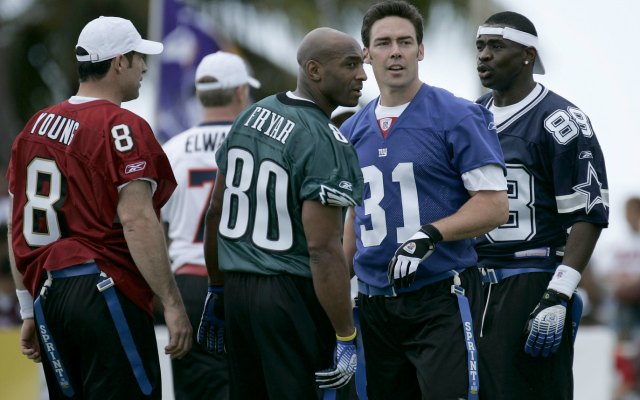 Five-time Pro Bowl receiver Irving Fryar has been indicted on charges of conspiracy in theft for a mortgage fraud scam, according to the state's Attorney General (via The Times of Trenton).
Fryar -- who played for the Patriots, Dolphins, Eagles and Redskins from 1984-2000 -- was more than solid with New England, making between 54 and 88 catches every season from 1990-97. His 851 career receptions ranks 18th on the all-time list, and his 12,785 career receiving yards ranks 15th.
But New Jersey prosecutors say Fryar, now 51, and his mother, Allene McGhee, conspired to steal almost $700,000 when McGhee took out five home equity loans on her house within a six-day time period in 2009.
"This is not a case in which Mr. Fryar and his mother simply omitted or misstated information on loan applications," acting attorney general John Hoffman said in a statement. "This indictment alleges that they engaged in an elaborate criminal scheme that was designed to defraud these banks of hundreds of thousands of dollars. It is disappointing that someone with an illustrious career in professional sports who now is a minister and coach in the community is charged with this crime, but he must face justice like anyone else."
Fryar is now the pastor of New Jerusalem House of God in Mount Holly, N.J. This is what Fryar said in August when discussing his decision to start that church and to help coach a local high school football team.
"It's always been in my spirit," Fryar said. "It's always been a part of my calling and a part of my purpose to help young men become grown men. I learned the hard way. Made enough mistakes for 12 people. That's what I had to do in order to become the person I am today."
One of the Steelers best players continues to hold out

The Steelers beat the Falcons while the Saints topped the Chargers

Boldin, 36, who ranks ninth in career receptions, is calling it quits after 14 NFL seasons
Reed's toe is healed but can the oft-injured tight end stay healthy?

The Cardinals rookie safety might have a career in break dancing when he's done with the N...

All signs point to Lynch, the former first-round pick, not beating out Siemian in Denver