Ted Marchibroda, the former head coach of the Colts and Ravens, died Saturday. He was 84 years old.
Marchibroda coached the Baltimore Colts from 1975 to 1979, and ended up returning to the team, which was then based in Indianapolis, from 1992 to 1995. In his nine-year Colts career, he compiled a 71-67 overall record and won three division titles.
"We are extremely saddened and mourn the loss of Ted Marchibroda," Colts owner Jim Irsay said in a statement. "He had a proud history not just with the Colts, but also as a player, coach and broadcaster for over half a century with the NFL. Ted was an innovator and turned the Colts into an instant playoff team when he took his first head coaching role in 1975. Ted was as humble as they come, and he represented the Colts and our community with class both off the field and on. He was beloved by many, and will be sorely missed. Our thoughts and prayers are with his wife, Ann and their family."
After his second stint with the Colts ended, Marchibroda went back to Baltimore, this time to serve as the Ravens' first ever coach. Marchibroda went 16-31-1 with the Ravens, ending his coaching career after the 1998 season.
"Ted is a founding father of the Ravens. He was a tremendous competitor and a tough man with a gentle soul," Ravens general manager Ozzie Newsome said in a statement. "In a way, he set the Ravens' path. He wanted players who owned what he called 'a football temperament.' Those are players who love all aspects of the game -- the mental part, lifting weights, practice and the physicality. That eventually became what we now call 'Playing Like a Raven.' Ted taught me more about football. He was classy in every way. Our prayers and thoughts are with [his wife] Ann and the Marchibroda family.'"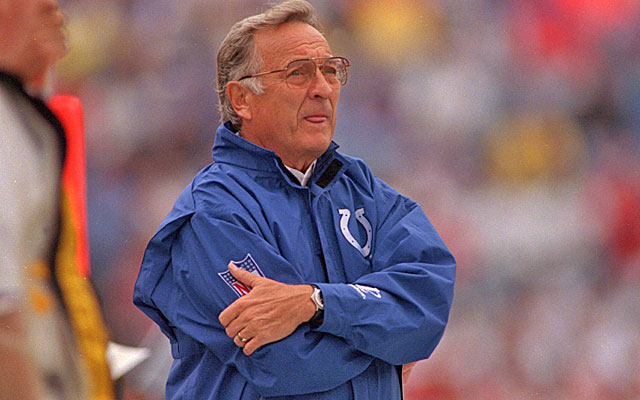 In all, Marchibroda accumulated an 87-98-1 record in 12 years as an NFL head coach. He also played for the Pittsburgh Steelers and Chicago Cardinals from 1953 to 1957, sitting out in 1954 to serve in the Army. Per ESPN, he also coached as an assistant for the Washington Redskins, Los Angeles Rams, Chicago Bears, Detroit Lions, Philadelphia Eagles and Buffalo Bills.
Interestingly enough, Marchibroda was the first coach to hire current Patriotscoach Bill Belichick for a coaching job. At the time, Belichick was 23 years old and served as a Colts special assistant in 1975.
Ted Marchibroda told me the story last year why he hired Belichick for $25 per week in 1975 pic.twitter.com/vdhO4Y4Lfl

— Jeff Howe (@jeffphowe) January 16, 2016
After he died, those who knew him paid tribute to him.
We lost a great coach, player, and man today in our @Colts family. Love you Coach Marchibroda. #OneFamily pic.twitter.com/3zhrNY2l3X

— Carlie Irsay (@cirsay) January 16, 2016
Ted Marchibroda was an amazing coach & man, I feel truly honored to have known him. Rest in peace coach. pic.twitter.com/ijBM7rApiN

— Kalen Irsay (@kalenirsay) January 16, 2016
R.I.P. & Let 'Er Rip. Ted Marchibroda, a Life-Changer, a Winner & a Champion all the way. Forever Proud to be ur QB. pic.twitter.com/usV6F27OXk

— Coach Harbaugh (@CoachJim4UM) January 16, 2016
Caught up with former #Bills WR Andre Reed on Ted Marchibroda's passing just now. "The man upstairs got a good coordinator."

— Tyler Dunne (@TyDunne) January 16, 2016
Ray Lewis Coach Marchibroda: "Ted was a truly awesome individual." https://t.co/JnNI26ZObP pic.twitter.com/iX50Dab6Wv

— Baltimore Ravens (@Ravens) January 16, 2016
RIP Ted Marchibroda. Sad day for Colts Nation pic.twitter.com/qewgFVz7iD

— Jim Irsay (@JimIrsay) January 16, 2016
Marchibroda is survived by his wife, Ann, and their four children.