Former Cowboy Joseph Randle arrested for fourth time in 17 months
Randle was previously arrested after shoplifting from a mall, a domestic disturbance with his ex-girlfriend, and an incident at a casino.
Joseph Randle, a former fifth-round draft pick of the Dallas Cowboys who was the starting running back for six games in the 2015 season before being released, was arrested early Monday morning. It was his fourth arrest in the last 17 months.
Per a report from the Dallas Morning News, Randle showed up at the home of his ex-girlfriend sometime shortly before 3 a.m. hoping to sleep there before driving back to Kansas, where he resides. He was not welcomed into the home and the residents called the police instead. Upon arrival, police ran a warrant check and discovered that Randle was wanted on a speeding charge by police in Coppell, Texas. He was then taken to the Irving Jail and his bail was set at $359.
The arrest was Randle's second arrest since being waived by the Cowboys in early November. Three weeks after his release, Randle was arrested at the Mulvane Kansas Star Casino after causing disruptions on the casino floor. He was asked to leave, which he did, but then returned to the floor and began arguing and scuffling with officers. He was taken to the county jail.
Prior to that arrest, Randle was suspended by the NFL for four games as a result of a prior arrest that stemmed from a domestic incident (during which he was also cited for possession of marijuana) with his ex-girlfriend in Wichita, Kansas last February. The Wichita police city attorney's office declined to press domestic violence charges due to lack of evidence. A few months before that (in October 2014), Randle was arrested for shoplifting after Frisco police determined he tried to steal underwear and cologne from from a department store.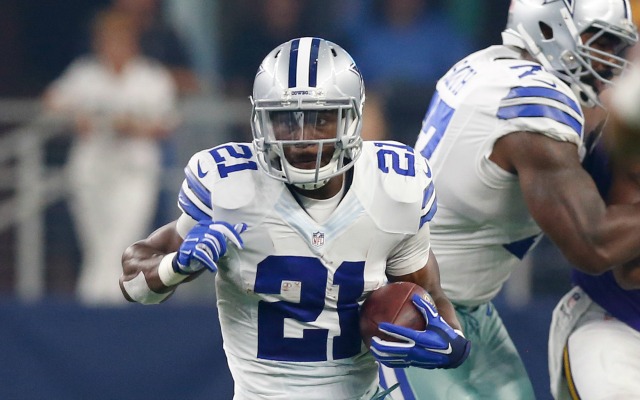 The Titans are getting ready to unveil a uniform that won't be 'anything close' to any other...

The NFL announced on Friday that 32 compensatory draft picks have been awarded to 15 teams
Jonathan Martin's old high school was forced to close on Friday after he appeared to threaten...

It doesn't look like the Jaguars will be making any front office changes anytime soon

The Buccaneers quarterback received a citation after causing a car wreck February 13