Former Falcons S Ray Easterling's life ends in suicide
According to Fox Sports, former Falcons safety Ray Easterling, suffering from dementia, committed suicide Thursday in Richmond, Va.
• 1 min read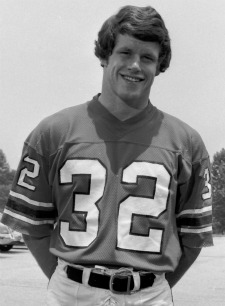 Ray Easterling played for the Falcons from 1972-79. (AP)
As more and more former NFL players continue to join lawsuits against the NFL, claiming the league didn't do enough to protect them from head injuries (
the latest
was a charge led by Alex Karras), one former player involved in a suit has taken his life.
According to
Fox Sports
, former Falcons safety Ray Easterling committed suicide Thursday. Richmond, Va., police told the website that the gunshot injury to Easterling's head was self-inflicted.
"Based on our investigation, we are ruling it a suicide," police captain Yvonne Crowder said.
It's yet another suicide from a former player who was said to have suffered dementia in his post-football career, including Dave Duerson (who made sure to shoot himself in the chest so researchers could study his brain), Andre Waters and Terry Long.
Easterling's wife said her husband had been suffering from depression and insomnia for the past two decades, and he also underwent 25 orthopedic surgeries since retiring from his eight-year career (he played from 1972 to 1979, all in Atlanta). He had been diagnosed with dementia in March 2011.
"He had been feeling more and more pain," his wife, Mary Ann Easterling, told Fox Sports. "He felt like his brain was falling off. He was losing control. He couldn't remember things from five minutes ago. It was frightening, especially somebody who had all the plays memorized as a player when he stepped on the field."
May Ann Easterling found her husband early Thursday morning with a handgun nearby and called police at 6:14 a.m.
"He was one of the hardest working football players, most disciplined football players I've ever played with," Greg Brezina, a friend and former Falcons teammate, said via
USA Today
. "He loved the lord. We roomed together in training camp and every morning we would get up early and pray for everybody on the team. We did that every day. He was a very unselfish person."
Now, unfortunately, Easterling has simply become part of a disturbing trend where former players figure the only way to end their pain is to take their lives.
For more NFL news, rumors and analysis, follow @EyeOnNFL on Twitter, and subscribe to our Pick-6 Podcast and NFL newsletter. You can follow Josh Katzowitz on Twitter here: @joshkatzowitz.
The 2004 quarterback class featured Eli Manning, Philip Rivers and Ben Roethlisberger; is 2018...

With just a few days until the 2018 NFL Draft things are starting to become a little more...

Here is everything you will need to know to follow the draft this year
Callaway was already entering the draft with plenty of concerns about his issues away from...

The Patriots' superstar confirmed on Tuesday that he'll be back for another season with the...

He also explains why he's the best quarterback in this year's draft