Former Giants safety Deon Grant announces his retirement
After 11 seasons in the NFL and after sitting out the 2012 season, former safety Deon Grant has decided to retire.
• 1 min read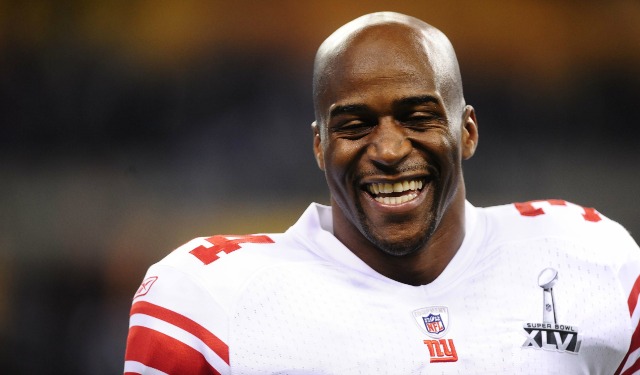 After an 11-year career in which he played (and mostly played well) for four teams, safety Deon Grant has announced his retirement.
It's not a big surprise since Grant didn't play in the 2012 season after helping the Giants win Super Bowl XLVI. But still, Grant has made it very clear that he's done and that he wants to be known as a New York Giant.
"I want to retire as a Giant because I want to be a Giant for the rest of my life," Grant said in a statement.
In reality, he played only two seasons in New York after spending three with the Panthers, three with the Jaguars and three with the Seahawks. After sitting out his rookie season in 2000, he went on to start every game in the next nine seasons before signing with the Giants where he was a part-time starter and (an accused) part-time injury faker.




Still, his impact on the field and in the locker room won't be forgotten by his teammates.
"Deon has been a lot more than what he gets credit for," safety Antrel Rolle told me at the Super Bowl XLVI Media Day. "I don't think the defense works without Deon -- his leadership, his playmaking ability, his versatility. You name it, and he does it all."
It's just that Grant, who turned 34 in March, had enough.
"A few teams called me up, but I always said, once I win a ring, I think I'm going to leave the game," Grant said, via insidefootball.com. "My last year, I didn't have to do training camp, came in and finished the whole season without having any injuries. I feel like it couldn't get any more perfect than that. I had a couple of injuries that I had over the years that I never got fixed, that last year when I got the phone call from other teams I chose to get those injuries fixed. That solidified it for me, I didn't want to come back and play any more after that."
Follow Josh Katzowitz on Google+
Stephen Hauschka explains why it's important for white people to understand racial inequal...

Surgery is going to end Jason Verrett's season for the second year in a row

There's still a couple of celebrations you're not allowed to do in the NFL
NFL players aren't very happy with Donald Trump

NFL commissioner wasn't thrilled with the president's comments from Friday

Mike McClure, a DFS pro with more than $1M in winnings, gives optimal DraftKings and FanDuel...