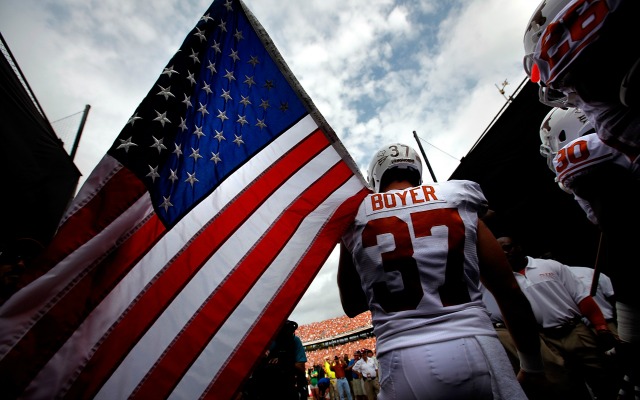 Before heading to the University of Texas to become a longsnapper, 34-year old Nate Boyer was a U.S. Army Green Beret. Per USA Today, "After serving in Iraq and Afghanistan, he decided at age 29 that he better attend college, fearing he never would otherwise. In the process of matriculating at the University of Texas, Boyer also walked onto the football team even though he'd never played a competitive down in his life."
Boyer became Texas' longsnapper, and since leaving school, he has already put on 25 to 30 pounds (he now weighs 220) as he attempts to become not just a snapper, but also a special teams contributor in the NFL. The team that will see if he can make that transition is the Seattle Seahawks, who signed Boyer as an undrafted free agent after the conclusion of the 2015 NFL Draft.
About preparing for the draft, Boyer told NFL Network on Saturday, "I've done things that are more difficult. You can't really compare the two in a lot of ways, but this is a huge challenge in itself. This is the best athletes in the world. Just to get an opportunity and be able to compete... And I'm playing for a great team in a great city. I couldn't be anymore thrilled. Just for the chance that's all you can ask for." Being that he's headed to the Seahawks, it looks like he got his wish, as they've been a great team for the last few years.
After getting the call from Seahawks head coach Pete Carroll and general manager John Schneider, Boyer said, "I'm just thrilled to get an opportunity. This is the best athletes in the world, and just to get an opportunity and be able to compete, play for a great team in a great city, I couldn't be more thrilled, just for the chance."