Former Jags LB Russell Allen suffered stroke in Week 15 last year
Jaguars linebacker Russell Allen has retired. And for good reason.
• 3 min read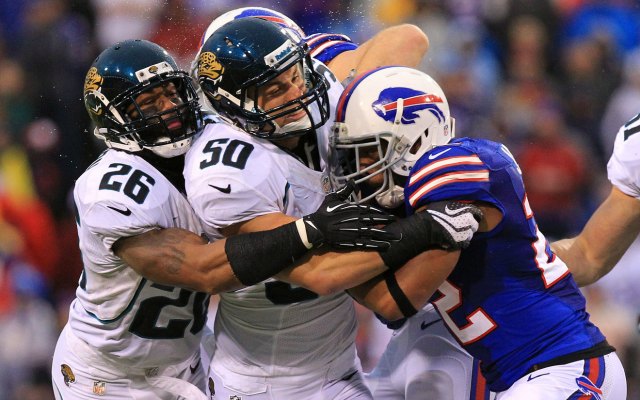 More NFL offseason: Mock Drafts | Prospect Rankings | Pro Days | Top free agents
In 2012, Russell Allen, a Jaguars linebacker who had been an undrafted free agent in 2009 but had worked his way into a fulltime starting role for the first time that year, had the best season of his career, accumulating 129 tackles.
Less than two years later, Allen is done with football for good.
As he recounts to theMMQB.com's Robert Klemko, the Jaguars cut Allen this offseason after he failed a physical. But that's only half of the story.
The other, scarier half is that Allen actually suffered a stroke in Week 15 last season vs. the Bills.
As Allen tells it, he collided face-to-face with Bills center Eric Wood during the contest, leaving Allen buzzed. But he apparently didn't think much of the encounter at first.
"It was strange because it was so routine," Allen said. "We hit, I got off the block, no big deal. I felt something flash—like they say when you get your bell rung. I didn't lose consciousness. I walked back to the huddle and finished the drive."
Later, he asked Jacksonville linebacker Paul Posluszny to look in his eyes because Allen had begun seeing double on the sideline. Posluszny said he thought Allen was fine. Then, Allen returned to the game.
With a headache that continued into the next day, Allen told the Jaguars training staff. Via Klemko, here's what happened next.
The Jaguars' medical staff ordered an MRI and sent Allen home after it was done. On Tuesday morning the trainer called Allen and told him to meet the team physician at the emergency room. Allen thought going to the hospital was only a matter of convenience, because the doctor might be doing rounds there. To his surprise he was told that he'd suffered a stroke during the 27-20 loss to Buffalo. Allen was admitted to the hospital and put through a battery of tests for three days while teammates visited and coach Bradley (and several assistants) called to offer encouragement.

... The results were conclusive: a small portion of Allen's brain was inactive. Doctors told Allen it could have been much worse, especially since he went back on the field and risked other jarring collisions. As it was, he had trouble holding onto dishes, breaking several—a symptom consistent with a cerebellum injury.

"If I could go back in time I would do it differently," Allen says. "Being in it and knowing how I felt in that moment, the game feels so serious. You're thinking, I can't come out, because what if someone else comes in and takes my job? Or they need me out there, and I can't come out because I really want to win. But you can't do that, and I learned that the hard way."
It's a tale of sadness and fear that has managed to give Allen a new perspective on his former career. For that, you should read the entire story here. Especially for Allen's reaction when he's released from the team and his 2-year-old son tries to comfort him.  
And the reason Allen told his tale in the first place?
I told my story so athletes understand you can't ignore head injuries. If you're not sure you have one, then you do. Report it immediately.

— Russell Allen (@RussellAllen50) April 22, 2014
As for Woods' reaction ...
Pretty sobering reading on ESPN bottom line that a collision I had with a LB for the Jags gave him a stroke and career over

— Eric Wood (@EWood70) April 22, 2014
Just reminds you of how fragile your career in the NFL is and you can't take it for granted

— Eric Wood (@EWood70) April 22, 2014
There are apparently some people within the Packers who are worried about him playing

Reports of Tom Brady's demise are premature

Emory Hunt has his finger on the pulse of the Boys and locked in a strong pick for 'Sunday...
Larry Hartstein has his finger on the pulse of the Bears and has a strong pick for Bears-Lions...

The Pittsburgh linebacker was placed on injured reserve Tuesday

Steelers coach Mike Tomlin wanted the Patriots and now he's got them