Former Lions WR Titus Young arrested twice in 15 hours
Free agent wide receiver Titus Young might find it difficult finding a new job after getting arrested twice in 15 hours on Sunday.
• 1 min read
After a tumultuous couple of seasons in Detroit, the Lions released receiver Titus Young in February, and it's telling that there hasn't been much, if any, interest in the talented, yet troubled receiver.
Getting arrested twice in a 15-hour span probably won't help.
But that's where Young found himself Sunday, according to the Oakland (Mich.) Press, when he was handcuffed a little after midnight for suspicion of DUI and again at about 2:22 p.m. when Young allegedly was trying to retrieve his black Mustang from a tow company yard. He has been charged with burglary in his second arrest after police say he was trying to take back the car that was impounded after his first arrest.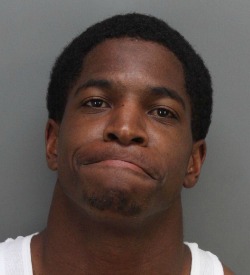 Young's mugshot. (Oakland Press)
The past two seasons in Detroit were mostly a disaster for Young. He tweeted out how unselfish he was but that if he didn't get passes thrown his way, he didn't want to play anymore. He was accused of purposely lining up in the wrong spots during games. Plus, Young has been known to sucker-punch a teammate.
Oh, and one other thing, he thinks he's a better receiver than Calvin Johnson.
All of that led to this statement from Detroit general manager Martin Mayhew: "He didn't really have any trade value. I didn't talk to anybody, I didn't call 32 GMs and try to get a seventh [rounder] or anything like that. It's my job to know sort of what his value is, and he didn't have any trade value. ...
"We made a big investment in him. Didn't work out. Move on."
The Rams, though, took a chance on him, claiming him off waivers after the Lions release. Less than two weeks later, St. Louis dropped him with coach Jeff Fisher saying, "We felt Titus is better suited for another organization."
Now, following these two arrests, there's a real question whether any other franchise will take a chance on him ever again.
Breaking down why the underdogs are very dangerous against the Patriots

All of the information you need to know about the 2018 Super Bowl

Here's all the details you need to know on watching Super Bowl LII between the Patriots and...
No one wants to give the Eagles any respect

Here's a look at the NFL's entire postseason schedule for 2018

Here's everything you need to know about Super Bowl LII