Former member of Jets cheerleading squad files lawsuit against team
Yet another NFL team is being sued by its own cheerleaders.
• 1 min read
Three times this offseason, a team's cheerleaders has sued those who employ them. First, it was the Raiderettes. Then, the Ben-Gals. Finally, it was the Jills.
Make it four. As NBC Bay Area reports, a member of the Jets cheerleading squad has filed a class-action lawsuit for unpaid wages and reimbursement of work-related expenses.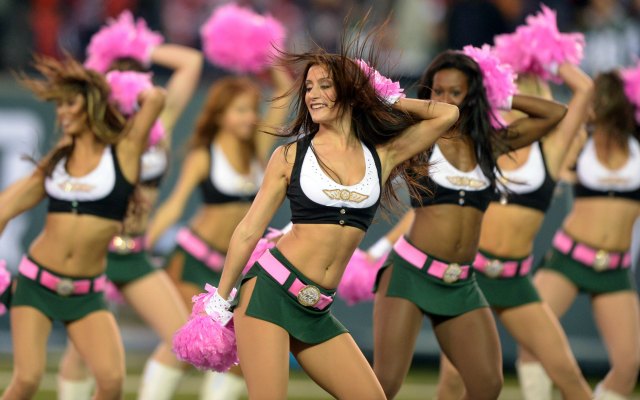 According to Krystal C.'s lawsuit, members of the Jets Flight Crew have to work three days a week at rehearsals from May to December without pay, attend charity events without pay, and "are required to spend their own money on travel, uniform maintenance and cosmetic and hairstyling requirements set by the Jets."
The lawsuit states that The Flight Crew make $150 per game and $100 per event, and with everything the team requires of her, Krystal C. calculates that she's paid $1.50 an hour, far below New Jersey's minimum wage of $8.25.
She told NBC Bay Area that she was inspired to file the lawsuit because of the Raiderettes. Krystal C. -- who cheered for one season in 2012 -- also thought she was being treated unfairly by the Jets.
"Cheering in that field in that live stadium with thousands of fans and players is an experience you'll never forget," she told the TV station Tuesday. "But I started feeling that there is this unfairness. I did all the math, and our paycheck wasn't summing up."
CBS All Access allows viewers to stream every NFL on CBS game in their local market

CBS All Access allows viewers to stream every NFL on CBS game in their local market

CBS All Access allows viewers to stream every NFL on CBS game in their local market
CBS All Access allows viewers to stream every NFL on CBS game in their local market

CBS All Access allows viewers to stream every NFL on CBS game in their local market

CBS All Access allows viewers to stream every NFL on CBS game in their local market