Former Miami OL Murtha: Martin standoffish, Incognito not racist
Another former teammate has weighed in on the Jonathan Martin/Richie Incognito situation.
• 3 min read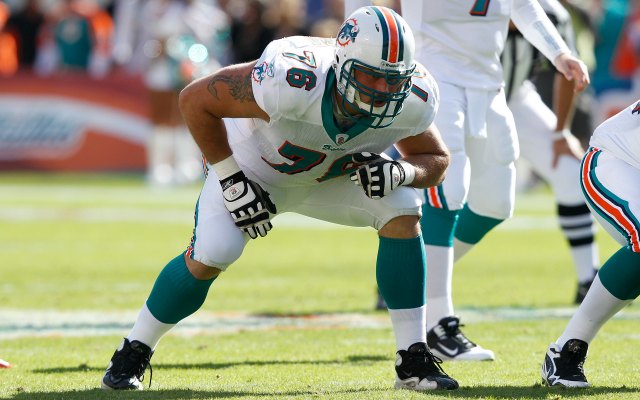 Lydon Murtha played on the Dolphins offensive line from 2009-12, so he knows guard Richie Incognito and tackle Jonathan Martin. And just like so many of the Dolphins players on Wednesday, Murtha seemed to defend Incognito more than Martin in a first-person piece for theMMQB.com on Thursday.
Murtha wrote that he considers both men friends, but he also noted that he wanted to "correct some of the misconceptions and outright lies being reported in the course of this story."
A few things Murtha -- who, like Incognito, is a Nebraska alumnus -- reported:
-From the time Martin was drafted in 2012, he didn't try to make himself part of the offensive line clique and didn't try to look anybody in the eye. In Murtha's eyes, Martin "came off as standoffish and shy to the rest of the offensive linemen." Murtha also wrote that, as far as he knew, Martin declined to pay for the so-called rookie dinner, something Murtha said he's never seen before.
-Incognito was the one who was supporting Martin when he was struggling with his play or not giving the kind of effort the team expected. He also said it appeared as though Martin and Incognito were close friends. "Richie has been more kind to Martin than any other player ..." Murtha writes. "The crap he would give Martin was no more than he gave anyone else, including me. Other players said the same things Incognito said to Martin, so you'd need to suspend the whole team if you suspend Incognito." All of that said, Murtha doesn't believe Incognito bullied Martin, even though he writes that Incognito doesn't have a filter.
-Like his teammates said Wednesday, Murtha doesn't believe Incognito is a racist. Writes Murtha: "That voicemail he sent came from a place of humor, but where he really screwed up was using the N-word. That, I cannot condone, and it's probably the biggest reason he's not with the team right now. Odd thing is, I've heard Incognito call Martin the same thing to his face in meetings and all Martin did was laugh. Many more worse things were said about others in the room from all different parties. It's an Animal House."
- As for the $15,000 paid by Martin for a Las Vegas trip he didn't actually attend? Murtha writes that it's actually more Martin's fault. "Every year, as tradition, the offensive line goes on a big Vegas trip. Everything is paid for in advance, from hotels to a private jet to show tickets. Martin originally verbally committed to the trip, then later backed out after everything was booked. Now, if you can't go because of an emergency then it's okay, but to say you're going and then decide you don't want to spend the money later? Everything was paid for, and then when it was time to pay up he didn't want to go anymore. You don't do that to your brothers. The veterans who paid for it, including Incognito and others, asked for Martin's share, and he gave it to them. End of story."
Make sure to read Murtha's entire piece because he also believes the coaches would have had to know about the problems and that, in football, you're taught to be an aggressive person. "You typically do not make it to the NFL if you are a passive person," he writes. "There are a few, but it's very hard. Playing football is a man's job, and if there's any weak link, it gets weeded out. It's the leaders' job on the team to take care of it."
Follow Josh Katzowitz on Google+
Payton was seen mocking Vikings' fans at the end of the Saints-Vikings game on Sunday

Tom Brady didn't really feel like talking about his hand injury on Friday

Anderson was also arrested in May
Conspiracy theorists, your time has come

Galin Dragiev is on a piping hot run in NFL picks and just locked in a play for the AFC title...

Brady prefers not to wear a glove on his throwing hand