Former NFL player so moved by 'Concussion' he was brought to tears
'Sports Illustrated's The MMQB' screened with film with 70 former NFL players and chronicled their reactions.
Concussion, the upcoming film starring Will Smith as Dr. Bennet Omalu -- the doctor who discovered chronic traumatic encephalopathy (CTE) and recently wrote an op-ed for the New York Times in which he urged parents to not let their children play football -- is set to hit theaters nationwide in just over two weeks. In advance of that release date, Emily Kaplan of Sports Illustrated's The MMQB screened the film with 70 former NFL players. 
Reactions from those players were all very similar -- their eyes were opened to a lot of information they were not necessarily aware of during their playing days, and if they received that information while they were playing, it might have changed the way they did their jobs.
One of the players -- former Buccaneers, Oilers, and Cardinals linebacker Keith McCants, who was the No. 4 pick in the 1990 NFL Draft -- was so moved by the film that he was brought to tears. "I know we were paid to hurt people," McCants said, per The MMQB. "We were paid to give concussions. If we knew that we were killing people, I would have never put on the jersey."
Willie Gault, who played receiver for wide receiver for the Bears and Raiders for 10 years, had a similar reaction. "Every single football player in this country -- NFL, college, high school, youth -- needs to see this movie," Gault said. "If I had seen it while I was a player, I think I still would have played football, but I would have played it differently. I would have had a different mindset."
Neither of those were even the most striking reaction to the film, though. That came from Terry Bolar, who played three seasons for the Jets and Chargers from 1981 through 1983. "When you watch that movie," Bolar said, "you see how much the NFL resembles tobacco companies."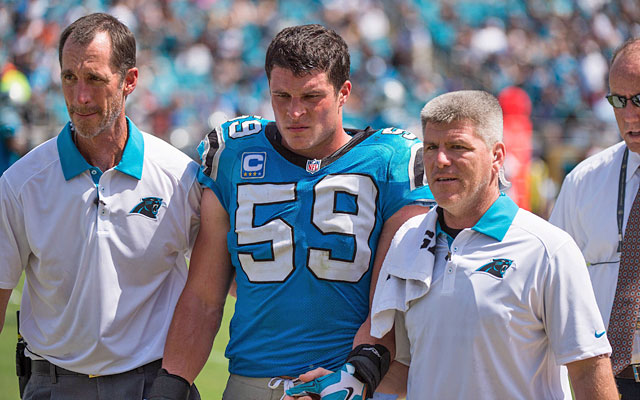 Beckham got injured during the 2017 preseason and then fractured his ankle after just four...

The Eagles were one of the most aggressive teams in the NFL in 2017, and it helped them win...

The ex-Dolphins offensive lineman was detained over a threatening social media post
The Titans are getting ready to unveil a uniform that won't be 'anything close' to any other...

The NFL announced on Friday that 32 compensatory draft picks have been awarded to 15 teams