Former NFL WR Sam Hurd sentenced to 15 years in prison
Former Bears and Cowboys wide receiver Sam Hurd was sentenced to 15 years in prison by a federal judge in Dallas on Wednesday.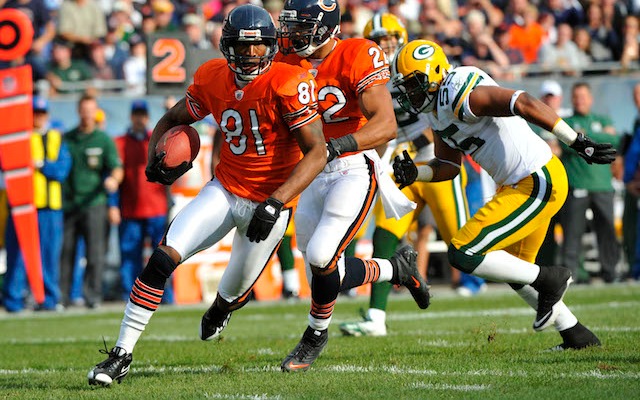 Almost two years after being arrested on federal drug charges, former NFL wide receiver Sam Hurd has finally learned his fate. Hurd was sentenced to 15 years in prison by a federal judge in Dallas on Wednesday.
Hurd pleaded guilty in April to one count of conspiring to possess cocaine and marijuana with intent to distribute. Hurd was facing anywhere from 10 years to life in prison.
The former Bears receiver was arrested in December 2011 outside of a Chicago-area steakhouse where Hurd allegedly accepted a kilogram of cocaine from an undercover officer. According to the criminal complaint filed in the case, Hurd told the cop he wanted to buy up to 10 kilos of coke and a half-ton of marijuana per week to distribute in the Chicago area. Hurd said he was willing to pay $25,000 per kilo and $450 per pound of pot. 
Hurd was released on a $100,000 bond after his December 2011 arrest, but he was taken back into federal custody in the summer of 2012 when he failed a marijuana test. Hurd has been behind bars since then. 
The 28-year-old was cut by the Bears less than 48 hours after being arrested, ending his NFL career. Hurd spent six seasons in the NFL, five in Dallas (2006-10) and one in Chicago (2011). In court on Wednesday, Hurd said there were still NFL players who owed him money for marijuana, according to WFAA-TV in Dallas.  
Hurd probably won't see any of those players anytime soon. Since Hurd was sentenced in federal court, he'll most likely be serving all 15 years. There's no parole in the federal system, according to the Associated Press, however, inmates can apply for release after serving 85 percent of their sentence. In Hurd's case, the would be almost 13 years. 
It looks like we're going to have a quarterback competition in Jacksonville

Smith is facing up to seven years in prison if convicted

Plus everything else you need to know about Week 2 of the 2017 NFL preseason
This is why being a rookie in the NFL isn't fun

The Raiders running back went Beast Mode on reporters

Elway tried his best to emphasize how complicated the situation is