Former players Christian Ballard, Greg Westbrooks sue NFLPA
With so much attention focused on former players suing the NFL, now a couple of them have set their sights on the NFLPA.
• 1 min read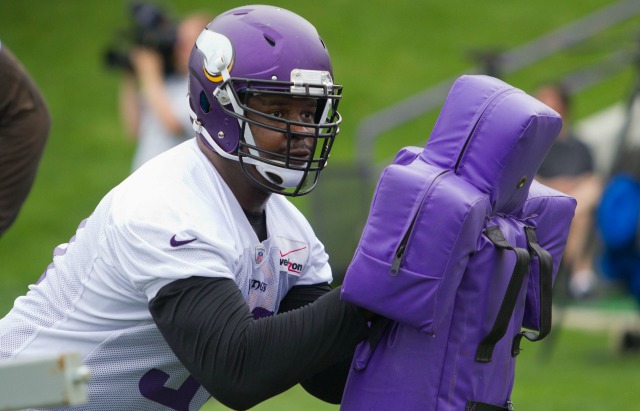 More NFL: Photos |   Videos & GIFs |  Stories | Training Camps | Johnny Manziel watch 
In the past few years, thousands of former NFL players have sued the league, saying that for years it had concealed the dangers of head injuries. And now the NFL will pay those retired players (without admitting any sort of guilt, for what it's worth).
But we haven't heard much about former players blaming the NFLPA for their injuries later in life.
Until now.
Former Vikings defensive lineman Christian Ballard and seven-year veteran linebacker Greg Westbrooks are suing the players union for not providing information about the potential for head injuries. Former union presidents Trace Armstrong, Troy Vincent and Kevin Mawae have been named in the suit.
The lawsuit was filed Thursday, and in it, Ballard and Westbrooks claim the NFLPA "withheld information from the players about the risks of head injuries."
The NFLPA issued a statement Friday:
"A lawsuit has been filed by two former NFL players, Christian Ballard and Gregory Westbrooks, in U.S. District Court in Missouri against the NFLPA and several former NFLPA Presidents, namely Trace Armstrong, Troy Vincent and Kevin Mawae.

It erroneously alleges that the NFLPA knowingly and fraudulently concealed from players the risks of head injuries players faced by playing in NFL games and practices over the last several decades. This lawsuit has no merit and we will defend our union and our past Presidents.

The NFLPA has made the health and safety of its members a priority and the advancements in professional football on concussion education, prevention and treatment are a result of our efforts."
Westbrooks played from 1975-81 and spent time with the Saints, Raiders, Cardinals and Rams. Ballard played in all 32 games for Minnesota in 2011-12 and recorded a sack and two fumble recoveries during his career.
Breaking down why the underdogs are very dangerous against the Patriots

All of the information you need to know about the 2018 Super Bowl

Here's all the details you need to know on watching Super Bowl LII between the Patriots and...
No one wants to give the Eagles any respect

Here's a look at the NFL's entire postseason schedule for 2018

Here's everything you need to know about Super Bowl LII