Former punter Chris Kluwe plans to sue Vikings on Monday
The Vikings haven't made their investigation into Chris Kluwe's allegations public, and that means Kluwe now will sue the team.
• 2 min read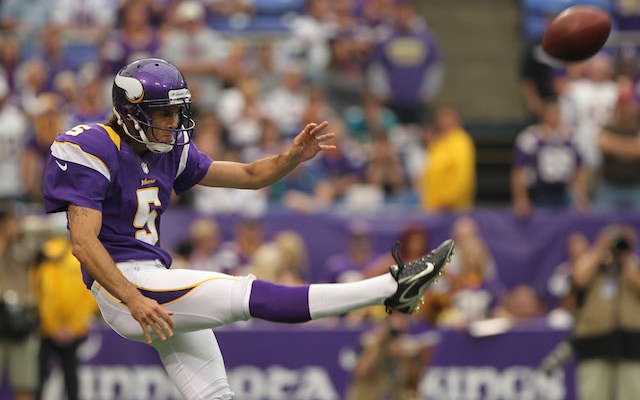 More NFL: Photos |   Videos & GIFs |  Stories | Training Camps | Johnny Manziel watch 
Earlier this week, former Vikings punter Chris Kluwe said that if the team didn't make available the results of its investigation into special teams coach Mike Priefer and the discriminatory comments Kluwe said Priefer had made, he would sue the franchise.
On Monday, Kluwe apparently will do just that.
From the St. Paul Pioneer Press ...
Chris Kluwe just told me that he will definitely file suit after the Vikings informed his lawyer today they won't make the report public.

— Chris Tomasson (@christomasson) July 18, 2014
Kluwe told reporter Chris Tomasson that he asked for Priefer to be suspended for between four and eight games, along with sensitivity training, and the Vikings declined to do so. Kluwe said he asked the team to donate $1 million for gay and lesbian groups, and that also was declined, though the team counter-offered with $100,000.
Kluwe's lawyer, Clayton Halunen, said he expects to sue for defamation of character and emotional distress and that he would ask for damages in excess of $10 million.  
This doesn't mean the Vikings won't eventually make the report public, but according to Halunen, it will be a version in which "they're going to remove anything unattractive to them."
Meanwhile, the Pioneer Press reports that Priefer will be suspended for three games, but the punishment could be reduced to two games at the team's discretion. Priefer also will apologize and will attend sensitivity training.
"I'm disappointed by this," Kluwe said. "The Vikings have maintained all along they were going to be open and transparent with this process, and clearly they saw what was in the report and had no intention of doing so."
Oh, and in case anyone thinks this is some sort of cash grab, we'll be going for max damages and all money I get will go to LBGTQ charities.

— Chris Kluwe (@ChrisWarcraft) July 18, 2014
In January, Kluwe wrote a piece for Deadspin in which he referred to former coach Leslie Frazier and current general manager Rick Spielman as "cowards" and Priefer as a "bigot" and said he believes he was released by the Vikings because of his outspoken and activist ways.
Wrote Kluwe about Priefer in that Deadspin article, "He would ask me if I had written any letters defending 'the gays' recently and denounce as disgusting the idea that two men would kiss, and he would constantly belittle or demean any idea of acceptance or tolerance. ... Mike Priefer also said on multiple occasions that I would wind up burning in hell with the gays, and that the only truth was Jesus Christ and the Bible. He said all this in a semi-joking tone, and I responded in kind, as I felt a yelling match with my coach over human rights would greatly diminish my chances of remaining employed."
Priefer has vehemently denied Kluwe's allegations. 
The Saints coach wasn't in the mood to answer questions about Drew Brees on Tuesday

This is footage that you'll definitely want to see

It wasn't the matchup that we expected, but the Jaguars would argue that's everyone else's...
The Eagles quarterback and the Vikings quarterback have paths that have crossed many times

The Bengals quarterback gives his side of one of the craziest stories of the NFL season

There are many confusing issues when it comes to Ben Roethlisberger's future