Former S Hamza Abdullah blasts NFL for not protecting players
Former NFL safety Hamza Abdullah went on an extended rant on Twitter in which he blasted the NFL and the commissioner.
• 1 min read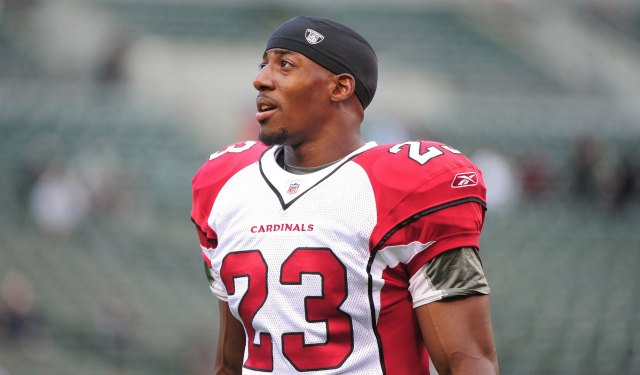 Hamza Abdullah was a safety who played for the Broncos, the Browns and the Cardinals from 2005-11 before he and his brother, Husain Abdullah, took off the 2012 season to make a pilgramage to Mecca.
And on Thursday, the current free agent went off on an expletive-laden, fully-revealing Twitter rant exploding at the NFL for not protecting its players from concussions and discussing his own suicidal thoughts.
Here's a sampling of some of his tweets (read from the bottom up).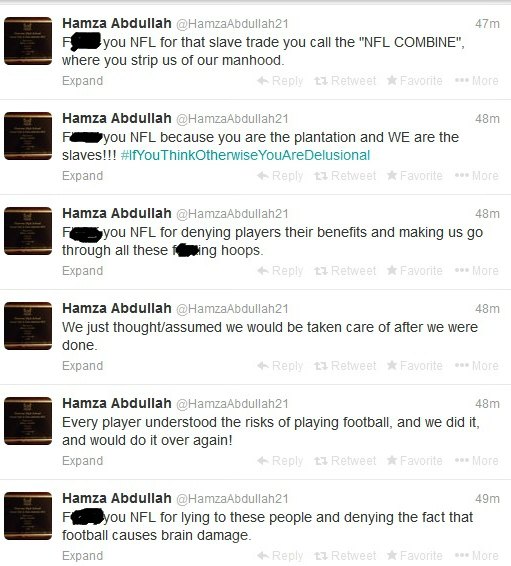 Abdullah also mentions the rash of former player suicides, and writes the NFL wants "players to kill themselves so you can show the 'SLAVES' what life off the plantation is" and "How many former players have to kill themselves before you guys f---king realize, that they're pushing us to it."
Abdullah says that he's thought about suicide but won't do it because he's a Muslim.
"But," he writes, "I do think about if my families (sic) life would be better, if I wasn't here. Every time I go to sleep, I pray that Allah takes care of my family, just in case I don't wake up. And quietly, I'm disappointed sometimes when I do wake up. I'm married to a beautiful wife, have 3 beautiful children, and my (sic) financially GOOD, yet I don't want to wake up."
He also took aim at NFL commissioner Roger Goodell.
Writes Abdullah: "F--- you Roger Goodell. You would sell your f---ing soul for a dollar ... F--- you Roger Goodell for selling your wife out and making her lie to all those f---ing people."
More from Abdullah.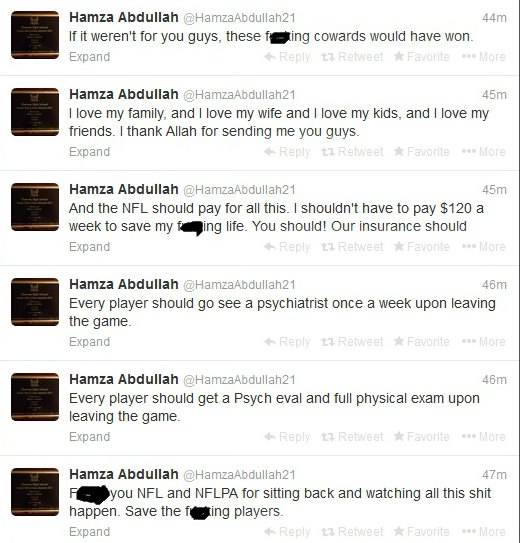 Follow Josh Katzowitz on Google+
After two weeks of snoozefests, the NFL was back to being must-see TV on Sunday

Here are the Week 3 grades for every team that played on Sunday

Plus Lynch sputters, the Raiders defense falls flat and the response to Trump continues on...
From Brady's perfect pass to controversy in Detroit, we have it all covered from a crazy Week...

It's been a rough Sunday night for the Raiders

From London to Sunday Night Football, teams around the league demonstrated in response to...