Former Texas Gov. Rick Perry hopes Johnny Manziel will listen, get help
The list of those looking to get Johnny Manziel back on track continues to grow and now includes a professional wrestler and former governor.
The Browns released Johnny Manziel last month, less than two years after they selected him in the first round of the draft. Now, days removed from a grand jury indictment in the domestic assault case involving his former girlfriend, it's unclear if Manziel will ever play in the NFL again.
And while players wash out of the league every year, Manziel's issues are solely of the off-field variety. He seemed to be on the right path after spending 10 weeks in a treatment facility last offseason, but things went south in the months that followed. Two weeks ago, his agent, Drew Rosenhaus, fired him after Manziel refused to get help. And Manziel's father said earlier this year that Manziel won't see his next birthday if he doesn't change.
Meanwhile, the list of those looking to get Manziel back on track continues to grow. Professional wrestler Jake "The Snake" Roberts, who has battled substance abuse and addition, said last week that he's reached out to Manziel "many times" and will continue to do so.
And on Wednesday, former Texas governor Rick Perry joined the conversation, telling CNBC's Squawk Box, "He's a really fine young man who's got some great problems," Perry told CNBC's Squawk Box. "I hope he will listen to some people who really care about him. … The whole substance abuse issue, we as a country have to deal with. He's a high-profile one."
Perry graduated from Texas A&M, where Manziel won a Heisman Trophy, and he's a well-known Aggies fan. In fact, Perry was in attendance at Manziel's 2014 Pro Day, which was a spectacle, even by over-the-top made-for-television NFL standards.
But those days are a distant memory, as is Johnny Football. Instead Perry, like Manziel's family and friends, hopes the quarterback "get the help that he needs," adding that "maybe some lemonade can be made out of these lemons."
Maybe.
The reality, at least at the moment, is that Manziel has until May 5 to turn himself into authorities following his grand jury indictment. Whether Manziel's case ends up in front of a jury could be up to him. Dallas-area attorney David Finn, a former family violence judge, says the District Attorney's Office could be willing to avoid taking the case to trial.
"My guess, and it's an informed guess, is they'll offer a conditional dismissal," Finn told NewsFixCW33.com. "'Hey Mr. Manziel you go to alcohol rehab, we do random drug testing and you do the batterer's intervention counseling or anger management or both, we'll agree to dismiss this'."
If Manziel decides against rehab and drug testing, Finn expects the District Attorney's Office to push for a trial.
"If you don't want to help yourself, we're not going to help you and we'll see what six jurors in Dallas County think about the case," Finn said.
* via DMN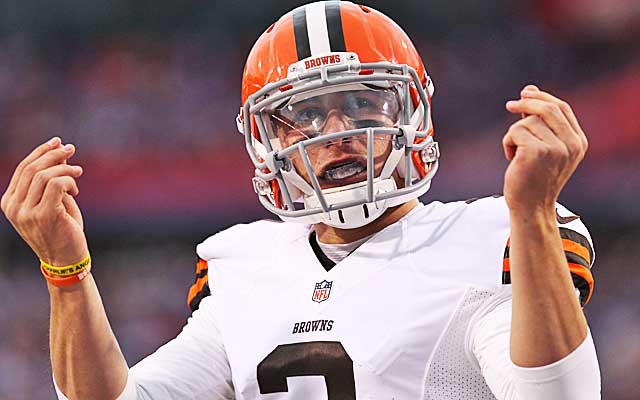 Pick Six Newsletter
Get the day's big stories + fun stuff you love like mock drafts, picks and power rankings.
Please check the opt-in box to acknowledge that you would like to subscribe.
Thanks for signing up!
Keep an eye on your inbox for the latest sports news.
Sorry!
There was an error processing your subscription.
Favre and Rodgers are definitely on better terms than they were 10 years ago

When will Tom Brady retire? Willie McGinest thinks he has the ansewr

The Buccaneers aren't going to have their starting quarterback for what could be the first...
Find out when your favorite team will be kicking off training camp this year

Eric Decker would really like the Patriots to give him a call

The Buccaneers quarterback has been under investigation for more than seven months