Forty-eight things to know about Super Bowl XLVIII
To to prepare you for the biggest sports spectacle of the season, here are 48 things you can parrot at your Super Bowl XLVIII party.
More SB coverage: XLVIII odds | Expert picks | Super Bowl weather | Latest news
There's only one game left in the 2013 NFL season and it's kind of an important one: Super Bowl XLVIII. To to prepare you for the biggest sports spectacle of the season, here are 48 things you can parrot at your Super Bowl party that no doubt will expose you as knowing absolutley nothing about football. You're welcome. 
48: Super Bowl Toboggan on Super Bowl Boulevard.
47: Broncos coach John Fox and Seahawks coach Pete Carroll served on the Iowa State Cyclones staff early in their careers.
Which former Iowa State assistant coach wins the Super Bowl? #Cyclones pic.twitter.com/SH9YSWx3QD

— Cyclone Football (@CycloneFB) January 20, 2014
Fox, a windbreaker-and-tie sorta guy, was a defensive backs coach in 1984; Carroll, with the more traditional coat-and-tie look, coached the secondary in 1978.
46: Seahawks cornerback Richard Sherman is as good at handling random questions about strippers as he is at shutting down the NFL's top receivers. From Tuesday's Super Bowl Media Day session:
Woman just yelled at Sherman that pro athletes are the reason women become strippers.

— Tom Pelissero (@TomPelissero) January 28, 2014
The details, via Shutdown Corner:
Question: As far as money is concerned, all of you football guys are going into the strip clubs and throwing, raining [money] down on the strippers. Do you think that's a bad example for our ladies? Please stop that. I think it's a bad example for our young girls, that they need to be strippers. How do we deal with that issue?
Sherman: Well, I've never gone into a strip club and thrown money, so I can't tell you. I guess ... I guess ... uh, trying to understand that there are other avenues that you can make money, that women are capable of doing anything in this world. They can be a CEO of a company, you can go out there and -- like I said before, the same can be said for kids in the inner city -- the ceiling is limitless and don't limit yourself to those possibilities and those circumstances.
45: Marshawn Lynch might not have much to say to the media during Super Bowl week, but he gets pretty excited talking about his 2011 Beast Mode touchdown run against the Saints, which is reenacted beautifully here by ducks. No, seriously. It's awesome (via Extra Mustard)
44: You may have heard something about this game taking place outdoors. In New Jersey. In February. Crazy, we know. Turns out, the high is expected to hit 50 with a low around 30 and neither wind nor snow should be a factor. The coldest Super Bowl before this one? Super Bowl VI on Jan. 16, 1972, at Tulane Stadium in New Orleans. The Cowboys beat the Dolphins 24-3.
43: Special teams fun fact, via ProFootballFocus: Broncos punter Britton Colquitt was the only punter with more than two attempts to not have a single punt go out of bounds.
42: Russell Wilson's hair. It's ... something. Behold.
41: Seahawks owner and Microsoft co-founder Paul Allen is worth $15.6 billion. That makes him the NFL's wealthiest owner by a slim $10.5 billion over Rams owner Stan Kroenke. (via Forbes.com)
40: One more from Forbes.com: Super Bowl winners will take home an extra $92,000. Losers get $46,000. If Peyton Manning loses and plays next season, his New Jersey tax rate would be 102 percent of his Super Bowl earnings, thanks to an arcane tax code.
39: The Simpsons predicted the Broncos-Seahawks Super Bowl in 2005.
#thesimpsons predicted it! @SuperBowl forecast in the "Bonfire of the Manatees" (S17) episode from 2005. #SB48 pic.twitter.com/cEPfaQlRrM

— The Simpsons (@TheSimpsons) January 31, 2014
38: The Broncos will wear their orange home jerseys Sunday. Good news: Denver is 9-1 in orange this season. Bad news: In three previous Super Bowls, they're 0-3 while wearing orange and have been outscored 124-30.
37: Broncos running back Knowshon Moreno isn't afraid to cry. Here he is before a regular-season matchup with the Chiefs on Dec. 1: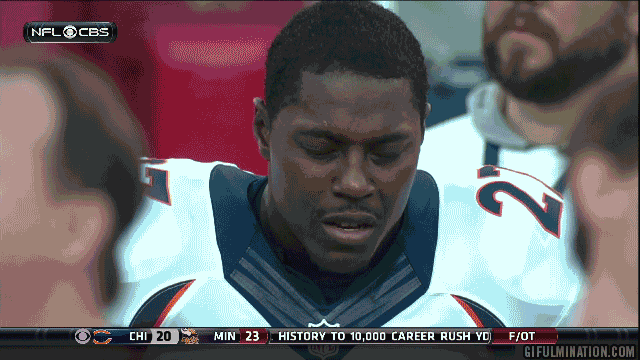 Naturally, you can bet on whether Moreno cries Sunday.
36: This is how bizarre Super Bowl Media Day is: Ravens and Steelers fans were able to find common ground:
35: More Media Day: As Randy Moss, who wasn't particularly fond of the media during his playing days, interviewed onetime Patriots teammate Wes Welker ...
34: This enterprising fan held up this sign, which Welker could clearly make out from his podium.
To be fair, Welker's weave looks pretty good. pic.twitter.com/8xuiVptsWF

— ryan wilson (@ryanwilson_07) January 28, 2014
33: New Jersey Gov. Chris Christie sent out a series of tweets warning would-be johns that prostitution is no more acceptable during Super Bowl week than the other 51 weeks of the year.
If you do try it, expect to be caught. And when you are caught, expect to be prosecuted.

— Governor Christie (@GovChristie) January 29, 2014
Now you know.
32: Four teams have never been to a Super Bowl: the Lions, Texans, Jaguars and Browns. Upside: The Browns have Draft Day.
31: Since 1984, five second-year quarterbacks have helped lead their teams to the Super Bowl. They are 3-2 in those games. Russell Wilson will be the sixth.
30: Fox Network reportedly is charging advertisers $4 million for 30-second spots during the game.
29: Tickets to Super Bowl I: $12. Tickets for Super Bowl XLVIII are going for around $1,500.
28: In his career, Peyton Manning is 7-7 when the temperature is between 30-39 degrees. In those games he has completed 65 percent of his passes for and average of 260.6 yards, with 1.5 TDs and 1.4 INTs. His passer rating is 85.0.
27: The Seahawks led the NFL with eight red-zone interceptions during the 2013 season.
26: If Peyton Manning wins Sunday, he would become the first quarterback to hoist the Lombardi Trophy with two different teams.
25: There's more: If the Broncos win, Peyton would do it on his brother Eli's home field, MetLife Stadium. Two years ago, Eli Manning and the Giants beat the Patriots in Super Bowl XLVI in Lucas Oil Stadium ... the former home of Peyton, who spent the first 14 years of his career with the Indianapolis Colts.
24: Seahawks coach Pete Carroll won a national championship with Southern California. If he wins the Super Bowl, he would join Jimmy Johnson and Barry Switzer as the only men to do both.
23: Bruno Mars is the featured act for the Super Bowl halftime show. Up With People performed at four Super Bowls, which is a record.
22: Super Bowl Sunday is the second-largest day for food consumption in the United States after Thanksgiving. 
21: This is the third time in Super Bowl history that the two teams facing off have animals as mascots. In 1999, the the Broncos and John Elway (now a team executive and the man responsible for bringing Peyton to Denver) defeated the Falcons. In 2007, the Colts (and Peyton Manning) beat the Bears. 
20: Broncos defensive tackle Terrance Knighton is nicknamed "Pot Roast," even though he has only had it twice in his life:
"It was on a flight coming back from Seattle my rookie year in Jacksonville," Knighton said, via USAToday.com. "It was a six-hour flight. Guys were tired. The plane was dark and the lady was walking down the aisle, saying, 'Pot Roast? Pot Roast?'
"And I'm like, 'Right here.' My teammate behind me said, 'You say that like that's your name?'
"He said, 'I'm going to call you Pot Roast from now on.' I said, 'Yeah, whatever.'
"So it stuck to me," he said, before adding, "It was either that or Shrimp Alfredo."
19: Seahawks tackle Breno Giacomini sold hot dogs at Fenway Park during his senior year in high school (via the New York Post).
18: Pete Carroll says he's not worried that no one on his roster has ever appeared in a Super Bowl. The last time that happened: The 1990 Buffalo Bills, who lost to the New York Giants 20-19 in the "wide right" game.
17: Pete Carroll is a huge fan of Seattle native Macklemore.
RT @PeteCarroll: Congrats to @macklemore for "Thrift Shop" going Platinum today! 1 million songs sold! http://t.co/YsmTCgTh <Thank you Pete!

— Macklemore (@macklemore) January 4, 2013
And this:
16: Broncos running back Jacob Hester is a distant cousin of former Steelers quarterback Terry Bradshaw.
15: Broncos tight end Julius Thomas once played basketball at Portland State. Bigger story: He had a fantastic afro:
14: Peyton Manning's backup, Brock Osweiler, is 6-foot-8. He's tied with onetime Seahawks QB Dan McGwire for the tallest quarterback in NFL history.
13: Broncos running back Ronnie Hillman played on a youth football team in California coached by Calvin Broadus, better known as Snoop Dogg (via the New York Post). 
12: Hey, probability works! In the previous 47 Super Bowl coin flips, heads has hit 24 times, while tails has come up 23 times. So what's the chance of hitting heads Sunday? (We hope you said 50 percent.)
11: Broncos wide receiver Eric Decker is married to country singer Jessie James.
10: As a senior at Dominguez High School in Compton, Calif., Richard Sherman was a wide receiver. He had 28 receptions for 859 yards and 14 touchdowns, as well as 1,019 all-purpose yards. He also had a 3.9 GPA.
9: Russell Wilson was taken by the Seahawks in the third round of the 2012 NFL Draft. He was also drafted twice by Major League Baseball
8: Peyton Manning not only is the NFL's most marketable player, pulling him some $12 million in off-field income, he's also the spokesman for more than a dozen products, perhaps none more memorable than this:
And here's the entire commercial:
7: The average markup for a hotel during Super Bowl week? 101 percent.
270: How many more people lived in Seattle than Denver on July 1, 2012, making Seattle 0.04 percent larger than Denver. 
Nos. 22 and 23: Where Seattle and Denver ranked right next to each other on the list of the nation's most populous cities. The estimated population of Seattle on July 1, 2012, was 634,535. The estimated population of Denver on July 1, 2012, was 634,265.
8,978: Population of East Rutherford, N.J., location of MetLife Stadium, where Super Bowl XLVIII will be played.
5: NFL commissioner Roger Goodell plans to sit outside during the game.
4: Roughly 80,000 fans (excluding, we're guessing, Roger Goodell) will rely on mass transit to get to and from MetLife Stadium. 
3: MetLife Stadium normally has 28,000 parking spaces. That number will be less than 15,000 on Sunday and must be reserved at $150 each. Some spots are being sold on eBay for up to $400 (via TampaBay.com).
2: With 164 million viewers, last year's Super Bowl was the most-watched program in television history. 
1: So who's gonna win? Five of the eight CBSSports.com experts like the Broncos. In related news: The NFC is 5-1 against the spread in the past six Super Bowls -- and the underdog is 5-1 in those games.
Pick Six Newsletter
Get the day's big stories + fun stuff you love like mock drafts, picks and power rankings.
Please check the opt-in box to acknowledge that you would like to subscribe.
Thanks for signing up!
Keep an eye on your inbox for the latest sports news.
Sorry!
There was an error processing your subscription.
Colts linebacker Edwin Jackson was killed in February

Tom Brady is breaking news on Instagram

The president has an idea for the NFL
The Dolphins have no plans to suspend any of their protesting players

Fowler was arrested in 2017 on misdemeanor charges

Andrew Luck is finally expected to return to the field