Four fans facing charges after Jets-Patriots postgame fight
Four fans that were involved in a videotaped fight following the Jets-Patriots game on Sunday are all facing charges stemming from the incident.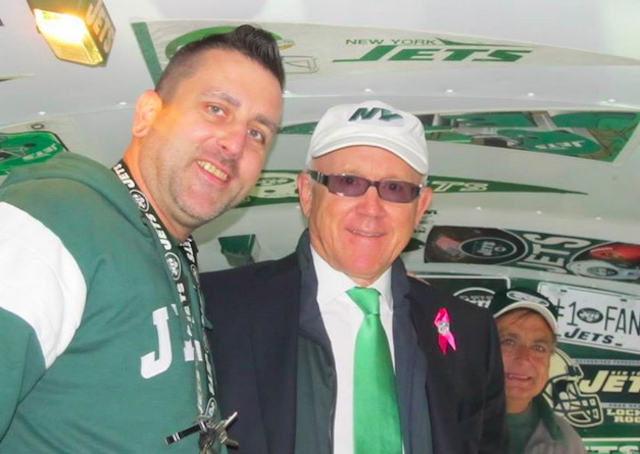 After the Jets beat the Patriots in overtime on Sunday, four fans got into a fight at MetLife Stadium and now, all four fans will be facing charges. The fight made national headlines after a YouTube video emerged that showed a male Jets fan punching a female Patriots fan. 
The male Jets fan, identified as Kurt Paschke, and the female Patriots fan, identified as Jaclyn Nugent, were both among the four charged. 
Paschke, 38, of Holbrook, N.Y.; Nugent, 26, of Boston; Amanda MacDowell, 25, of Marlborough, Mass.; and David James Sacco, 28, of Boston, will have to appear in East Rutherford (N.J.) Municipal Court to face charges of simple assault and disorderly conduct. 
"The investigation revealed that Amanda MacDowell and Jaclyn Nugent were observed kicking and punching Paschke in the body and head. Shortly thereafter, Paschke was observed striking Nugent with a punch to the face. David James Sacco then was observed striking Paschke in the face," the New Jersey State Police said in a statement. 
The story took an odd turn on Monday when it was discovered that Paschke had spent nearly four years in prison in the early 1990's for committing criminally negligent homicide in the 1992 death of a 17-year-old. The 38-year-old Paschke was a teenager when that incident happened. 
While this case makes it way through the legal system, none of the four fans involved in the incident will be allowed back at MetLife Stadium.
"We have zero tolerance for this behavior. Consistent with our Fan Code of Conduct, those involved have been banned from attending any events at the stadium," the Jets said in a statement. "Once the legal process has run its course, each of them must take the necessary steps before even being considered for readmission to future events."
From London to Sunday Night Football, teams around the league demonstrated in response to...

It's unclear whether Marshall actually spits on the fan during videos of the exchange

Several Saints took a seat during the anthem before Sunday's game against the Panthers
Retirement could be next for the Eagles' 34-year-old running back

The Steelers weren't actually in their locker room for the national anthem

An impassioned Norman went off on Crabtree and Amari Cooper for talking big, then getting shut...