Four From Sunday: Winning-drive magic and winter-cold mastery
Week 12 signals some real football, complete with notable winning drives from playoff contenders and winter weather playing a role, too.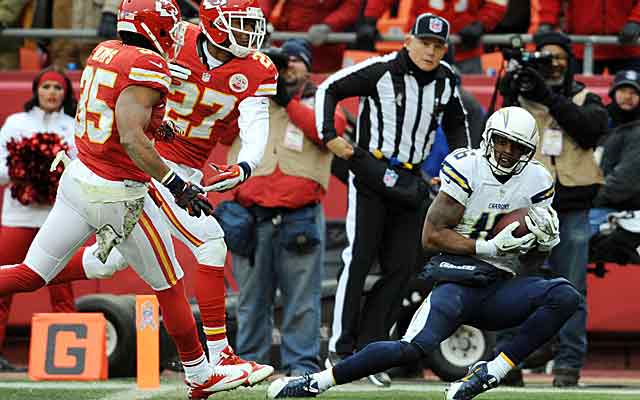 Week 12 signals some real football, complete with notable winning drives from playoff contenders and winter weather playing a role, too. Without further review, let's get into Four From Sunday.
1. Four winning drives
Week 12 was highlighted by four winning drives, made more impressive because all were executed by road teams, and in my order of preference:
• The San Diego Chargers trailed 38-34 at Kansas City with 1:17 left and 78 yards to go. Philip Rivers connected on 4 of 6 passes for 78 yards and the winning touchdown. Antonio Gates and Danny Woodhead made catches to keep the drive alive, with the winning score going to Seyi Ajirotutu , who caught only his third pass this season.
• The Carolina Panthers trailed 16-13 at Miami with 4:13 left, and already had failed to score on three previous drives. But when it counted, Carolina marched 80 yards, running five times for 36 yards and Cam Newton going 5 of 7 for 34 yards and the 1-yard TD pass to Greg Olsen . Highlight of the drive: On fourth and 10, Newton found Steve Smith for 19 yards completion from their own 20 yard line and 2:33 left.
• Tennessee trailed 19-16 at Oakland with backup QB Ryan Fitzpatrick under center and 80 yards to go, needing not only to take the lead, but to chew up clock with 6:10 left. The Tennessee Titans did just that, executing a 14-play drive (four runs for 13 yards, Fitzpatrick was 8 of 10 for 67 yards and the winning TD pass to Kendall Wright ) and leaving only 15 seconds on the clock. Fitzpatrick used four different receivers on the drive, which keeps the Titans are very much in the playoff race.
• Dallas was tied at 21 at New York vs. the New York Giants and 4:45 left. Tony Romo led the Dallas Cowboys on a 64-yard drive from his own 20 for the winning field goal with no time remaining.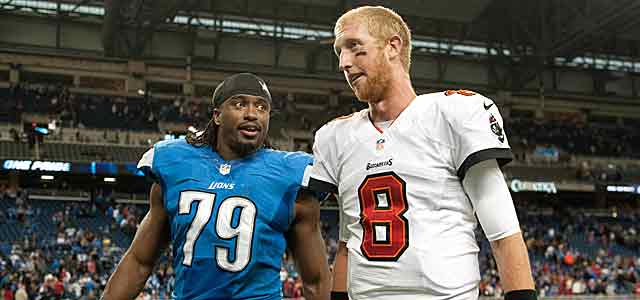 2. Contenders: Beware of Bucs, Glennon
Time to take notice of the Bucs and rookie QB Mike Glennon , who led Tampa to victory at NFC Central-leading Detroit, extending Tampa's winning streak to three games.
Coach Greg Schiano has leveled off Glennon's pass attempts in the mid 20s and he still has five ouchdown passes in the past three games with only one INT.
Three of the Bucs' remaining opponents have legitimate playoff aspirations but will have to deal with an emerging team with an emerging QB. Just ask the Detroit Lions .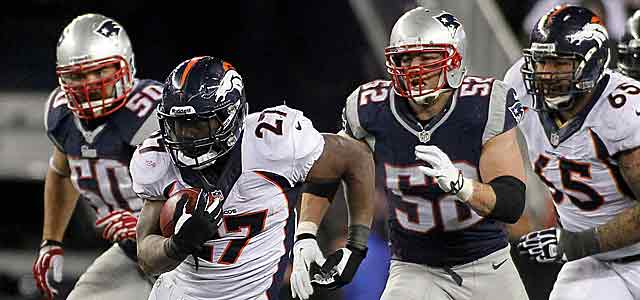 3. Baby, it's cold outside
Make no mistake, weather will be a factor from now until the Super Bowl. Teams unable to handle the cold will fall to the wayside.
There were six games in sub-32 degree weather, where the premium is put on the running game and avoiding fumbles. Tackling can be an issue as well.
• San Diego beat Kansas City with a game-time temperature of 24 degrees (wind-chill dipping to 1 degree). So much for the idea the Chargers can't play in the cold as they scored 41 points.
• Denver's ground game (48 carries for 280 yards) demonstrates the Denver Broncos are ready for the cold weather, as did New England's (31 carries for 116 yards). In the cold, teams must be able to run the ball, stop the run and have the ability to survive quarters playing against a chilling cold wind. That's why Bill Belichick elected to take the wind rather than the ball in overtime of Sunday's victory.
• Pittsburgh beat Cleveland in 20-degree weather and a wind-chill that made it 1 degree. The Pittsburgh Steelers always look like they love the cold.
As Bill Cowher told me Sunday: "I never worried about Ben Roethlisberger in the cold, he has big hands to grip the ball and plays like it's a warm sunny day."
• Baltimore hosted the New York Jets with the game-time temp at 33 degrees but a wind chill that made it feel like 20. The Baltimore Ravens are 6-1 in such conditions at home since 2008 and host the Steelers on Thanksgiving night. The Steelers come to town with a 6-3 record on the road in the same conditions since 2008.
• Minnesota is an indoor team but managed a tie at Green Bay with the temperature at 19 degrees and a wind chill making it feel like 7 degrees.
Adrian Peterson stayed warm by running 32 times for 146 yards and a TD.
• Dallas came into New York and beat the Giants with the temperature at 25 degrees and a wind chill of 18.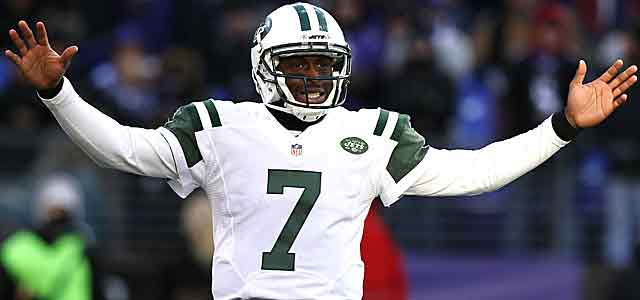 4. Road's rough on Geno
Geno Smith may become the Jets' franchise, but if you were deciding his future based on his rookie road record, he would be sent packing.
He's young and flashes but what about these road numbers after six road games, including Sunday's loss at Baltimore: Smith has a 1-5 record with four TD passes and 12 INTs in 164 passes. He has lost four fumbles and been sacked 23 times (once every eight pass plays), has failed to run for a TD and has netted on three rushing first downs.
If Mark Sanchez had these numbers there would be a boycott of the Jets by now.
It sure looks like the former top pick will be benched heading into the regular season for...

Someone asked him to start the press conference of course

Derrick Johnson wants to discuss players' First Amendment rights amidst the protests
High praise from one of the most athletically gifted quarterbacks ever to step on a football...

Nobody will mistake Joe Looney for his star teammates

Osweiler is being benched in favor of DeShone Kizer