Four-time Pro Bowl QB Jeff Garcia is open to comeback with the Browns
Former NFL quarterback Jeff Garcia said that he reached out to the Browns for a possible work out sometime after quarterback Brian Hoyer went down in Week 5.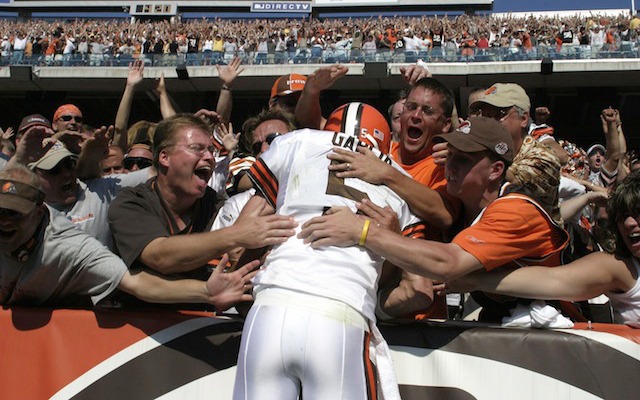 If Browns coach Rob Chudzinski isn't happy with his current quarterback situation -- and by all indications he's not -- there might be a third option besides Brandon Weeden and Jason Campbell. It's not a great third option, but it's a third option.
That potential third option is 43-year-old former NFL quarterback Jeff Garcia. In a radio interview on Tuesday, Garcia said he reached out to the Browns after Brian Hoyer suffered a season-ending ACL injury in Week 5.
"It's funny, I actually reached out to the Browns and said, 'Hey, if you need a guy to come in, work me out, take a look,' " Garcia told the Bull&Fox on WKRK-FM in Cleveland. "I don't know if people want me back in Cleveland, but I'm open to the opportunity."
The four-time Pro Bowler spent one of his 12 years in Cleveland and went 3-7 in 10 starts with the Browns during the 2004 season. 
Garcia didn't say exactly when after Hoyer's injury he reached out to the Browns and apparently it doesn't look like they got back to him. Although Chudzinski might change his mind if Weeden has another game like he did against the Packers in Week 6. In the 31-13 loss to Green Bay, Weeden finished 17 of 42 for 149 yards. 
If the Browns don't want him though, Garcia would be willing to go anywhere. Both the Rams and the Bears are in need of a quarterbacks after injuries to Sam Bradford and Jay Cutler in Week 7. 
"I see all these quarterbacks going down and I'm like 'Hey, give me a call, I'm ready to come back,'" Garcia said. 
Garcia probably won't be fielding too many calls, the four-time Pro Bowler hasn't thrown an NFL pass since 2008. 
If Garcia needs some company while waiting for his phone to ring, he could probably give Maurice Clarett a call. The former Ohio State star asked the Browns for a tryout in September.  
LSU's star defender returned from injury this weekend and highlights our 2018 Draft Top 20

McCarron could gain a lot from a Dalton benching, but he's sticking up for the Bengals' embattled...

'Top Dog' Tierney is 26-10 on NFL over-under picks since last season, has strong play on 4...
The injured Lions left tackle does not take kindly to being called a Wolverine

The Cowboys owner doesn't sound too worried by Elliott's lack of effort on an interception...

The Eagles DE is making the donations in response to the racial violence in his hometown