Fragile? One-trick pony? Julio Jones has a label to consider: The best
Falcons WR Julio Jones is on his way back from foot surgery. Pete Prisco sat down with Jones to review some plays and debunk some myths about his play.
FLOWERY BRANCH, Ga. -- Julio Jones had a screw loose, but it wasn't what you think. It was in his foot, and that's not a good thing since it was supposed to be holding a bone in place.
So when Jones, the Atlanta Falcons' explosive receiver, ran to the sideline in the second half of the team's Week 5 game against the N.Y. Jets last season, he shocked some with what he had to say.
"I think I broke the screw in my foot," Jones said.
That screw was there to help fix a stress fracture that was discovered two days before the scouting combine in 2011. It was an injury that required surgery to insert a screw to help the bone heal. Jones was all too familiar with the feeling this time, and said he knew right away something was wrong again with his foot.
Jones broke the foot on a crossing route, but while some players might have opted out, Jones did not. What he did instead was make the big catch to help set up a score.
It would be his last catch of the season, his 41st, which led the NFL at the time and had him on a record pace to catch 131 passes. In need of another surgery, Jones was placed on the injured reserve list. Without Jones, the Falcons' offense sputtered and the team disappointed in a big way with a 4-12 record. All of the preseason expectations of making another Super Bowl push like the year before were as broken as Jones' foot.
"I knew something was going on (with the foot)," Jones said. "The outside of my foot just hurt."
Yet he played on, which is telling about him as a player and as a teammate.
"I will do anything to help us win," Jones said. "If I have to be a dummy (decoy) the whole game, I will do it to help us win."
"I had no idea he was hurt," Falcons quarterback Matt Ryan said. "That speaks to the toughness and the grit that he has inside of him to keep competing, keep playing and keep being productive. It wasn't like he was out there and just going through the motions. He was out there making plays for us in the Jets game. He kept us in it."
It's that drive and competitiveness that has Jones targeting opening day for his return to the field. For good reason, the Falcons are being cautious with him as he recovers from the foot injury. He recently started running the route tree again -- something he was excited to reveal -- but he will almost certainly be a limited participant in training camp and the preseason.
That's the smart approach when you consider his value to the offense. In an era of offenses that put a premium on players who can take the top off a defense, Jones is every bit of that and more. When healthy, he's as good as any receiver in the league. But since the Falcons traded away four picks to trade up to land him in the 2011 draft, he's only played 16 games once in a season, that coming in 2012.
That season, the Falcons went to the NFC championship game and Jones caught a career-high 79 passes for 1,198 yards and 10 touchdowns.
"When he went down we lost our game-breaker and our home-run threat," Falcons offensive coordinator Dirk Koetter said. "When the defense doesn't have to roll coverage to a wide receiver, it allows them to commit an extra player to the run game."
Said Ryan: "There's a handful of people on this planet capable of doing some of the things he's capable of doing."
We will take a look at some of the examples of Jones' value to the offense later in this story, including plays he discussed in detail as we watched them play out in front of us on the big screen inside the quarterbacks' room here at the team facility. But the first issue, the most important, is the injury and how he's recovering from it.
The broken screw -- and the searing hip pain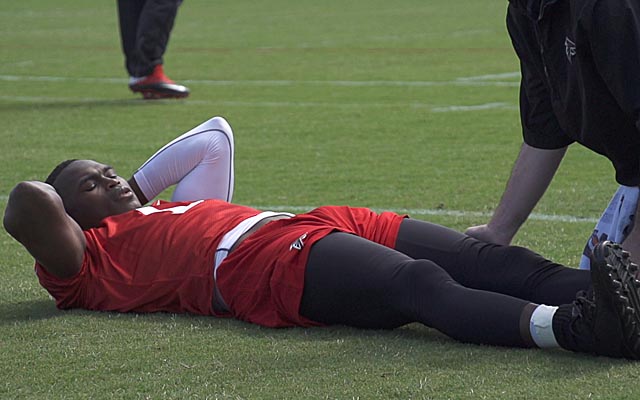 Coming back from this one has not been an easy process for Jones. Not when it's the second time. Not when it's led to questions about fragility.
After that Jets game, fearing the worst, he sought out other medical opinions, hoping for the news that rest would heal the foot and get him back on the field. The news never came as Dr. Robert Anderson -- "Dr. Bob" to Jones and the surgeon who put in the first screw to fix the bone in 2011 -- gave Jones the sour news that he would need surgery again.
"[This time] He put in a large screw, a six," Jones said.
But there was something else, something far more painful than the foot surgery. The doctor took bone marrow from Jones' hip and put it in his foot to help the bone heal and make it stronger.
"My hip hurt worse than my foot did," Jones said. "It was like a bone transplant. It's one of the most painful surgeries out there. I don't take any pain meds either. I am a very natural person. The hip was killing me. I didn't even feel my foot. I am used to dealing with the foot. I am used to playing with it. My hip, I couldn't sit up. I had to lay down."
Jones was off his feet for two weeks or so and then in a soft cast, the hip pain excruciating for much of that time. During our interview, Jones pulled up the side of his shirt to reveal the spot where the needle had taken the marrow. The scar was still easy to see.
"Damn, that hurt," he said as if reliving a nightmare.
Jones got back to walking in November, watching his team fall apart without him. The Falcons lost plenty of other players due to injury, but Jones was the biggest loss as Atlanta was a shell of the team that went 13-3 the year before.
It wasn't until February that Jones started putting weight on the foot when he worked out. The first work came on ladders. Stepping in and out of each of them is usually an easy thing for a player with Jones' athletic ability and grace. This time it was different.
"I was a little tentative at first," he said. "After a while, I didn't feel nothing. I was jump-roping. Now I am running the route tree."
During the Falcons' OTA practice that I attended last week, Jones worked on the side. He spent the first part of practice getting stretched and worked on by the training staff. Then it was more loosening up, which, he says, is even more important after the injury.
"I was down for seven months," he said. "The Achilles tendons and all that stuff tighten up."
As his teammates worked on the fields next to him, the receivers catching passes from Ryan, Jones was in his own rehab world just dreaming of when he would be able to cross that hated line from rehab player to practice player again.
I asked him about the time table for his full return to action.
"I will be there Week 1," Jones said. "Playing on the seventh when we open up against the Saints."
I get the impression that Jones would be doing more now if it were up to him. But it's not.
"It's their decision," he said. "[Trainer] Marty [Lauzon], Smitty [Falcons coach Mike Smith], whenever they want me to go. I am still putting in the work. But I am waiting to go."
A one-trick pony?
As we sat down to study some of the plays from 2013 (you can also watch us discuss these in the video above), Jones seated to my left with the clicker in his hand to make the plays stop and start like a coach in training, one of the things I wanted to discuss was this idea that he was a one-trick pony, an outside threat who didn't like to go over the middle. I had talked with Jones about that last summer, and it seemed to strike a nerve. That's why one of the plays I pulled out from the team's 2013 opener against the Saints was a pass in the middle against man coverage.
"You are always going to have critics," Jones said. "People are always going to talk down or bad about you. You can't let that stuff determine what kind of player I am going to be. Every day I come to work, and I work on everything. Whether it's across the middle, in the backfield, running deep routes. Whatever the case may be. You never know what kind of matchup you will get in the game. You never know with these defensive coordinators out there these days, what kind of coverage they will play to take you out of the game."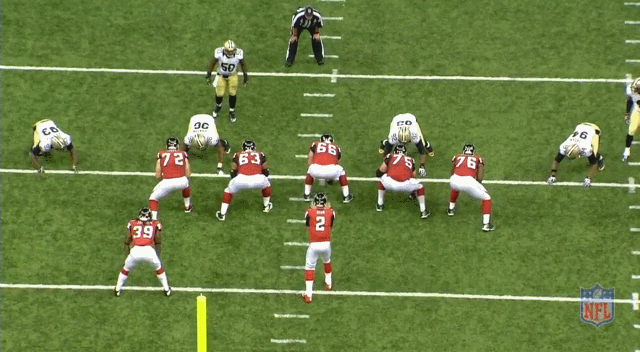 On the play above, Jones was lined up in the slot left of Ryan. The Falcons motioned running back Steven Jackson from outside of him to the inside to get a read on the coverage.
"We put the running back outside to make the defense show their hand," Jones said. "Is it man or zone? The linebacker came out over me. He was coming out to get the running back. Now he comes back, now we know it's two-man across the board -- two high safety shell. The guy is playing me inside, so I work and go outside of him and go around him and make a heck of a catch. Matt threw a great ball and put it right behind the back of his head. And I go get it behind the back of his head."
There were many other plays in the past two seasons that illustrate Jones as more than willing to go over the middle. Anybody who thinks he's just a vertical threat is woefully mistaken.
Handling the double
I wanted to look at the last play from that Saints game -- which resulted in an interception in the end zone to thwart the Falcons' chances of a victory -- with Jones to talk about the number of doubles that Jones now sees from defenses.
"When I first got to the NFL, I didn't see no double coverage at all," Jones said. "I was getting single coverage. I was killing it. Then they were, 'all right, this guy can play and we have to double this guy.' Since probably like the 11th or 12th game my rookie year, I started to get double-teamed."
Here's at look at one of those plays (you can also listen to Julio Jones on this play in the above video):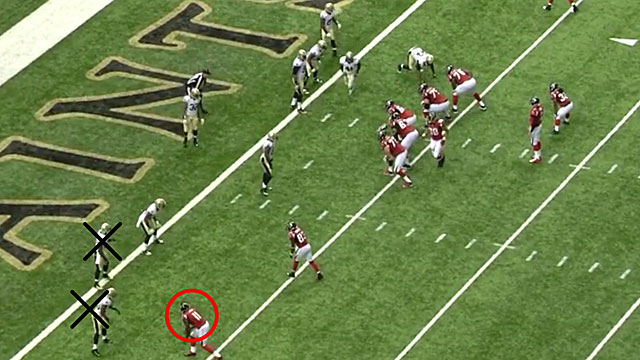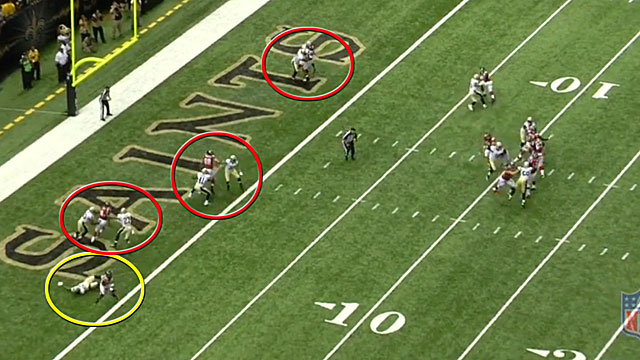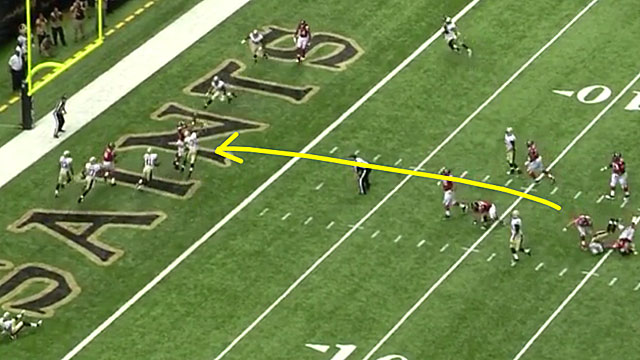 Jones (red circle in the first image) was lined up wide left. As you can see, the Saints had a double on him. Tony Gonzalez is in the middle and Roddy White is on the other side. They were not going to let any of those three beat them. For Jones, that type of coverage now comes a lot.
"I don't get frustrated at all," Jones said. "I know I am helping my teammates get open and have one-on-one coverage. I believe in my teammates to beat one-on-one coverage. On this play they doubled me, Tony and Roddy. Harry [Douglas] had the one-on one. You just have to find Harry. They only rushed three guys. We have to execute on those plays. Hopefully this year they will be big plays for us. It's kind of hard to find those one-on-one matchups when we're trying to go to the big-time guys. Every now and then and they are like 'let's single this guy.' At those times, you have to make them pay."
Mano y  mano
Here's a look at one of those one-on-one battles against the Rams last season.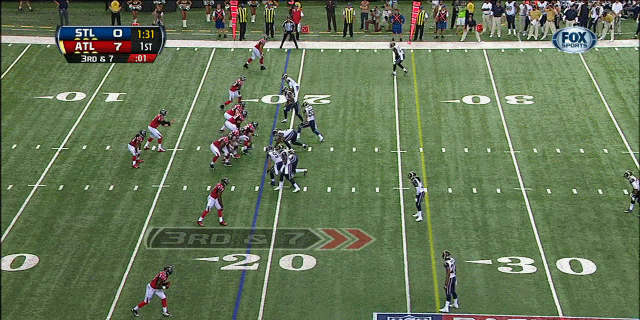 Jones was lined up in the right slot with Rams corner Janoris Jenkins playing off-man against him. But the Rams had the safety cheating over the top, making it look like it could be a double.
"On the 81-yard play we had moved him into the slot and he just ran by Jenkins who thought he had safety help, but Matt did a good job looking the safety away," Koetter said.
Said Jones: "It was third and 7, so go up to the sticks like you are running an out, but at 7 yards make him bite and then Matt threw a great ball over the top."
It was the longest play of Jones' career, showing off how dangerous it is to single him.
I asked Jones if one corner could cover him.
"No,' he said. "No one should be able to cover [me] one-on-one. Nobody knows where you are going. With the speed and explosion I have, I don't think anybody can cover me unless they grab me because you are in a backpedal. I am coming at you 100 miles per hour. I can go left, right, any way I want to, or run right past you. You can't cover that. Not one-on-one."
That might sound cocky, but don't expect to get the typical receiver look-at-me stuff from Jones. He might be the anti-receiver in fact. When corners chirp in his ear -- and Jenkins, who he has known since high school, is one who does -- Jones says nothing back.
"I don't need trash talk," Jones said. "It's not going to get me anywhere. It's not going to make me do anything. Talking never got nobody anything. Action always has. You know what? You score on them, and it's going to hurt more than words."
All Jones asks is that his opponent respects him and he will give it back. That's how his battle with Antonio Cromartie went in that Jets game. Cromartie -- a tough, physical corner who loves to play press-man -- was matched on Jones for much of that game.
The two plays late in that game that I pulled out for Jones to watch -- plays that came after the screw broke -- really highlight that battle, but also his toughness.
'I am the best'
The first play was a long catch he made against Cromartie that led to his being called for pushing off. Here's a look: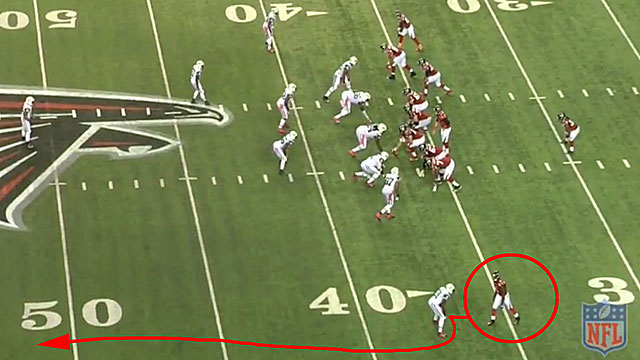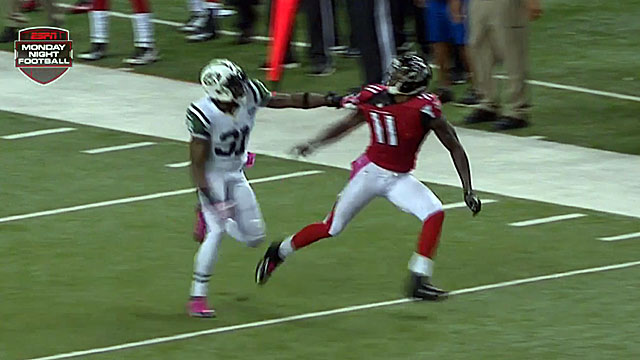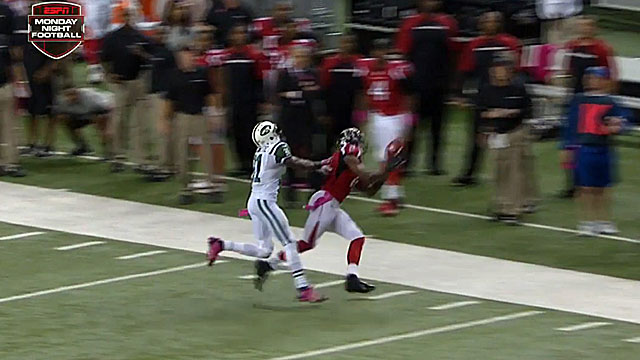 Jones (red circle) was at the bottom with Cromartie lined up directly across from him. Here's how Jones saw the play.
"They called me for pushing off," he said. "I didn't touch the guy. I disagreed with the call. The guy was holding me the whole game. And then they throw the flag late. There was another one where I could have scored, and he tackled me before I could catch the ball. He held my arms down so I couldn't grab the ball. He didn't get to me. It was more so the referees. You can't call it one-sided. I am all about being fair. I have never been a big pusher. Just let me run my route to get my cushion. That's why I take so much pride in my route running."
On that play, I could not tell Jones was hurting when I watched it. But when we watched it together, he could.
"You can see I am limping here," he said, pointing to the screen in front of us. "You can tell how I am running, not really putting pressure on it. I am putting it down and picking it up so fast."
If I didn't know better, I'd say I was watching an injured thoroughbred trying to finish a race.
On the very next play, he finished in style. Here's a look: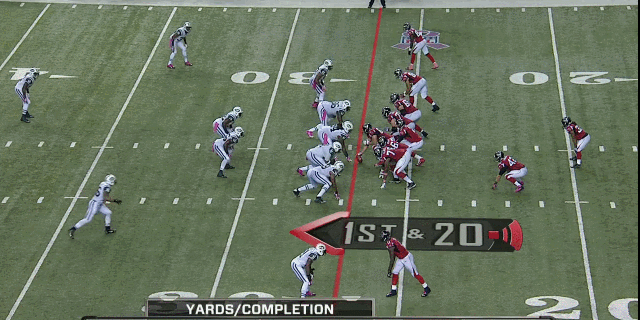 Jones caught a 46-yard pass, making a one-handed catch, to set up a Falcons score. That means with a broken screw in his foot, he ran consecutive plays down the field against Cromartie, the last one for a sensational catch.
"I am out there playing for those guys," Jones said. "If I feel like I can run, I will run -- unless my foot is off. If I can play, I am going to play."
That's why the spring and summer work is so important for him. He wants to get out there and prove that he's back to being the big-play receiver that corners fear, and that the Falcons so badly need.
"Everything happens for a reason," Jones said. "I am a big believer in that. I didn't look at the negative side of it. I always try and think positive in situations like that. It's making me a better player. It's making me a better student of the game and made me see how much I really love football. When something is taken away from you, and you can't play, it's 'man, I really, really miss this.' Instead of taking it for granted and being like, 'I have to go to work.' I was never one of those guys. I love coming to work."
I told Jones that I had Calvin Johnson ranked ahead of him on my upcoming list of the top 100 players in the league. He frowned at that talk, showing off the cocky side that we rarely get to see.
"I feel like I am the best receiver in the league," Jones said. "Every receiver should feel that he's the best. It's all about confidence. You should never put another man in front of you and say he's better than you. I never compare myself to him [Johnson]. When I was coming out of college, they used to talk about me and A.J. [Green]. We're two different receivers. He's good at what he does, and I am good at what I do. Like the LeBron [James] and Michael Jordan thing. You can't compare the two.
"You're good in your own way. You do your own thing. I don't get into that talk with anyone else. I try and go out there and be the best I can be. I don't go out there and say Calvin Johnson caught this many passes today for this many yards, so I have to exceed that. No, I am going to go out there do what the Falcons need Julio to do to win. I don't have to catch no balls."
But, I say, there's nobody better?
"There's nobody better," he said.
---
More from Pete Prisco:
The 'Peanut Punch' is coming to the FBI

Wondering which NFL team are going to win in Week 3? You came to the right place

Carl Johnson, the NFL's former VP of officiating, is facing domestic violence allegations in...
The Falcons look like a team capable of repeating as NFC champions and returning to the Super...

After two consecutive weeks of ineptitude on offense, Giants fans are already sick of Ben...

Our computer model simulated every Week 3 NFL game 10,000 times with very surprising resul...