Frank Wycheck on concussion settlement: I won't receive a dime
Not everybody is happy with the recent concussion settlement between the NFL and the former players that are suing it.
• 1 min read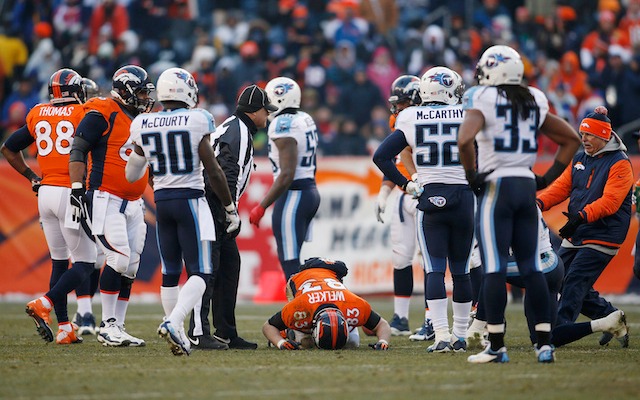 When U.S. district court judge Anita Brody gave her preliminary approval to the uncapped settlement between the NFL and those thousands of former players who are suing the league for past concussions, it was a major step forward for those retirees who are in actual need of getting that money.
But not everybody is happy.
"Let's keep the window dressing off of it as far as having a parade and a standing ovation for it," former Titans tight end Frank Wycheck told the Tennessean. "I know how bad I have been suffering, and I am not eligible to receive a dime. … I find it hard to believe there will be a lot of guys eligible for it because there's not a lot of guys worse than me."
Wycheck -- a three-time Pro Bowler who played for the Redskins and Oilers/Titans from 1993-2003 -- estimates he suffered between 15 and 25 concussions during his time in the NFL, and today, he suffers from migraines, memory loss and depression.
But because he hasn't been diagnosed with a neuro-cognitive impairment -- that would be dementia, Alzeheimer's, Parkinson's or ALS -- he can't collect any money for now. If Wycheck suffers from CTE, his family would be paid after he dies.
After Brody's approval, the plaintiffs have 90 days to challenge the concussion settlement or to opt out of it.
In the past week, Marshawn Lynch and Michael Bennett have both sat during the national ant...

As expected, the internet had jokes about the Chick-fil-A at Mercedes-Benz being closed on...

Harrison is the franchise's all-time leading sacker, but J.J. Watt's brother will get the starting...
More than 17 percent of fans say they would never consider dating a Pats fan

Brady said that his lack of speed is why he fell so far in the draft in the first place

If Thomas is right, that means it's bad news for DeShone Kizer's chances of starting early