Fred Davis sees how Redskins name 'could be kind of offensive'
Redskins tight end Fred Davis said that he sees how the Redskins name 'could be kind of offensive.'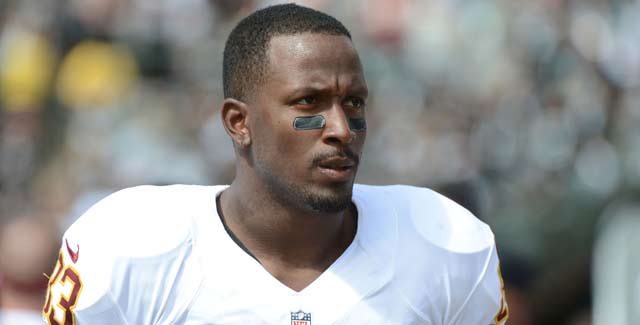 The Redskins have politely intimated to their players that they shouldn't be speaking about the team's nickname. Tight end Fred Davis must not have gotten the memo.
Davis, appearing with our good friends Lavar Arrington and Chad Dukes on 106.7 the Fan in D.C., said he sees how Washington's nickname "could be kind of offensive."
"Whatever they do, I can't really have a say in it, and I could see how it could be kind of offensive," Davis said. "But you know, at the end of the day, I don't have control of that. All I do is put a jersey on and play football. If they call it Washington Redskins ... Fredskins ... I mean whatever you want to call it."
Yes, Davis suggested Fredskins. Like Dukes, I would also be into that.
It'll be interesting to see how the team responds to Davis, who did argue with Dukes that teams like the Indians, etc., would have to change their name if people are out there fighting against Redskins.
That logic certainly applies to a degree -- Indians is offensive but not nearly as offensive as Redskins. And Davis said that ultimately he wouldn't care and that he'd be fine if the team changed the name.
"I just feel like probably the history of it would change the way you know, people look at it, because damn, now they're changing it after all these years, but at the end of the day, it doesn't matter," Davis said. "I mean, you give us a name or not, we're going to go out their with some new cool jerseys and play football."
Unfortunately for anyone who's offended, owner Dan Snyder doesn't feel nearly the same way and will apparently fight to ensure that the Redskins name is never changed.
The Chargers, after starting 0-4, can take first in the AFC West with a win Sunday

The Lions cruised to a victory but will need to win out to have any chance of reaching the...

Here's every official injury designation for each NFL team for Week 15
This might go down as the best catch of Week 15

Our computer model simulated every Week 15 NFL game 10,000 times with very surprising resu...

Ryan Shazier and the Steelers were the big winners in Pro Bowl voting that was unveiled on...