Free-agent buzz: Broncos want Peyton pay cut; Jags, Raiders will spend
Which teams will be players in the Ndamukong Suh derby? Will Peyton take a pay cut? Who's set to get paid? Here's some early best guesses.
• 7 min read
The coaches and general managers and agents have returned home from Indianapolis, the combine now complete, and in less than two weeks the money will be flying around with the official start of NFL free agency. The rumor mill is starting to churn, with the market for players beginning to form, and there is a growing sense of what might be ahead with the League Year set to begin March 12.
Here is some of what I'm hearing:
Will Peyton take a pay cut?
Peyton Manning thing is coming down to money. It's hardly a unanimous notion within the organization that it makes sense for Denver to pay Peyton Manning $19 million coming off last season, with the quarterback's age and the ability to stay healthy in question. It remains to be seen if Manning would be willing to take a pay cut and do more than just move cap numbers around to best keep the team contending for a Super Bowl. Stay tuned. I suspect they get something done, but that the contract looks different than what was scheduled. I did a little number crunching and looks like Manning has made over $250M in his career in salary alone (not including endorsements, etc). This is the end. It's time to take a cut. But that hasn't been how he has been wired.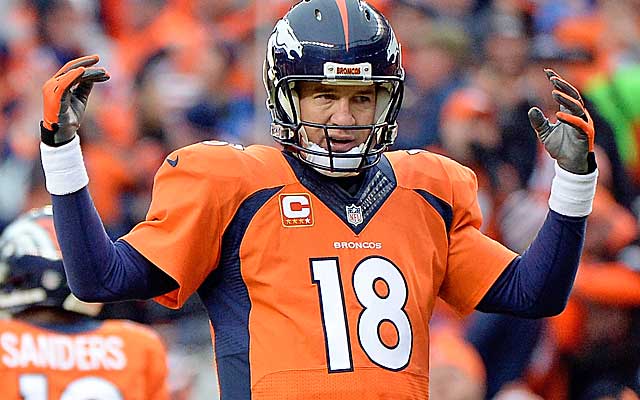 The Jaguars, Raiders will be major players
Count me among those who believe Jacksonville makes a very strong play for Ndamukong Suh, who is prized to make more money than anyone else in this free agent class. The Jags will be looking for a high-end pass catcher as well. If they ended up with either Randall Cobb or Julius Thomas I would not be surprised in the least.
Ditto for Oakland. Expect the Raiders to be in the Suh derby as well, and they, too will be looking for assets to pair around young quarterback Derek Carr. These two teams will end up bidding on several of the same players. Besides the big-ticket guys they need to replenish depth as well and guys like Ed Dickson make sense in what is not a great class of tight ends.
Pernell McPhee's pay day
Ravens defensive lineman Pernell McPhee, a rotational guy in Baltimore who rarely started, is going to hit it big. I expect he can reach $10M a year -- the Colts will likely be very involved -- and will top a class of pass rushers that has some questions. Jerry Hughes might hit $9M a year, with guys like Brandon Graham and Jason Worilds possibly coming in around the $7.5M range. It's certain McPhee is gone -- the Ravens wish him best of luck and are happy for the young man who is about to secure life-changing wealth, and at this point I'd expect everyone on this list to be playing elsewhere next season.
More buzz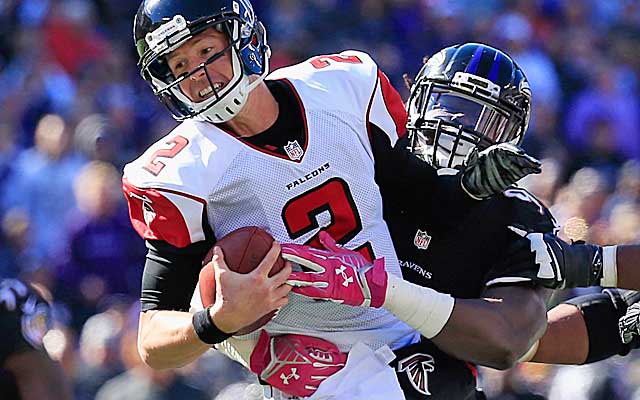 • Josh McCown expects to make a decision on his next team by the end of the week, and certainly no later than early next week. All of the teams he has visited with -- the Bills, Jets, Bears and Browns -- remain very interested in him, and I would not be surprised if he gets $5 million a year. Just a hunch, but I could see this coming down the Bills and Browns, both of whom need a starter badly. New York continues to have interest in Ryan Mallet, should he not re-sign with Houston, and will make a pitch for him. Cleveland has made no attempts to get anything done with Brian Hoyer, the new offensive staff does not appear to be as high on him as the former one, and it would take a quick reversal by the team to anticipate the hometown kid stays with the Browns in 2015.
• No team has more salary-cap work to be done than the Saints. They continue to work through the process with at least a half-dozen players, sources said. Coach Sean Payton has expressed a desire to part with troubled pass rusher Junior Galette, according to sources, with the team exploring options to part with him after his January arrest. But the contract looks pretty iron-clad, with a fully guaranteed $12.5M roster bonus coming due in mid-March. Because his arrest came in the offseason and did not cause him to miss a practice or game, sources who have read the contract believe the NFLPA would object to any attempt to circumvent it. I don't see them getting around this. If the Saints can trim the $20M or so they need to from the cap the way they want, sources said it would result in Marques Colston, Jahri Evans and Curtis Lofton remaining with the team on slashed salaries, while Ben Grubbs, Brodrick Bunkley and David Hawthorne are very likely to be let go and to hit the market as free agents. You can put the Saints right up there with the Titans, Colts and Dolphins as teams who have splurged big in free agency over the past three years with very little production coming from those often highly-overpaid players.
• Percy Harvin won't be taking a pay cut to stay with the Jets. If he plays in New York this season it's for the $10.5M he is owed, from what I am hearing. And even with all the cap space they have, paying that much for him, given their uncertain quarterback situation, doesn't really make sense. So I think he's gone (and his departure would mean Seattle gets a sixth-round pick as consummation of the trade, instead of the fourth-rounder had he stayed in New York). Look for Harvin to gamble on himself, not having had a full season in a while, and sign a one-year deal with a team that has a top quarterback in place. This looks like the kind of value play the Patriots excel with. And I wouldn't be surprised at all if C.J. Spiller, who can do some dynamic things in the screen game himself, leaves Buffalo and ends up with the Jets to replace some of what Harvin does.
• If the Jets don't land Darrelle Revis -- and I don't believe they will and frankly paying that kind of money for him now, with the roster still a few years away from being a contender, wouldn't be prudent -- then they will pounce on Antonio Cromartie. That's the reunion that would better fit where they are as a franchise and with him making less than half of Revis, would allow them to sign another corner as well with the secondary in desperate need of help. I expect the Patriots to do what it takes to keep Revis.
• Chiefs center Rodney Hudson will outpace some projections. He came this close to signing a four-year extension during the season that would have been worth $6M a season -- very good money. I bet he ends up with at least $7M a year in free agency, however, and I continue to hear the Raiders are looking hard at him.
• The Packers know that Cobb's market is likely to get out of hand and have focused on keeping other free agents. They continue to discuss a new deal with the agent for tackle Bryan Bulaga, sources said, and I bet they get their man in the end. Same with nose tackle Letroy Guion. I'd be pretty surprised if they did not re-sign him -- his legal issues may be resolved shortly -- and especially with fellow defensive lineman BJ Raji a free agent. Guion did a very nice job thrust into the starting role last season, and the Packers are very good about keeping their value free agents.
• Barring some significant progress I would not be surprised if Haloti Ngata has played his last game as a Raven. He's been with the team his entire career and is a iconic player in Baltimore, but I wouldn't underestimate his willingness to play elsewhere in 2015 if need be and reports about the sides being close and the Ravens making a "strong" offer aren't jibing with me. There is still time to work something out, and we'll see, but some things would have to change. I do, however, expect the Ravens to work out something shortly with corner Lardarius Webb, who also carries a big salary cap number and Baltimore needs to restructure to gain some cap relief. The club anticipates Webb being much healthier and playing at a high level next season with top corner Jimmy Smith back from injury as well.
Pick Six Newsletter
Get the day's big stories + fun stuff you love like mock drafts, picks and power rankings.
Please check the opt-in box to acknowledge that you would like to subscribe.
Thanks for signing up!
Keep an eye on your inbox for the latest sports news.
Sorry!
There was an error processing your subscription.
Week 2 of the NFL preseason continues with Kirk Cousins vs. Blake Bortles

The Falcons might not know which state Kansas City is in

This seems like good news for Cleveland
'Hard Knocks' might have just lost a fan

Emory Hunt has his finger on the pulse of the Cowboys and just locked in a play for Saturd...

R.J. White has his finger on the pulse of the Rams and just locked in a play for Saturday