Free-agent Musings: Elway continues to get it right for the Broncos
Broncos president John Elway is showing that he isn't just in his job because of his name.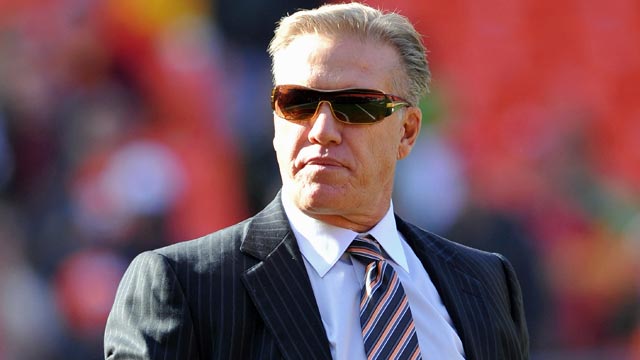 There is no denying it now: John Elway knows what he is doing.
There were some who wondered if the Hall of Fame quarterback could handle running an NFL team when he took over the Broncos three years ago.
Now we know. He isn't just doing the job, but he's flourishing at it.
NFL free agency
Analysis

Related content
Elway is reminding us that football is just football. You can overthink it all you want, but good football minds know the game, and Elway's past two years have shown us that he knows what he is doing.
One year after signing Peyton Manning as a free agent, jettisoning the stiff left-handed, cult-like quarterback he hated in the process, Elway is back at it again. The Broncos signed Wes Welker Wednesday to a two-year deal worth a reported $7 million a year.
Welker goes from Tom Brady to Manning. How lucky is he?
How lucky are the Broncos?
Not only do they get one of the best slot receivers in the game, they do it wisely by signing him to a two-year deal. In two years, Welker could be done. For now, it's a good move.
The Broncos can line up with Welker in the slot, and Demaryius Thomas and Eric Decker out wide.  Good luck matching up with that.
When I broke down Welker's game two weeks ago, studying it closely, the thing that stood out was his ability to beat man coverage with his smarts and his knack for sitting down against zone coverage.
Peyton Manning loves throwing inside to the slot receiver. He's done it his entire career. And now he has one of the best.
The Patriots led the league in third-down conversions last year at 48.7-percent in large part because of Brady-to-Welker. The Broncos were at 45.1-percent, tied for Atlanta for second, so you can bet that number will go up this season with Welker.
Add in the signing of guard Louis Vasquez from San Diego, and the Denver offense is vastly improved from the one that finished second in the NFL in scoring last season.
The Broncos do need to add a back -- and they will -- and Elway has some work to do on defense. But remember that defense finished second in the league in total defense last season.
The Broncos, in my mind, are the Super Bowl favorites in the AFC. John Elway is showing he is much more than just a quarterback. He can put together a football team too.
-- After no running backs were signed Tuesday on the first day of the free-agency period, we had a handful sign or agree to deals Wednesday: one I like, one I am OK with, and one I can't figure out.
I like the Reggie Bush signing in Detroit. On the fast track, with an up-tempo spread offense, Bush is the perfect back. He is the prototypical "air" back and he will now be playing in one of the most wide-open offenses in the NFL. It just works.
I am OK with Rashard Mendenhall signing in Arizona because he will be another year removed from knee surgery and coach Bruce Arians had him when he was the offensive coordinator in Pittsburgh. Plus, they only gave him a one-year deal. It's basically a look-see.
The one running back signing I don't understand is Shonn Greene to the Titans. Why do they need to give a back a three-year deal to backup Chris Johnson? That makes no sense.  Use young guys behind him. That's just being wasteful. I am not a big fan of the way Greene runs either. He misses a ton of holes.
There is talk that the Packers are negotiating with Steven Jackson on a three-year deal. That would surprise me. That's not the way the Packers usually do things. But Jackson can still help a team for a year, but three years? That's a bit much.
Two words that should deter teams from signing backs: Alfred Morris.
-- In the past week, we've seen a bunch of box safeties, the guys who play up near the line of scrimmage but lack great coverage skills, getting axed. In the past seven days, the Ravens cut Bernard Pollard, the Rams cut Quintin Mikell, the Chargers cut Atari Bigby and the Jaguars cut Dawan Landry. The problem with all of them is they are all better in the run game than against the pass. This is a passing league now. You need safeties that can run.
-- The Bucs were aggressive in signing safety Dashon Goldson to a five-year deal, but I have one question: What about corner? While the addition of Goldson gives them a heck of a safety pair along with Mark Barron, they have big problems at corner. Even those two safeties can't cover up for the problems they have outside. And you can be great inside in coverage, but if your corners stink it won't matter. There are still a lot of corners on the market, and I would expect the Bucs to get one or maybe trade for Darrelle Revis. Whatever they do, it has to be fixed or the signing of Goldson won't matter. Goldson is a good run player, but I think he has problems against the pass.  That can be exploited at times. See the postseason last year.
-- I thought Glover Quin was a better option than Goldson, but he signed with the Lions. That's a good move for Detroit. He is a former corner who can tackle. He can play up in the box if asked to do so, but he can also play in coverage.  The Lions did some good things Wednesday. They also re-signed corner Chris Houston, who would have left a big void if he had gone elsewhere.
---There were two late-night signings Wednesday, one I liked and one I didn't. The Colts signed Jets safety LaRon Landry to a contract that included $14 million in guarantees. That's way too much for a guy who struggles in coverage. I know the Colts needed help back there, but Landry isn't the answer. The other signing I did like was corner Derek Cox to the Chargers. He is a quality player who has not been able to stay on the field. He's had a lot of hamstring issues. But if he can stay healthy, the Chargers landed a nice corner. 
Mariota and left tackle Taylor Lewan both escaped serious injuries

This might go down as the most expensive snowstorm of Adam Vinatieri's life

The Cowboys unveiled a new look on Sunday and their fans seemed to love it
Conquerors of adversity in 2017, the Eagles are still on the fast track to claiming the NFC's...

Cord-cutters are probably going to like this new deal between the NFL and Verizon

Stephen Oh has his finger on the pulse of Bill Belichick's team and just locked in a strong...