Free-agent Musings: Field-stretching Wallace great get for the Dolphins
I love the signing of Mike Wallace in Miami. He will give quarterback Ryan Tannehill a deep threat and help the young quarterback grow as a passer.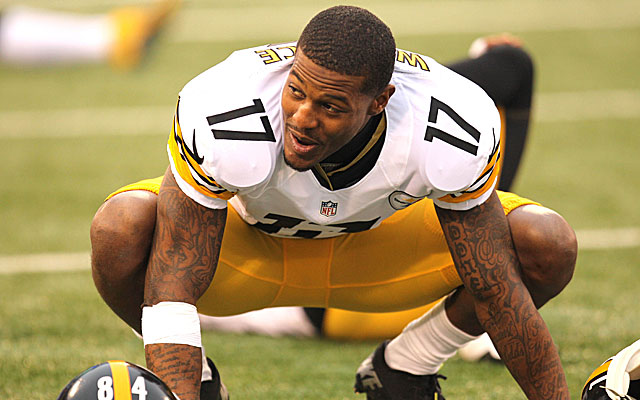 I love the signing of Steelers receiver Mike Wallace by the Dolphins. Why? Speed. Speed. And more speed.
The NFL is an "air" game now. You have to be able to stretch the field, and the Dolphins can now do that. They already re-signed Brian Hartline to work the underneath routes, and now they have a deep threat to go with him.
Some will say Wallace drops too many passes, but I love the ability to get down the field. I would want that type of big-play receiver in my offense.
I thought the Steelers used him wrong last year in Todd Haley's offense, sending him on too many shorter routes. That's not who he is as a player.
Wallace will give Ryan Tannehill the ability to stretch the field and grow with him as a passing combination.
Wallace will get a reported $60 million over five years. That's the same amount the Seahawks will be giving to Percy Harvin, who they acquired in a trade. For my money, I would take Wallace. 
Per-catch career averages: Harvin: 11.8. Wallace: 17.2.
That's telling. What's more, the Dolphins didn't have to give up a draft pick to sign him.
Nice move, Miami.
• The Dolphins got younger at linebacker by signing Dannell Ellerbe and letting Karlos Dansby  walk. That's the NFL way. Another nice move by Miami. They did it again later in the day when they signed former Raiders linebacker Phillip Wheeler and released Kevin Burnett. Give it to general manager Jeff Ireland: He's spending like he's printing it. With reason. If he doesn't win in 2013, he's likely gone. But you can never go wrong getting younger and faster. 
• The Cleveland Browns are going to a 3-4, so they need an edge rusher. I get why they jumped on Paul Kruger right from the start, agreeing on a deal with Ravens outside linebacker to a four-year contract that is said to be for $10 million a season.
Kruger played well late last season and on into the playoffs. I think he's a good player. But he isn't worth that kind of money, even if his best football is probably ahead of him.
Why? 
Where's the suddenness? If I pay a pass rusher that type of money, I want him to have the ability to explode off the edge around a tackle. I don't see that with Kruger. He is an effort player, who can bull-rush at times, but he doesn't win with his quickness.
That would concern me some if I were the Browns. He is more solid than special, but in a market where teams are desperate to get outside rushers, it was inevitable somebody would overpay for him.
I see a good player. I don't see a special one. And the Browns are paying him to be special.
• I like the Bears signing of Martellus Bennett, but did he have that one good year in New York because it was a money year? He was considered something of a disappointment in Dallas but did a nice job with the Giants last year. He is a complete tight end, one who can block and catch. But focus hasn't always been his thing. It will be interesting to see if the tight-end needy Bears can make him a big-time weapon in Marc Trestman's offense.
• Why did the Bills rush to pay Ryan Fitzpatrick in the first place? He had a half of a season that was good and they rushed to pay him? So what happens? He morphs into who he is, which is a journeyman, and they let him go Tuesday. Buffalo has to draft a quarterback.
• I am not a big believer in paying guards huge money. The Titans, who were bad inside last year, have agreed to a deal with Buffalo's Andy Levitre for four years and a reported $36 million.  Does Levitre put this team over the top? Didn't think so. You can always find guards. Draft slower college tackles and move them inside. Three of the four guards who started in the Super Bowl were college tackles. One, Alex Boone of the 49ers, wasn't even drafted. Levitre is a good player, one of my favorites, but that's a lot of money for a guard. 
• Jaguars defensive tackle Terrance Knighton is on his way to Denver to meet with the Broncos and will likely sign. Knighton will fill a major need and join defensive coordiantor Jack Del Rio, who was coach in Jacksonville when Knighton was drafted. Knighton was put in the doghouse last year by the coaching staff, which was a mystery to some players. But he is an effective run player who can also collapse the pocket when he has his weight down. That would be a great get for Denver. 
• I am a big fan of the Colts move to sign corner Greg Toler and add two starting offensive linemen in guard Donald Thomas and right tackle Gosder Cherilus. That's three starters added at three key positions. The right tackle spot was a disaster for Indy last year, and Cherilus will fix that. Toler is a rising corner who is physcial and will tackle. Thomas is a good pass protector, which Andrew Luck needs. The signing of Packers outside linebacker Erik Walden is a bit strange. He's been just a guy. 
• The Rams needed a pass-catching tight end, and coach Jeff Fisher is familiar with Jared Cook from his time with the Titans, but Cook has been more of a tease than a special player so far in his time with the Titans. Can Fisher get more out of him? The Rams paid him a nice contract with the hopes that he can do that. But I wonder if he is just a tease? The athletic ability is there, every year we expect a breakout season, but where is it? 
• Stop worrying about the Ravens. As long as Ozzie Newsome is calling the shots, they will be fine. None of the players they've lost -- Anquan Boldin, Paul Kruger or Ellerbe -- is crippling to the team. They can be replaced. 
• With Jermon Bushrod going to the Bears, the Saints have a big hole at left tackle. Charles Brown, the replacement, isn't good enough. I know it's better for the Saints to be stronger in the middle of their line because Drew Brees is short, but they can't have a spinning top playing left tackle. 
Here's the latest information on injured Steelers linebacker Ryan Shazier

The Titans quarterback has had a frustrating season but maintains that's not an excuse for...

The Seahawks defensive lineman almost ended up in the stands fighting Jags fans last Sunda...
The Colts quarterback has been out of the country since mid-November

The MVP candidate is fresh off a successful surgery for a torn ACL

This is game footage you're going to want to see