Free-agent musings: Where does Dumervil end up after the snafu?
Denver Broncos defensive end Elvis Dumervil is now a free agent and with his pass-rush skills he has value.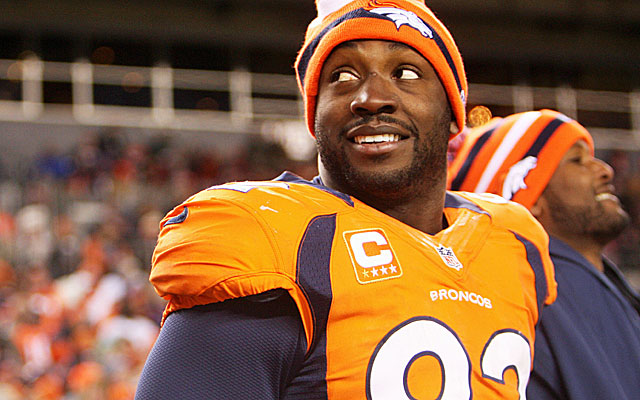 The Denver Broncos need a pass rusher thanks to a snafu.
Elvis Dumervil might now get a new home.
This was a laughable situation, and it never should have happened. Or was the agent playing a game, and he didn't get away with it?
The Broncos wanted to keep Dumervil, but they botched the process to re-do his contract, which made him a free agent. His agent didn't get the fax agreeing to cut his salary from $12 million to $8 million back to the team on time. That meant Denver had to keep his contract for $12 million or let him go. They chose to let him go.
You can bet he's going to get some play on the market. I spoke to a couple of execs this week from other teams who were intrigued at the idea that Dumervil would come free. They didn't believe Denver would let him walk -- even with a high cap number.
"That's just posturing on their part," one league exec said. "No way he gets out of there."
The Broncos wished it were true. Now they have to hope like heck they can either bring him back with a new deal or find a replacement.
They were going to cut his salary from $12 million to $8 million before the glitch set him free, but it's doubtful he will get $8 million a year on the open market. But there are good teams desperate for pass rushers, so you never know.
Dumervil is a good pass rusher, but he is a liability in the run game. Big tackles maul him. But that's what you get with a smallish pass rusher.
Even so, his value coming off the edge is important to the Broncos, who have a play-with-the-lead offense with Peyton Manning. 
But it would be shocking if a team pays Dumervil $8 million a year -- other than Denver. But you never know when it comes to pass rushers. The New Orleans Saints, transitioning to a 3-4 would be a perfect fit. And teams looking for a down end could also take a look.
--- We started seeing a lot of one- and two-year deals in the past couple of days. Like I've said all along, the agents and the players whom I've talked with are not happy about this new Collective Bargaining Agreement. Where is the money? These players are essentially rentals.
--- The Jaguars finally got involved in the free-agent sweepstakes by signing three players on Friday. They were former Tampa Bay defensive tackle Roy Miller, former Houston running back Justin Forsett and former Texans corner Alan Ball. Miller is the best of those signings. He is a power player inside against the run. He was a big reason why Tampa Bay had the top-rated run defense last season. He is tough to move off the ball. In Ball, the Jaguars get a taller corner, which new coach Gus Bradley wants in his secondary
--- I like the signing of former Bills receiver Donald Jones by the Patriots. They need speed outside, and he has it. Jones is only 25, so he has a chance to develop into an outside speed threat for Tom Brady. The Bills didn't give him a tender as a restricted free agent, which is why he was available. 
--- The Jets upgraded at running back with Mike Goodson over Shonn Greene. But, again, I ask this question: Why pay a guy when you can draft one? Goodson is more elusive and is quicker than Greene. But why give a three-year deal for $6.9 million to a guy who has been nothing more than a backup? Weird. 
--- The Raiders landed a solid linebacker in Nick Roach from the Bears. He will start in the middle and is a clear upgrade from Rolando McClain, who was always way too heavy to be fast enough in their defense. 
--- Another signing I liked is Arizona getting defensive end Matt Shaughnessy from the Raiders on a one-year deal. He isn't an explosive edge rusher, but he's a power player who can also hold up against the run. 
--- Dustin Keller on a one-year deal is a good one for Miami, which had a huge hole at tight end after losing Anthony Fasano in free agency. Keller isn't a great blocker, but he can be an effective weapon down the field. The Dolphins also added Brandon Gibson from the Rams. We've said since the end of the season that Miami had to get weapons for Ryan Tannehill. And they have. Now it's on him.
The Titans are getting ready to unveil a uniform that won't be 'anything close' to any other...

The NFL announced on Friday that 32 compensatory draft picks have been awarded to 15 teams
Jonathan Martin's old high school was forced to close on Friday after he appeared to threaten...

It doesn't look like the Jaguars will be making any front office changes anytime soon

The Buccaneers quarterback received a citation after causing a car wreck February 13