From Abraham to Woodson: Where 9 NFL veteran FAs make most sense
Now that the initial FA rush and draft are over, is NFL roster help left? Try Abraham, Dansby, Seymour, Woodson, etc., along with some sensible destinations for nine such players.
• 4 min read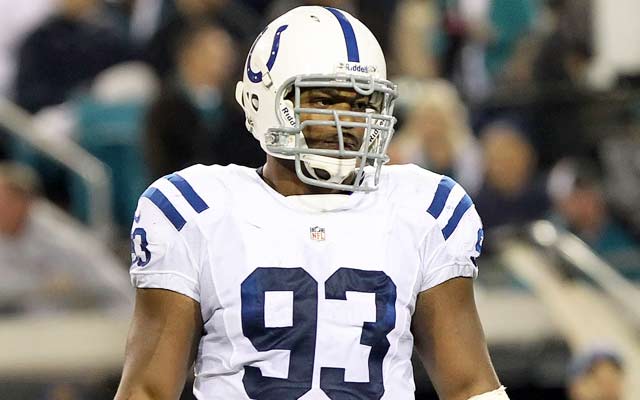 We have entered the dog days of the NFL offseason from a personnel standpoint.
The initial waves of free agency are long over, the draft has concluded and even the mad dash to sign undrafted college free agents is behind us. But that's not to say there isn't still some veteran talent on the street, waiting for a phone call (or, more to the point, the right phone call at the right price).
No one can predict how a draft will unfold and not every team could meet every need within the confines of those seven rounds. Plenty of teams still need help, and while most vets looking at their last contract would prefer to do it with a contending team, that won't always be the case.
With that in mind, here are nine free agents who are plenty worthy of a shot at a roster spot right now, and where they would make sense.
DE John Abraham : He made his tour of visits, and he's been pretty firm with his asking price, but this still leaps out as a Bill Belichick move to me. He is always collecting veteran edge players who can add situational help, and the Pats are always in the hunt. Abraham used to play in this division and could be spelled some. Belichick will find a way to get him on the field at the key time.
G Brandon Moore : He has been a longtime starter and consistent performer, and even though the Chicago Bears reached for interior lineman Kyle Long in the first round, it doesn't mean they don't need cover. Their line has long been a mess, and Long is a project who will need some mentoring. With Jay Cutler in his walk year, more investment in protecting him is necessary.
RT Tyson Clabo : A stalwart for the Atlanta Falcons , he got caught in a cap crunch. The Dallas Cowboys really like him and remain in contact with him and need to make this move. Get rid of Doug Free and his $7 million salary and give Clabo his $3.5 million-$4 million and call it an upgrade. I know Dallas is in a cap crunch, but after a questionable draft, upgrading some offensive line personnel now would be wise. And the Miami Dolphins are now in on Clabo, too, hosting him for a visit starting Tuesday night.
LT  Bryant McKinnie : McKinnie never has managed to ingratiate himself with the Baltimore Ravens -- and has been overweight, and erratic at times -- but he has played particularly well in the postseason. In fact, the Ravens don't win the Super Bowl, or maybe even make the playoffs, without him being reinserted at left tackle late in the season. The Ravens continue to talk to him, and frankly, they should give him a few million with some weight clauses and get this done. Baltimore is dabbling with moving guard Kelechi Osemele to left tackle, but that's not his natural fit. Miami and San Diego are also interested, and either could use him.
RT Eric Winston : Has performed at a high level for awhile, but there are medical concerns and no one has been willing to pay him in that $3 million to $4 million range, either. But the Dolphins continue to monitor him. After all of their splashy moves and overpaying people in free agency, they might as well go get a tackle, since Jake Long departed. The thought here is Jonathan Martin moves to left tackle -- the Dolphins think he can pull it off -- and Winston stabilizes things on the right side. Of course, if Miami can get its main target -- Kansas City right tackle Branden Albert via trade -- then these signings would be moot.
LB Karlos Dansby : He has been a tackling machine throughout his career, he brings strong leadership qualities with him and he undoubtedly will be motivated after the Dolphins let him go. He recently visited the Buffalo Bills . While I understand Buffalo drafted linebacker Kiko Alonso , they could use reinforcements, and you can't tell me that their defensive roster is so robust and overflowing with talent that Dansby couldn't help.
DL Richard Seymour : He still has something to offer, can help anchor the inside and rush off the edge. And he knows what it's like to be in a winning locker room ... as well as an inept one. He won't come cheaply, which is why he hasn't signed yet, but teams continue to monitor him. While I think he could offer a boost to a Pittsburgh front seven in transition, the Pittsburgh Steelers don't have the cap space to pull it off. But what about the Indianapolis Colts ? They still could use some depth there, are trying to add more bite on defense and haven't been shy at all about spending this offseason.
OLB Dwight Freeney : I'm not sure he's more than a situational pass rusher at this stage, but in small doses still might be able to approach double-digit sack totals, and that's always in demand. Another player whose price tag has been seen as too steep. But I still don't know that he doesn't make sense in Denver, a team that is obviously in Super Bowl or bust mode.
DB Charles Woodson : He may not have much to offer, but he's a total pro, has seen both sides of the NFL evolution process (going from looking like a disinterested potential bust to one of the most respected veterans in the game) and long ago realized that there won't be big money for him. He could make sense for the Ravens. Baltimore just lost Ray Lewis and Ed Reed . Having drafted safety Matt Elam , who is talented but could have attitude issues, and with young starting corner Jimmy Smith a character concern in the past as well, a steady, reliable old head like Woodson in a locker room lacking leaders might not be the worst investment the Ravens could make.
Jonah Keri talks football with NFL writer Lindsay Jones

Zeke is already out for the opener for the Cowboys and now the Giants could be without Bec...

The Raiders will be traveling more miles in 2017 than the Steelers, Bengals, Packers and Lions...
It appears Kizer has taken the lead over Brock Osweiler in the Browns' QB competition

Bell seems like he's going to show up nine days before the start of the season

Welcome to the NFL's version of a dress rehearsal