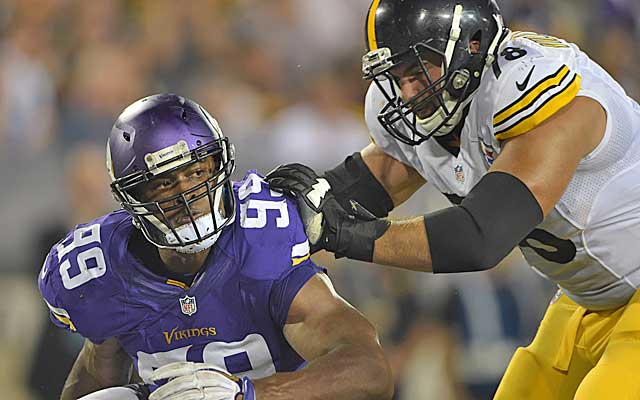 It's no surprise that Alejandro Villanueva seemed right at home in his first regular-season NFL action, replacing injured left tackle Kelvin Beachum in the first quarter of a Week 6 game against the Arizona Cardinals. Never mind that he was tasked with protecting Steelers quarterbacks Michael Vick and later Landry Jones, or that he was facing one of the league's best defenses. When compared to what he was doing in his previous life, football is a walk in the park.
Villanueva graduated from The United States Military Academy at West Point in 2010 and after a short stint with the Bengals, he spent the next four years defending his country. That included three tours in Afghanistan as an Army Ranger where he earned numerous honors, including the Bronze Star Medal for Valor, the Ranger Tab, the Parachutist Badge, the Bronze Star Medal for overseas service, National Defense Service Medal, Afghanistan Campaign Medal with Campaign Star, Global War on Terrorism Service Ribbon, Army Service Ribbon, Overseas Service Ribbon, NATO Medal, Combat Infantryman's Badge and Expert Infantryman's Badge.
"That's something I couldn't imagine doing," said Steelers linebacker James Harrison told the Pittsburgh Post-Gazette last month. "And he did it, and enjoyed it, and would be willing to do it again. We need individuals like him to help secure the freedoms that we enjoy right now."
After returning stateside, Villanueva decided to give the NFL one last shot. In April 2014, he took part in NFL's Super Regional Combine, along with 240 other hopefuls. A month later, the 6-9, 277-pounder signed with the Eagles as a defensive lineman.
Villanueva had last played in 2009, his senior season at Army, when he caught 34 passes for 552 yards and 5 touchdowns as a wide receiver. Specifically: as a 6-9, 290-pound wide receiver. He began his college career as a defensive lineman (2006-2007) before moving to left tackle in 2008, where he started 12 games as a junior.
Despite the long stretch between his football days at Army and signing with the Eagles, Villanueva has no regrets.
"As soon as I graduated, especially with all my classmates at West Point who were all going to serve, my mind and my heart were going to Afghanistan," he told NFL.com in April 2014. "That's where I wanted to be. I wanted to serve, I wanted to see combat. I was actually trying to get as many deployments as I could, and see it with different units. That's where my mind and my heart was. ...
"The four years I've had in the Army have been the best four years you could ask for. The guys I served with ... above me and under me ... were phenomenal guys. They were good experiences that made me the man I am today. But now, I see this as a win-win situation. Obviously, I'm trying to get to a team and contribute. But if I can't, then I can't wait to get back to the Army and serve in the same manner that I have."
Villanueva didn't stick with the Eagles, but in his brief time with the team he caught the eye of Steelers coach Mike Tomlin. During a 2014 preseason game between Philadelphia and Pittsburgh, Tomlin noticed Villanueva before kickoff.
"I looked across the field during the anthem and there's a guy standing over there about a head taller than everybody else and saluting during the anthem," Tomlin told the media on Oct. 20, two days after Villanueva saw extensive action against the Cardinals. "It kind of got my attention. I wanted to know about this enormous human being over there saluting."
Born in Mississippi to Spanish parents, Villanueva grew up in Rhode Island, Spain and Belgium and learned to play rugby before football. And Tomlin and the Steelers thought enough of Villanueva to sign him shortly after he was released by the Eagles. Villanueva spent the 2014 season on the Steelers' practice squad, and a year later, he made the team's 53-man roster.
"He worked hard and really developed a lot last season, just learning on the scout team and learning our offense by sitting in the room and absorbing what we were doing," Steelers offensive line coach Mike Muchak told CBSSports.com earlier this month. "He had missed all of training camp (signing with the Steelers in late August) so he was just picking it up during the season.
"What we saw right away was that he's such a competitor, obviously, and how he wanted to be the best no matter what he did. So he fit right in right away with this group. ... And the fact that [his teammates] are confident in him -- I think he's earned that respect a long time ago when he walked through the door when they saw the way he worked."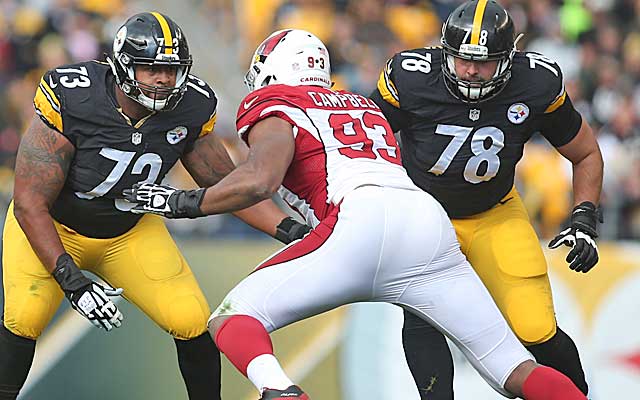 There's a steep learning curve, of course; not only was Villanueva playing one of the most demanding positions on the field, but he was doing it not only after time away from the game to serve his country, but also 12 months after switching from defense to offense.
"You saw [Al] get a lot bigger, a lot strong, a lot smarter -- football smart," Muchak said. "When we went to the offseason (after the 2014 season) he had never really competed in our offense. Last year, he played exclusively on the scout team. So (his situation now) is a whole different level of learning for him. The offseason program was really important for him and his development and he made the most of it. Then there was training camp and preseason, and because of the injury to Mike Adams, who was our swing tackle, Al got a lot of work with the second team all through preseason. Because Adams wasn't going to be healthy when the season started, we needed to find out if we could trust him to be the swing tackle.
"Obviously [Al] passed that test," Munchak said. "We felt good about it, he developed quite a bit, and even though he wasn't starting when the season began, because of his versatility and athleticism he was also playing tight end and on special teams and doing a lot of things to help the team."
And then starting left tackle Kelvin Beachum went down on October 18 and Villanueva, who had last taken a meaningful snap as an offensive lineman in college in 2008, was suddenly elevated to starter.
"All of a sudden [Al] went from sitting back and watching and developing to starting a football game," Munchak said. "He's been forced into playing a lot sooner than we thought, than we hoped he'd have to, because he's still learning the game, still developing. But he's handling it well. He's grown fast and the guys have a lot of confidence him and his work ethic."
Villanueva made his first start a week later in Kansas City, and he more than held his own against Tamba Hali, one of the NFL's best pass rushers. But a Hali strip-sack late in the game stalled a Steelers comeback attempt, and Villanueva took the hit hard.
"When you come short it's very noticeable," he said after the game. "So when you're watching film and the O-line is making great plays and you're the one that's letting everybody down, obviously it's frustrating."
But Munchak knows one play does not define you as an offensive lineman.
"If you play offensive line, which he hasn't done for as long as guys on the team, you have to learn that you can have 58 really good football plays and then one sack at the end kind of spoil the whole day, and that's kind of what happened to him," Munchak said. "He did a lot of really good things in that football game against Kansas City -- on the road, silent count, no penalties, no false starts, his guy didn't hit the quarterback all game.
"[Al] was pretty solid in the run game. He had a lot of things going on and I saw his confidence building all game, and then in the fourth quarter, with three minutes left, he gets beat for a sack. That just shows you ... when you're going up against a very good football player (in Hali), that's part of playing in this league."
And while Villanueva has high standards, he also knows he can't dwell on his mistakes.
"He moves on, but also doesn't want to let anyone down and he wants to be the best right away, and that doesn't happen that way," Munchak explained. "It's going to be a process. And I expect him to come out against the Bengals (in Week 8) and do the same thing -- battle through it and play 60-70 snaps.
"He handled it well. But I think when a bad play happens, as a lineman you feel like you're letting your guys down. The guys don't look at it that way but you feel like, 'Man, you don't want to be that guy that gave up a play' -- whether it be a sack, a penalty, a negative play. But he had one against a very good football player, the guy made a play on him and that's going to happen."
But it's not just Munchak, a Hall of Fame offensive lineman, helping Villanueva develop; he has the benefit of playing alongside veterans and Pro Bowlers whw want him to succeed.
"[Having] Maurkice Pouncey, who has a great work ethic, showing [Al] how we do things in the NFL was great for him," Munchak said. ... "And (left guard) Ramon Foster did a great job (in Kansas City). Having a veteran next to him was a great, great help to him. Foster was a great communicator on every play, and I think that's what gave me comfort with [Al] in there because he had someone talking to him, someone who is very patient. And that's what you need. Some guys aren't that way. Veteran guys can be different about younger guys, and I think Ramon is a big part of his development also."
Next up: protecting Ben Roethlisberger, who returned to the lineup against the Bengals in Week 8 after missing a month with a sprained MCL in his left knee.
"It'll be Al's first chance to play with Ben ever in a game," Munchak said days before the Steelers faced the Bengals. "Other than practice, he's never been on the field with him as far as playing left tackle. That'll be another challenge, and with a great quarterback you don't want to let him down, either, so he'll have a lot of excitement for this game on Sunday against a team that's undefeated. So it's another great challenge for him this weekend."
The Steelers lost but Villanueva had his best game of the season by a large margin, according to ProFootballFocus.com's rankings. He excelled in pass protection, didn't allow a sack, and just one quarterback hurry.
Based on what Villanueva has shown since joining the team over a year ago -- not to mention what he accomplished in three tours of duty -- he has earned the trust of his teammates and coaches to handle the left tackle duties.
"I'm not shocked by anything that Al does," coach Mike Tomlin said after the Cardinals game. "... He played wide receiver at West Point. So I wouldn't put anything past Villanueva."
Munchak feels the same way.
"He's just fun to watch because he grows everyday," he said. ... "So when you're motivated the way he is and you have his work ethic, he has a chance to be a really, really good football player. And he's off to a good start."