From janitor to Titans corner, Campbell's story an inspiration
From flunking out of college to working as a janitor, Tommie Campbell looked like anything but an NFL player. Pete Prisco says Campbell's story is almost too hard to believe.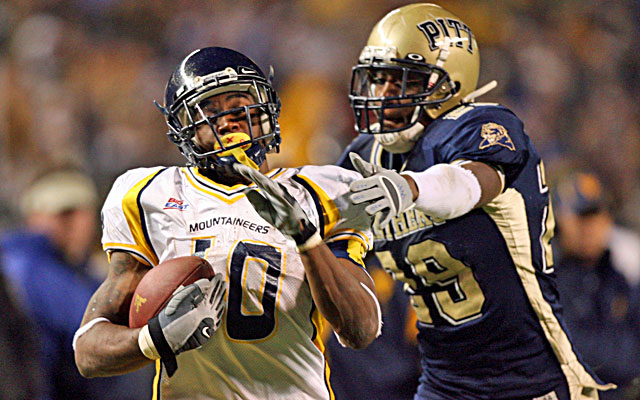 NASHVILLE, Tenn. -- Five years ago, Tommie Campbell was cleaning toilets for $7.50 an hour, his football career seemingly over, smoking a pack of cigarettes a day, weighing 185 pounds, another on his way to being one of those many what-could-have-been stories.
Campbell was resigned to the fact his dream of playing in the NFL was finished, a former hotshot recruit who let it all slip away because of academics.
"It was over," he said. "Football was over. I can't say people gave up on me because I gave up on myself. I didn't even watch football."
Yet here is today, one of those great training camp stories, the kind we love to hear, the types of story that should be the inspiration for any kid who has that little idea that school isn't important.
"I am that lesson to all of them," Campbell said.
That's because the same kid who looked to have flushed his career down those very toilets he cleaned on a daily basis for a year at the Pittsburgh International Airport, the kid who flunked out of two colleges, is now on the verge of being a starting corner in the NFL for the Tennessee Titans.
At 6-3, 210 pounds, with a 40 time of under 4.4, Campbell is exactly what teams are looking for now to defend the high-octane offenses and those tall receivers that permeate the league. Campbell is a big, physical, press-corner in the mold of Seattle's Richard Sherman.
I am not here to say that Campbell is Sherman just yet. But he is taking reps with the first team this summer, and he did some impressive things Saturday when I watched him at the Titans facility. Campbell is splitting reps with Alterraun Verner, but Campbell would seem to be a better fit in the Titans' more aggressive style of defense in 2013. They want their corners up in the face of the receivers, hands on them at the snap, and size is a plus. That's perfect for Campbell and his long arms and powerful frame.
"You don't see a lot of guys with his size and his reach playing corner," Titans corner Jason McCourty said.
It's great seeing young players on the rise, guys with a chance to become good players. Sherman is a former college receiver drafted late who has made himself into one of the NFL's best cover players. Brandon Browner, another big corner at 6-4 and the starter opposite Sherman, took a detour to the CFL before becoming an NFL starter. But their odyssey to get to the NFL has nothing on Campbell's path.
Campbell was a linebacker at Pitt in 2005-2006, joining high school teammate Darrelle Revis and several other players who would go on to NFL careers, including linebacker Clint Session.
Campbell, though, didn't like school. He was 17. He was immature. Academics cost him his Pitt career, and when he transferred to Division II Edinboro, he didn't go to class there and flunked out.
It was 2008. He had two children he had to support. So he took a job at the airport as a janitor. Anybody who's ever used an airport bathroom knows how humbling that can be.
"I sat out for 2 1/2 years," Campbell said. "We used to clean the USAir gates. I was the guy with that cart you see coming into the bathroom. I did it for almost a year. I used to smoke cigarettes. I was a janitor. That was my life. That's why anytime I see kids at home I tell them that school is the most important thing. I try to emphasize to them. Go to class. It was a long process for me because I didn't."
He got a tryout with a CFL team, but ran a 4.8. That came shortly after he worked out for the first time since his Edinboro days.
"The first time I worked out, I threw up," Campbell said. "I was at the YMCA, and I was just jogging around the track and threw up all over the place. I didn't think I had it. It took me two days to just decide to do the workout."
He immediately quit his pack-a-day habit. Eventually, he got in shape. And he got another chance to play when an uncle of an ex-girlfriend recommended him to Division II California (Pa.) University. He started four games there, got an invite to an all-star game, ran a 4.33 40 at 210 pounds, and caught the attention of the Titans, who picked him in the seventh round.
After being used mostly on special teams his first two seasons, Campbell is pushing hard to start the opener. Guess where that will be played? Pittsburgh, right down the road from his hometown, against the Steelers.
Timing is everything. With the move to bigger corners in the NFL, and Sherman and Browner having so much success, Campbell's possible move into the starting lineup makes sense.
"I am trying to get to that point (Sherman), so I can say I came out of nowhere," he said. "Anytime I hear single (coverage), I have a switch and it just turns on. It's like Christmas to me."
If Campbell starts the opener in Pittsburgh, it will be truly an amazing story. It's almost too hard to believe.
From janitor, smoking a pack a day, making $7.50 an hour, to starting against the hometown team in the stadium where friends and family will watch. Hollywood has nothing on that.
"A lot of people don't bounce back from what I've come through," Campbell said. "I guess it is pretty amazing."
Pick Six Newsletter
Get the day's big stories + fun stuff you love like mock drafts, picks and power rankings.
Please check the opt-in box to acknowledge that you would like to subscribe.
Thanks for signing up!
Keep an eye on your inbox for the latest sports news.
Sorry!
There was an error processing your subscription.
Week 2 of the NFL preseason continues with Baker Mayfield, Josh Allen, and Josh Rosen all in...

The Eagles quarterback left Thursday night's game with a shoulder injury, but he's apparently...

The multi-dimensional running back is dealing with a strained calf
Josh Nagel also hit on 70 percent of his NFL spread picks last season

A certain former Eagles tight end wants nothing to do with Dallas despite a desire to keep...

We have an official ruling from the Browns on how to pronounce Tyrod's name!