Ft. Worth police confirm Manziel had an 'altercation' with his girlfriend
Manziel was previously involved in a roadside incident with his girlfriend back in October.
UPDATE 4:25 p.m. ET: The Fort Worth Police Department has released a statement on the altercation between Manziel and Crowley, which ultimately involved a helicopter being used to search for Manziel.
Here it is, via Nate Ulrich of the Akron Beacon Journal.
More on Johnny Manziel incident from police: pic.twitter.com/Bwg7G9VmiC

— Nate Ulrich (@NateUlrichABJ) January 30, 2016
Fort Worth PD stated that it used the Air One helicopter to find Manziel because the female that was speaking with police (who also said she had been involved in a disturbance with her ex-boyfriend at The Berkeley Apartments near TCU, where Manziel's girlfriend Colleen Crowley attends school) expressed concern for his well-being and he could not be reached on multiple cell phone numbers associated with him. Once they determined Manziel was safe, the police departments in Dallas and Fort Worth began working together to determine if Manziel assaulted the female. "When additional information becomes available it will be released as appropriate,'' they said, via Cleveland.com.
NFL spokesman Greg Aiello told Cleveland.com, "we are aware and looking into it.'' The Browns, Manziel's publicist, and Manziel's agent all declined comment to Cleveland.com.
Cleveland Browns quarterback Johnny Manziel has reportedly been involved in another "altercation" with "his girlfriend," though the report does not specify if that girlfriend is Colleen Crowley, the woman involved in a previous domestic incident with Manziel. The Ft. Worth police confirmed the altercation to Omar Villafranca of CBS News, but did not provide any additional details beyond the fact that Manziel was not arrested.
Ft Worth police confirm to @CBSNews Johnny Manziel had "altercation" w/ gf. He wasn't arrested @CBSSports pic.twitter.com/jsDUDM54R8

— Omar Villafranca (@OmarVillafranca) January 30, 2016
Manziel has been involved in numerous off-field incidents throughout his two-year NFL career, most of them involving alcohol or partying in some way. This is now the second time, though, that he has reportedly been involved in a domestic dispute.
Back in October, Manziel was involved in a roadside incident with Crowley.
The couple reportedly exited Manziel's car and were arguing on the side of the road when passersby alerted the police. The car was later stopped and Crowley told police that Manziel had pushed her head into a window. She also had an abrasion on her arm, which was determined to be caused by Manziel grabbing her in order to prevent her from getting out of the car while it was moving. Manziel also told police that he had two drinks, but they determined he was not intoxicated to the point where he should be charged.
The NFL investigated the incident but did not suspend or discipline Manziel.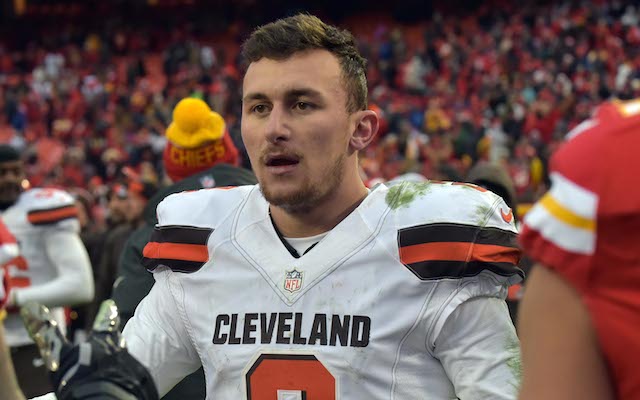 Pick Six Newsletter
Get the day's big stories + fun stuff you love like mock drafts, picks and power rankings.
Please check the opt-in box to acknowledge that you would like to subscribe.
Thanks for signing up!
Keep an eye on your inbox for the latest sports news.
Sorry!
There was an error processing your subscription.
Tom Brady: Patriots quarterback and thrill seeker

Here's the order and list of presenters who will be speaking at the Pro Football Hall of Fame...

The Eagles running back is returning to the NFL for a 15th season
Vic Fangio did not mince words when asked about the rookie quarterback

Football is back, and we're whipping around the league to look at the best camp battles we're...

The Chiefs receiver had a lengthy reaction to the NFL's decision not to suspend him