Game Rankings: Manning, Broncos look to make statement vs. Ravens
It's time to rank this week's games and right out of the gate we get Peyton Manning beginning what might be his retirement tour facing the Ravens.
• 34 min read
You may have noticed we have switched things up a little bit on these here Game Rankings. After going with the hoagie scale for seven seasons both here, and at a previous spot for me, we're mixing things up. It was time for a change, and we may or may not have a new sponsor this season who has nothing to do with processed meats and cheeses, so that may or may not have something to do with the new look as well.
Bottom line is you have to embrace new beginnings, and, who knows, maybe I'll mess around with the particular designations for each category of game from week to week as well. Depends how motivated I am (and whether or not anyone up the food chain, er, I mean drink chain, thinks it's a good idea).
Regardless, we should be in a celebratory spirit here. After a long, cold offseason, and a short, hot summer, we've got actual football games that count in the standings. It's like a national holiday, and the first points that will be scored since Pete Carroll OK'd that goal-line pass play, and, well, everything that followed.
It's a bit of an odd week for us, however, as only two games on the entire docket feature teams that both made the postseason last year, and one of them is already off the table for my purposes here as a Thursday night matchup.
The other is on CBS in the coveted 4:25 p.m. ET Sunday kickoff spot. A little known fact about the NFL -- that timeslot remains far and away the most watched of anything on TV; more than Sunday night; oodles more than Monday night. There, we get Peyton Manning beginning what might be his retirement tour facing a Ravens team that probably spoiled his best shot to win another Lombardi a few years back in the playoffs.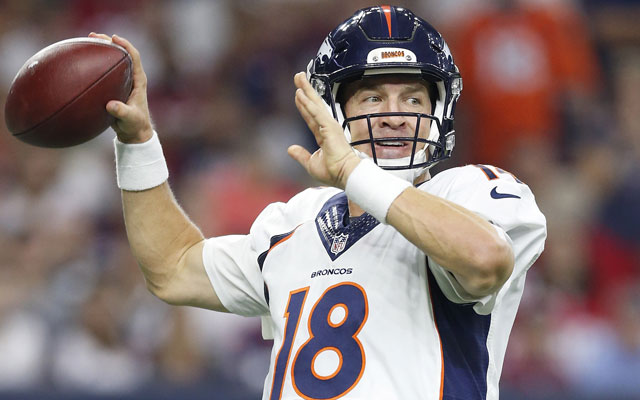 Drop Everything
| | | |
| --- | --- | --- |
| |  at  | |
Baltimore at Denver
Sunday, Sept. 13, 4:25 p.m. ET (CBS)
Why To Watch: Peyton Manning is donning the glove again in practice this week, you may or may not have heard. It's like Michael Jackson on The Victory Tour or something. We learned earlier this summer that Manning can't feel his fingertips and we learned late last season that he probably can't carry an offense anymore, either. He makes his first start for new Denver coach Gary Kubiak, who led Baltimore's offense to great things last season and then became the latest of their coordinators to parlay that into a head coaching job, while Joe Flacco makes his first start with yet another play-caller, this time Marc Tresman. And, well, given the state of Baltimore's roster at receiver and tight end, seems the Ravens are essentially mortgaging the season on the fact they believe their quarterback can carry an offense by himself. Is Manning, fully healthy, going to look like the guy from last September or last December? Is Denver still the cream of the AFC West? We start getting answers Sunday at 4:25 p.m. ET.
What To Watch For: Anyone on the Ravens beyond Steve Smith capable of making a play in the passing game? Will Marlon Brown answer an APB and can the Ravens get anything out of top picks Breshad Perriman and Maxx Williams, who did a lot of spectating in the preseason? Somebody is going to have to step up. Slot guy Michael Campanero and potential chain-mover Kamar Aiken may get the best shot to do to … Check out the Broncos run/pass ratio. It's going to resemble an awful lot more of what they looked like at the end of the season than the beginning. Though running between the tackles could be very tough in this one if Brandon Williams and rookie Carl Davis clog things up as I think they can … Elvis Dumervil will have a little something extra for this one against his old team (bad faxes die hard, and all), and Denver's lack of stud tackles could be an issue … Baltimore's return game has best take shape soon. Was a black hole in the exhibition season … Kubiak knows Flacco well and could try to force him into looks he doesn't favor. Cover-2 has been a particular issue at times.
The Kids Can Raise Themselves
| | | |
| --- | --- | --- |
| |  at  | |
Kansas City at Houston
Sunday, Sept. 13, 1 p.m. ET (CBS)
Why To Watch: Both of these teams fell just short of the playoffs a year ago and find themselves in a similar spot this season. Wouldn't be a surprise to me if either broke through this season but then both will have to overcome some offensive liabilities from a year ago to do so. Both can destroy the opposing quarterback on their day, both have coaches who led quick turnarounds in this first season at the helm (Andy Reid in K.C. in 2013 and Bill O'Brien in Houston in 2014) and expectations have been ratcheted up since then. We're barely past Labor Day but we could look back on this mid-September game as one of the critical AFC Wild Card tiebreakers come January. And either of these teams managing to win their division wouldn't qualify as much of an upset to me, either. Huge spot for the Texans as well as they get a chance to possible feast on a trio of NFC South afterthoughts -- Carolina, Tampa and Atlanta -- before hosting division champs Indianapolis in Week 5.
What To Watch For: How quickly does Reid force Alex Smith to chuck the ball deep downfield and get a receiver in the end zone? I mean, Jeremy Maclin is scoring in the first half of this game, I figure. No way the Chiefs can keep their unfathomable mark of no receivers making a touchdown catch from 2015 carry over any longer. Maclin will provide a big lift … Say what you want about Texans starter Brian Hoyer, but O'Brien loves him and he went 10-6 over two years as a starter with the hapless Browns. This will look like an All-Pro roster compared to what he's been used to. And he won't he shy about feeding his bell cow --DeAndre Hopkins (recall the 20-target games he had with an in-form Josh Gordon in Cleveland) … Former Chiefs head coach Romeo Crennel is running the Texans defense and he just might have multiple pass rushers to chose from with Jadeveon Clowney allegedly set to at least make a cameo in this game after a lost rookie season. Any sort of emergence from him and the ability to move J.J. Watt around only intensifies … Is there a Hard Knocks curse? There is right? There's a curse for everything these days, Having all of those cameras around your team for all those weeks in a league that defines paranoia must mean something bad will happen to the Texans, right?
| | | |
| --- | --- | --- |
| |  at  | |
Indianapolis at Buffalo
Sunday, Sept. 13, 1 p.m. ET (CBS)
Why To Watch: Rex Ryan makes his coaching debut for the Bills and gets to face one of the truly great quarterbacks right off the bat. And, perhaps, he gets to feast on what has been a very forgiving offensive line in his first game there as well. Ryan has all the horses he could need to wreak havoc -- OK, he could maybe use a corner but we can't get too greedy here -- and while Luck catches something of a break with Marcell Dareus suspended for this game, it could be a long day for him. The Bills have sold more tickets for this season than they have in a long, long time, they are all about getting back to the playoffs for the first time in forever, and what better opportunity to make an immediate statement than this? Meantime, Chuck Pagano enters the season in a lame duck year despite doing nothing but win since taking over the Colts, and the owner has put down a Super Bowl-or-bust mandate, or close to it.
What To Watch For: We'll see if Shady McCoy is really good to go for this game, or any of the next few as hamstrings can be tricky. I'm less than convinced and could mean more of Bryce Brown, who Bills GM Doug Whaley gave up a lot for in 2014, only to have him largely inactive. Brown better avoid the fumbles that have plagued him or he'll be shelved quickly. Ryan just wants his offense not to screw things up … Tyrod Taylor gets his first NFL start after serving as Flacco's understudy. Expect some high highs and some low lows, and he will give this defense trouble out in space … Get the sense Robert Mathis might get some action here after his long, long absence. Colts are desperate for any sort of pass rush … Bills keep flirting with switching up their kicking situation. Dan Carpenter might want to get the for sale signs ready if he starts the season poorly … Luck going to have to continue to get a feel for avoiding the kill shots. Might see him sliding more often and more quickly this season … Sammy Watkins needs to try to avoid the nagging injuries that bottled him up in the first half of his rookie season with Buffalo … Will be interested to see if Bills get bang for their buck in paying big to keep Jerry Hughes. Over-abundance of talent around him should only help … Colts kept Frank Gore under wraps in the preseason, but will need his direct approach in the run game bigtime in this one. Not much behind the older back on this roster, either.
| | | |
| --- | --- | --- |
| |  at  | |
New Orleans at Arizona
Sunday, Sept. 13, 4:05 p.m. ET (FOX)
Why To Watch: This could be the start of Drew Brees' swansong in New Orleans, and maybe even for coach Sean Payton as well. Critical year for the future of the Saints franchise in many ways, while the Cardinals try to pick up where they left off with their veteran passer, Carson Palmer, before his season-ending ACL tear. If either is going to reach the playoffs, much less advance in them, then it will take major upgrades on one side of the ball or the other. Arizona must get decent play from its offensive line and sustain some balance on offense. The Saints can't keep being historically bad on defense year after year and expect to get anywhere. Of course, if this Arizona offense in any resembles the offensive unit that closed 2015 then it might not be much of a challenge. So, not sure how much of a real litmus test this is for either unit, but you gotta start somewhere I suppose.
What To Watch For: It's only natural that any QB coming off an ACL tear has to feel his way back and learn to handle pressure again around his lower legs. No way to simulate that in practice and Palmer, no matter how ahead of schedule he has been, will have to work through that mental calibration as well. First month or so in particular is usually difficult … Look for the Saints to try to establish the run as early as possible and rely on their depth at running back and Mark Ingram will get fed quite a bit. Brees has to be more of a game-manager than a game-chaser and the spate of turnovers has to stop. Over the past three seasons only Eli Manning and Andy Dalton have tossed more picks than Brees … Not sure the Saints will get anything out of their secondary. Plenty of guys for Palmer to challenge and John Brown out of the slot will be a big problem for the Saints … Say here Chris Johnson rips off a long touchdown run and get more of an opportunity to carry the ball in Arizona this season than he did with the Jets last year … Can the Saints block Calais Campbell? … The blowups between Saints defensive coordinator Rob Ryan and Payton were better than some of the games the Saints played last season. With former Raiders coach Dennis Allen added to the defensive staff, now, there is a buffer and a potential replacement play-caller in place as well. A slow start and deck chairs might start rearranging quickly in New Orleans.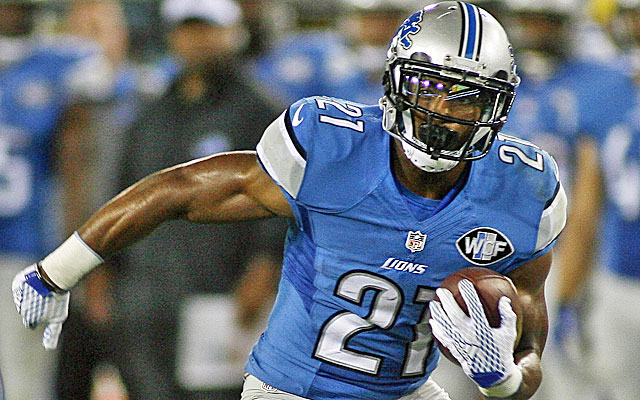 | | | |
| --- | --- | --- |
| |  at  | |
Detroit at San Diego
Sunday, Sept. 13, 4:05 p.m. ET (FOX)
Why To Watch: Not often that these two teams get together, but this could turn into an entertaining afternoon. The Chargers may be opening their final season in San Diego, with ownership committed to a move to LA, yet season ticket sales are very strong and training-camp attendance was way up. They resolved the issue of Philip Rivers' future by getting the star quarterback extended before the preseason and stand to be a factor in the AFC West after collapsing late last season. The Lions were one of the surprise teams of 2014, but its unusual for such upstarts to take a step back the following year, with a tougher schedule part of the reason, and with Ndamukong Suh and Nick Fairley both gone from the defensive line, and Haloti Ngata not playing in the preseason, this is the first real look at a revamped Lions defense that used to torment foes at the line of scrimmage.
What To Watch For: The Chargers won't use any one individual exclusively to replace Hall of Fame tight end Antonio Gates, who is suspended the first four weeks, but look for a lot of Stevie Johnson out of the slot and he'll get plenty of targets early on. They'll also continue to throw the ball to their running backs as much as any team in football … Melvin Gordon, San Diego's top pick, gets tested in pass protection right off the bat. If he isn't up to the challenge, his workload will be limited … Detroit's rookie running back Ameer Abdullah can't pass protect at all but watch him out in space; he'll be a factor ... Still have my concerns about San Diego's secondary. Better depth abounds but not the quality matches the quantity … I see Golden Tate catching 100 balls for Detroit this season regardless of the health of Calvin Johnson … Could be a massive season ahead for San Diego's Corey Liuget – if he can stay healthy … As much as we think of the Lions chucking the ball around, only two teams (Pittsburgh and San Francisco) had more five-minute drives last season than Detroit. Given the defections on defense, sustaining that type of potential will be huge as they transition … Time for Eric Ebron to make a regular impact if Detroit's offense is going to continue to evolve ... Chargers gambling by going with un-drafted rookie kicker. He'll have some butterflies in his first NFL game for sure.
| | | |
| --- | --- | --- |
| |  at  | |
N.Y. Giants at Dallas
Sunday, Sept. 13, 8:30 p.m. ET (NBC)
Why To Watch: The NFC East tends to be at least somewhat up for grabs into December every season and no reason to expect anything less this year. The Cowboys had the look of a Super Bowl club in 2014, but with no more DeMarco Murray and with questions on defense, they have no shortage of detractors this year. The Giants are once again playing for coach Tom Coughlin's career there – he can't coach forever, correct? – and their last Super Bowl feels more distant with each loss. Of course, having their only true pass rusher nearly blow his hand off with fireworks and losing their starting left tackle in the spring did nothing to help the cause, at least on paper, and there's still the matter of Eli Manning's contract to resolve as he enters his walk year. They couldn't stop the Cowboys' offense a year ago – Dallas posted 31 points in both of its victories, and the Cowboys combined for 60 points in their sweep of the 2013 series – and will need new coordinator Steve Spagnuolo to make a quick impression on this group now.
What To Watch For: Can the Giants stop anyone? You have to wonder about the ability to get to the quarterback aside from whatever scheme they can whip up, and anytime you are signing a brutal safety like Brandon Meriweather late in camp, well, you've got problems on the back end as well … Anyone else thinking the Cowboys' leading rusher either might not even be on their roster yet, or much be youngster Christine Michael, who they just acquired from Seattle over the weekend? Murray isn't going to be as easily replaced as some would suggest … Excited to see the leadership and commitment Sean Lee brings back to the Dallas' defense as he returns from yet another cruel injury blow … Expect the Cowboys to end up scrambling to sign defensive backs, too, soon enough. Especially after ODB rips them apart in this game. Last time he faced Dallas, Odell Beckham went for 10 catches and 146 yards and two touchdowns (only the fourth-best yardage game of his monster rookie season – let that sink in), and that was when Orlando Scandrick was healthy. His season-ending injury will hurt … Expect Tony Romo to be in the NFL MVP conversation for a long time, like probably all season long. Not sure anyone in the NFC East can play real defense … If you picked any date before, oh, Thanksgiving in your When Will We See JPP Pool, you might have been a bit ambitious.
Hey, It Is Professional Football
| | | |
| --- | --- | --- |
| |  at  | |
Green Bay at Chicago
Sunday, Sept. 13, 1 p.m. ET (FOX)
Why To Watch: This could be the start of a Super Bowl march for the Packers, and it could be yet another brutally lopsided loss for a franchise that once could claim to be their rival, but now is more like a doormat. The Packers reload; the Bears attempt to rebuild – over and over and over again. So if you like your beatdowns with some Midwest flavor, if not hospitality, well, this is your game. Who could forget last year's affairs between these teams -- a 38-17 Green Bay win that was trumped by a 55-14 demolition. Given the state of the Bears offense and defense currently, this could be an epic butt kicking. If the Bears are still hanging around at the start of the second quarter I'd consider it an accomplishment.
What To Watch For: Jay Cutler vs. Green Bay: 11 games; 57 percent completions; 14 TDs; 21 INTs; 35 sacks; 67.1 rating. Aaron Rodgers vs. Chicago: 14 games; 68.9 percent completions; 31 TDs; 8 INTs; 24 sacks; 109.8 rating. Any questions? … Don't fret that Jordy Nelson injury too much, Pack fans. At least not yet. I bet James Jones grabs at least one touchdown pass in his return to the fold and the Bears won't be able to stop Eddie Lacy on the ground, either … Daily fantasy dudes and gals are going to load up with as many Packers as possible here, right? … How long before John Fox, in his first game coaching Chicago, wears a look of complete despair? I give it 'til the half … I'd be a more than a little concerned about the state of the Bears passing offense given how little Alshon Jeffery did in the preseason and the fact that Brandon Marshall is elsewhere and Martellus Bennett threw verbal darts at Cutler in print … Matt Forte very likely will be the leading Bears receiver in this game, and quite a few to come … Pernell McPhee is going to have to register double-digit sacks for the Bears defense to show any bite -- especially their front -- and that's going to be a lot to ask as he's required to exert more energy stopping the run than he's had to in the past as a rotational player in Baltimore.
| | | |
| --- | --- | --- |
| |  at  | |
Miami at Washington
Sunday, Sept. 13, 1 p.m. ET (CBS)
Why To Watch: There are lots of people on the Dolphins' bandwagon after they had a very busy offseason. Me included. Love how the early schedule sets up for them and if they can make incremental gains offensively I like their chances to be a factor in a very mediocre AFC. That will require them to avoid missteps against weak opponents, however, which has been an issue for them in recent years. The Skins look to be everyone's homecoming game again this season, and while embattled head coach Jay Gruden has proclaimed Kirk Cousins his starter for 2015 … well, he also proclaimed Robert Griffin III his starter way back in the winter and these things have a way of taking twists and turns. Especially in Washington, where the bottom is always close to falling out.
What To Watch For: Suh is going to have a lather going in this one and Washington's offensive line remains suspect beyond left tackle Trent Williams and first round pick Brandon Scherff looked pretty green in the preseason. Between Suh and Cam Wake and Olivier Vernon, gulp, could be a painful afternoon for Cousins … Wouldn't be shocked to see rookie Skins back Matt Jones get at least a few series to show what he can do even with Alfred Morris still in that backfield … Dolphins need to show some intent early on with being able to finally get the ball more than 20 yards downfield. Would fire Kenny Stills figures in some early sideline double moves -- DeAngelo Hall has been known to fall for them -- and Miami loves Jarvis Landry working the middle of the field. Ryan Tannehill would do well to put some deep stuff on tape and alter the way teams feel they can defend him. Because a repeat of the pop-gun 2014 attack won't cut it … Is DeSean Jackson ready to make a splash after being out essentially all of camp? And I still can't help but wonder if Pierre Garcon becomes trade fodder by the deadline is this Skins team is as bad as I suspect it will be … Would expect to see Cousins going to tight end Jordan Reed quite a bit with the Skins knowing its only a matter of time before he's out again and with them already depleted at that position.
| | | |
| --- | --- | --- |
| |  at  | |
Cincinnati at Oakland
Sunday, Sept. 13, 4:25 p.m. ET (CBS)
Why To Watch: The Raiders are going to claim a few hides this season. They won't be a walkover and they're going to surprise some people as they play what may very likely be their final season in the bay Area. They'll catch teams sleeping, especially eastern time zone teams coming all the way to Oakland early in the season. Between the Bengals and Ravens -- playoff teams from a year ago -- I bet one of the two ends up with a loss coming out of The Black Hole. And the team that does very well could have that come back to haunt them as a tiebreaker. The Bengals are going for a fifth-straight playoff season -- yeah, I had to triple check that myself even though I knew it was correct -- and are now among the hunted in the AFC, without question. They'd better manage a playoff win this season to get over the hump and a poor start wouldn't do much to help the always fickle ticket situation back at Paul Brown Stadium.
What To Watch For: Would behoove Andy Dalton to get off to a decent start and keep things simple and try to avoid the interceptions that have plagued him. Of course, that would require emotional coordinator Hue Jackson to call a composed game and not try to get too cute against a franchise that fired him as head coach and whom he may carry some resentment towards. So maybe ride Jeremy Hill and that run game -- Gio Bernard is a third-down guy to me at this point -- and try to wear the Raiders down early and try to keep Khalil Mack off Dalton's back … I like Amari Cooper to have a strong debut here. Leon Hall getting a little older and the Bengals corners don't exactly strike fear. Need consistency from Dre Kirkpatrick … Is there a playmaker -- or anything close to one -- in the Raiders' secondary? That's my biggest issue with this roster and they need DJ Hayden to show signs of life. Preferably on a snap or two against AJ Green in this opener. Far too often Dalton locks in early and telegraphs his approaches to Green, and Green needs to fight for 50/50 balls more vigorously at times a well … I like Latavius Murray to emerge as a feature back for the Raiders and I really like the way they have cultivated that offensive line after it was such a problem for so long. An area of gradual growth for the franchise.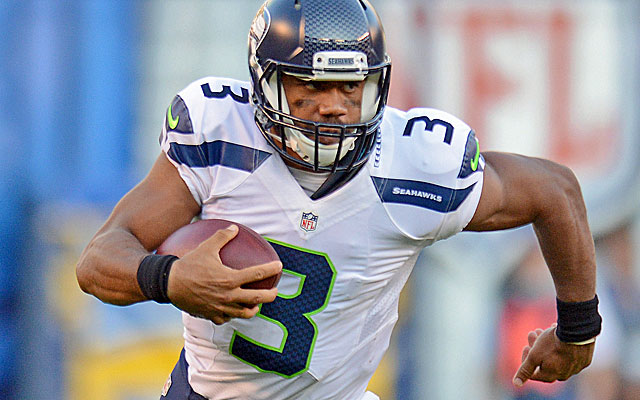 | | | |
| --- | --- | --- |
| |  at  | |
Seattle at St. Louis
Sunday, Sept. 13, 1 p.m. ET (FOX)
Why To Watch: The Seahawks are trying to overcome the worst Super Bowl hangover in history after their historic failure at the goal-line against the Patriots in February, and they have to do it on the road against a team that has given them some trouble over the years and a road venue that hasn't been all that kind. These usually shape up as brass-knuckle, throwback, backyard brawls when these teams get together and no reason to expect anything less this time around. If the Rams are finally going to transition from that team that just might finally make a move to something more than an afterthought, it's going to require winning in their big-boy division, which is easier said than done. With the Seahawks dealing with a holdout by star safety Kam Chancellor -- the lifeblood of their defense which is the heartbeat of their team -- maybe they catch the NFC champs in a vulnerable spot here.
What To Watch For: The Rams can get pretty physical with Russell Wilson, who is usually so great at avoiding contact. But they will make a concerted effort to crash the ends on the quarterback in space and they have the personnel to throw the diminutive quarterback around and the Seahawks have some potentially serious issues on the offensive line as well, with anchoring center Max Unger gone. He'll have to earn every yard he gets, especially on the ground … Seahawks will try to showcase an improved passing arsenal early in the season and that's been the area this Rams defense has sagged at times. Jimmy Graham will be a handful and rookie Tyler Lockett will be a part of some screens and trickeration for sure … For all of their draft picks and machinations at the running back position, and for as much as Jeff Fisher wants to run the ball, kinda boggles my mind the offensive line still a major issue and they draft a running back tenth overall who isn't ready physically (Todd Gurley) and Tre Mason is anything but certain to be available, either. Good luck Nick Foles. Especially against this defense … Any sightings of Rams owner Stan Kroenke at this one? He's despised in St. Louis as he intends to move the team to LA and has been persona non grata in Missouri for quite a while. I'd anticipate a low profile from him this season … I bet Fred Jackson gets in the end zone in his Seahawks debut.
| | | |
| --- | --- | --- |
| |  at  | |
Tennessee at Tampa Bay
Sunday, Sept. 13, 4:25 p.m. ET (CBS)
Why To Watch: Sure, I was tempted to bump this game up a notch, with it being the first-ever start for Jameis Winston and the first-ever start for Marcus Mariota and the top two picks from the 2015 draft making their NFL debuts against one another. I mean, that's fairly juicy for an otherwise banal out-of-conference opener for both teams. Then, things got a little spicier when the Titans opted not to make Mariota available to the Titans' media for the weekly conference call, which apparently rubbed some people the wrong way. And these two kids will compared to each other forever no matter what they do and how much they try to rebuff it, so kudos to schedule maker Howard Katz for getting this inevitable match-up on the docket before either of these God awful teams could totally fall off a cliff. Maximum intrigue right away. Let the comparisons begin! So, yeah, the quarterbacks, and the fact they've never thrown an NFL pass, are the only thing keeping this from being potentially the worst game of the year and unfortunately this isn't a one-on-one skills competition or something.
What To Watch For: How does Winston handle losing? He hasn't had this inept of a team around him probably ever and we'll see what kind of infrastructure and support staff is put in place for him. Because he's going to need one. And he's accustomed to one from Florida State. He was trying to do too much and putting too much on his shoulders in camp and if that manifests itself in the regular season it will translate to ample turnovers … Speaking of turnovers, anyone still counting how many summer passers Mariota has thrown since his latest pick? That running practice tally still ongoing? He's going to throw plenty this season, even if he is playing very well, given what he has to play with. And some may be underestimating the kind of massive hits he'll inevitably endure. Ask Jake Locker about playing behind this line … Good luck sorting out the Titans running back situation. They keep adding bodies but not sure how much of a difference it's going to make … Do we buy that Doug Martin is really back? I bought it this time a year ago and badly overdrafted him in a fantasy league. That offensive line could undermine anything … I think Winston and Mike Evans hit it off right away.
| | | |
| --- | --- | --- |
| |  at  | |
Philadelphia at Atlanta
Monday, Sept. 14, 7:10 p.m. ET (ESPN)
Why To Watch: If you like scoring, this is your game. This could shatter some sort of over/under record, and with Chip Kelly not inclined to slow the pace of his offense or call off the dogs, I dare day Falcons rookie coach Dan Quinn could be getting a rough indoctrination to his new gig. Atlanta is still trying to dig out of a personnel hole and lack the horses to keep running with this break-neck Eagles' offense for two quarters, much less four. We get to see how much of a workhorse Kelly believes DeMarco Murray can be -- I suspect he sees as much of the ball as he can handle -- and the biggest question might be how close to 100 offensive plays do the Eagles come to running?
What To Watch For: Good to know that Chip Kelly has the NFL rules regarding quarterback contact in the run game figured out now, and that he did so without fragile Sam Bradford suffering another setback. After setting up the oft-injured quarterback for a huge blow to his surgically-repaired knee by Terrell Suggs in a silly exhibition game, in what was Bradford's first game back from yet another ACL tear, we'll see how willing he is to expose the passer in the run game at the mesh point in the shotgun. I mean, it's only a potential $13M mistake. Atlanta has a toothless defense, but any extra exposure to injury to your quarterback can come back to bite you at this level … Meantime, Falcons are going to have a helluva time keeping Matt Ryan from getting battered and abused this season behind that line. Sixty sacks, anyone? … Nelson Agholor will be the leading receiver on the Eagles and he'll come out firing against this defense … We get to find out if Byron Maxwell is a shutdown-type corner right away. He has to be all over Julio Jones, right?
You've Got A Problem
| | | |
| --- | --- | --- |
| |  at  | |
Carolina at Jacksonville
Sunday, Sept. 13, 1 p.m. ET (FOX)
Why To Watch: The Panthers won a division title last year. You can never take that away from them. Sure, it was ugly and below .500 and was more a matter of no team in the NFC South being able to string anything decent together than it was a nod to any particular achievement from an obviously flawed Carolina team, but, well, they won it and they beat a limping Arizona team in the playoffs and are seeking a third-straight postseason berth. So, that's what is keeping this game from being in the lowest possible category. As for the Jags, well, they're looking to not have the meaningful part of their season over by Halloween for a change and with this the third year of the Dave Caldwell/Gus Bradley coupling, well, they need to make a move up the standings. You'll be hard pressed to find an easier schedule than what they face, and Jacksonville has all of two September wins since 2011.
What To Watch For: Blake Bortles will have a big game even without tight end Julius Thomas for at least the first quarter of the season. Could see him rushing for over 50 yards in this game as well. Lack of a supporting cast and a potential problem at left tackle is going to take a toll over the course of a long season, however … If the Panthers get back to the playoffs -- even in that crap division -- I'll tip my cap. Greg Hardy is gone and Kelvin Benjamin is gone and I still have all kinds of reservations about their offensive line and I'm not sure who is catching the ball for them outside of tight end Greg Olson. Pressure will be on rookie Devin Funchess to make something happen right away … Would figure to see a lot of A gap pressure from Panthers coordinator Sean McDermitt given the Jags uncertainty at the center spot … Trying to find some pass rush on this Jags roster but having a hard time identifying it … Not sure how long Toby Gerhart lasts on this Jags roster. Rookie TJ Yeldon will be their run game.
| | | |
| --- | --- | --- |
| |  at  | |
Cleveland at N.Y. Jets
Sunday, Sept. 13, 1 p.m. ET (CBS)
Why To Watch: At least one of these teams probably bottomed out in 2014. There is almost nowhere to go but up. Of course that's easy for me to say, as I don't pay hard-earned money to watch others play professional football. But you have to think better days are ahead for one of these outfits. Todd Bowles coaches his first game for the Jets and they hope caretaker quarterback Ryan Fitzpatrick can make fewer mistakes than the opposition -- in this case veteran caretaker quarterback Josh McCown. Actually, the way the schedule sets up for the Browns, on paper at least it looks like possibly a chance to build an early lead in the always-tough AFC North, but given their constant turmoil (the indefinitely suspension of offensive line coach Andy Moeller on Monday just the latest in their revolving door of problems), well, I'll believe that when I see it. Regardless, one of these two teams wakes up next Monday and is undefeated, unless of course they tie, which well, might be kind of most fitting, actually.
What To Watch For: No Sheldon Richardson for the first month of the season will force even more double teams for Mo Wilkerson of the Jets, but in his contract year look for him to continue to rise to the occasion. He has the ability to make this front seven go no matter what … How much does Browns first round pick Danny Shelton play on third down? Taking a defensive tackle that high and not getting a full rotation from him is a luxury the perpetually rebuilding team can't afford (especially after guys like Trent Richardson, Justin Gilbert and Johnny Manziel already look like luxury picks themselves) … Browns could end up dangerously think at running back by late Sunday afternoon, which is scary for a team that wants to run the hell out of the ball and try to play strong defense … Put me down for a Darrelle Revis pick six in his return to the Jets … Let's see if Geno Smith can make it through the pre-game warm-ups as an inactive without getting sucker punched on the sidelines by a teammate. Would be a good baseline for the Jets to take into the season … I like Chris Ivory to look like the early leader in the Jets deep backfield rotation … Guessing Joe Haden does more of his work on Brandon Marshall and not Eric Decker.
| | | |
| --- | --- | --- |
| |  at  | |
Minnesota at San Francisco
Monday, Sept. 14, 10:20 p.m. ET (ESPN)
Why To Watch: It's going on 11 p.m. ET, you are still awake -- and, ostensibly, still somewhat sober and functioning -- and there is another NFL game on TV that just kicked off. So, tell me, what the hell else are you going to do on Monday night of Week 1? Sure, a wise man would advise you find an establishment that is playing music, perhaps, rather than the sound for this game. Or, if at home, maybe you make liberal use of the mute button. But I digress. It's the one week of the year we get multiple Monday night games and, sure, the nightcap is usually pretty rough and you probably have work in the morning, but you could at least check out the first half. It's the 49ers first game post Jim Harbaugh, and Jim Tomsula makes his head coaching debut after a long climb from NFL Europe and you can count me among those who think the Vikings are going to make some real noise this year. Oh, yeah, and that Adrian Peterson guy plays for the first time since the 2014 opener, and some think he has another 2,000-yard season in him (me, not so much).
What To Watch For: NaVorro Bowman looked like a beast in the preseason after suffering a gruesome injury in the 2014 playoffs, and given all the losses to the 49ers roster, they'll need that type of performances in the real games after all of the losses at linebacker. For a team desperate for a feel-good story after a brutal offseason, this qualifies … Vikings coach Mike Zimmer will be ready for any of the read-option stuff Colin Kaepernick might run and I'm not sure this potential make-or-break season for that quarterback in San Francisco gets off to a good start … Look for rookie receiver Stefon Diggs to show up early on offense and special teams for Minnesota … Can Eli Harold make any sort of dent as a rookie pass rusher as the 49ers start a season with guys like Justin Smith and Aldon Smith out of the building? … I think the 49ers will be able to run the ball pretty effectively -- not sure of how much else they'll excel in -- and Carlos Hyde should have a breakout year … Sure, it's only Week 1 of their second season in Levi's Stadium, but never too soon to keep an eye on the state of the 49ers' field conditions. They've been atrocious and they had to cancel a preseason scrimmage there and it could become an issue off the bat. Not that anyone would be clamoring for the dirt infields from Candlestick Park, would they?
Pick Six Newsletter
Get the day's big stories + fun stuff you love like mock drafts, picks and power rankings.
Please check the opt-in box to acknowledge that you would like to subscribe.
Thanks for signing up!
Keep an eye on your inbox for the latest sports news.
Sorry!
There was an error processing your subscription.
Week 2 of the NFL preseason continues with Baker Mayfield, Josh Allen, and Josh Rosen all in...

The Eagles quarterback left Thursday night's game with a shoulder injury, but he's apparently...

The multi-dimensional running back is dealing with a strained calf
Josh Nagel also hit on 70 percent of his NFL spread picks last season

A certain former Eagles tight end wants nothing to do with Dallas despite a desire to keep...

We have an official ruling from the Browns on how to pronounce Tyrod's name!