Game Trends: Goal-to-go scoring critical to teams' success
The Chargers' loss to Washington shows how critical it is to get a touchdown once a team is inside the 10. Which teams excel in these goal-to-go situations?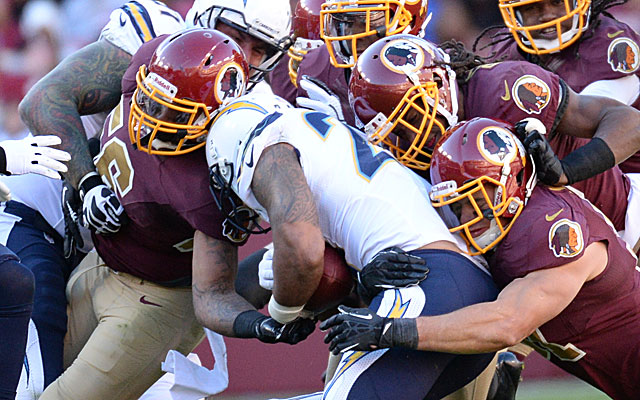 Whether a team drives the length of the field, or gets a turnover that puts them in a goal-to-go situation, it has to score when it gets the ball inside the 10-yard line and has four downs to walk away with 7 points.
Nothing drove home that point more than the San Diego-Washington game last week when it appeared Chargers running back Danny Woodhead had scored in a second-and-goal situation from the 6-yard line (29 seconds left, fourth quarter). He was ruled out inside the 1 with 21 second left and the game on the line. It looked like a lock for the Chargers to punch it in for the go-ahead score but it wasn't to be.
The first-down play was a shotgun handoff to Woodhead (21 seconds). Without Rivers under center there was no threat of a QB sneak and without a fullback or a big back like Ryan Mathews or Ronnie Brown there was no threat of a power play for the 18 inches required to win the game. The second play was an incomplete fade route to Antonio Gates with 17 seconds on the clock. The third play was another incomplete pass from shotgun and then the Chargers settled for a field goal to tie and lost in overtime.
I bet if the Chargers had it to do all over again there would have been at least one power run and a sneak in the series. Getting a touchdown out of goal-to-go situations is a must in this league and here's a report on just what is going on with teams in this critical situation.
The most successful team over the past three years going into 2013 for scoring touchdowns in goal-to-go situations is the New England Patriots. From 2010-12 New England reached a goal-to-go situation 123 times and scored a touchdown 98 times or 79.6 percent of the time (45 rushing touchdowns and 53 passing touchdowns). Tom Brady, who is as slow as Philip Rivers, had 8 of those rushing touchdowns. The Chargers are a typical goal-to-go team this year with 16 trips inside the 10-yard line and eight touchdowns (3 run/5 pass) four field goals, one fumble, one interception, one no score on downs and once time ran out.
As a league there have been 449 goal-to-go situations and 304 touchdowns, or 67.7 percent of the time a touchdown is scored. If a team has to settle for a field goal there's a 99 percent chance they will make it, but will the three points instead of the seven points come back to haunt them? Overall there is an 89 percent chance a team will score points. There is an 11 percent chance the team will turn the ball over via interception, lost fumble, downs or time runs out. There's an unwritten rule in the goal-to-go field to not take a sack yet there have already been 57 sacks on the short field. Ben Roethlisberger leads the league with six sacks in the G to G.
The best goal-to-go team in 2013 is the Denver Broncos. They put a lot of stress on opposing teams with their great combination of run and pass plays. Denver has scored 21 touchdowns in 27 trips over eight games which projects out to be 42 touchdowns over 54 trips.  Right now they score a touchdown 77.7 percent of the time they are in a G to G. There play selection is balanced as well with 28 runs and 29 passes for those who have the perception that it is all about Peyton Manning throwing the ball. The touchdown breakdown is 8 rushing touchdowns and 13 passing touchdowns. Manning has not taken a sack in this area of the field. Their biggest problem down there is they lead the NFL with three lost fumbles or they might have 24 touchdowns. Right now Denver has more goal-to-go touchdowns than the Bucs, Giants, Jets and Jaguars combined.
Some interesting team notes at the midpoint of the season inside the 10-yard line:
The Dolphins are 11 for 11 scoring touchdowns but they simply need more trips inside the 10-yard line.
The Packers have been inside the 10-yard line 20 times but had to settle for seven field goals.
No team has been in fewer goal-to-go situations than the Jets with only seven trips.
There have only been 10 interceptions thrown in this area of the field but two of them are by Colin Kaepernick.
Finally here are the standards for playoff-caliber teams based on the previous five seasons. They should get into goal-to-go situations 30-32 times a season (two per game). They should come away with a touchdown just more than 70 percent of the time, they should settle for a field goal 25 percent of the time and should only miss a scoring opportunity via turnover, downs or clock 5 percent of the time. Maybe it's time to keep a close eye on how your favorite team is doing down on the "short" field.
Everything you need to know about the Packers-Panthers game on Sunday afternoon

The Lions will be wearing their Color Rush uniforms for the first time on Thursday

The Lions look to maintain playoff positioning while the Bears attempt to play spoiler
The Panthers have hired an outside law firm to conduct the investigation

Here's every official injury designation for each NFL team for Week 15

Bennett was one of the few players who escaped punishment after Sunday's melee in Jacksonv...