Game-used Deflategate football sells at auction for $43,740
A fan was handed the ball by Brandon LaFell during the third quarter.
According to a report from ESPN, one of the footballs used by the New England Patriots in last season's AFC Championship Game against the Indianapolis Colts was sold by auction house Lelands for $43,740.
The ball was given to Laura Anthony by Pats receiver Brandon LaFell after LeGarrette Blount scored a touchdown in the third quarter. Though the Patriots' footballs were properly inflated at the time of the score, ESPN noted this point:
Although the balls were re-inflated to the proper levels for the second half, the report by Ted Wells commissioned by the NFL said that they were in fact the same balls used during the first half.

So while it's unclear exactly how much that particular ball was used in the first half, it was in the rotation of deflated Patriots footballs. The Wells report cited the testing of four balls after the game.
According to a Lelands spokesperson, bidding for the football started at $25,000 in mid-June. It took only five bids to get up to the winning price. Per Lelands, here's a photo of Anthony posing with the ball after receiving it from LaFell: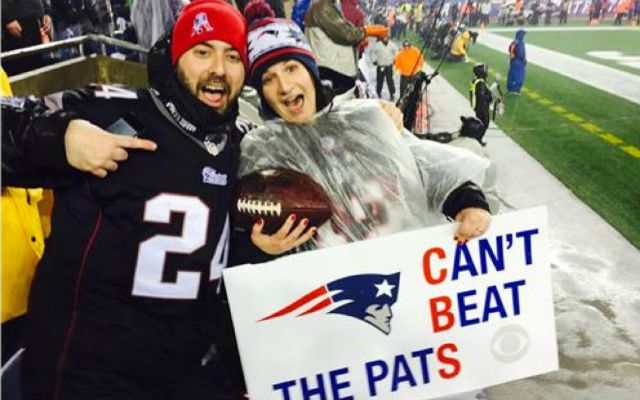 Along with the football, the auction winner received a "detailed notarized letter explaining how the ball was obtained" as well as "Laura's 'Golden Ticket' stub."
The Dolphins also donated $100,000 to the victims' fund after the school shooting that killed...

The Cardinals GM explains his process for finding Carson Palmer's successor

Stefen Wisniewski narrowly missed out on a chance to earn $250K, but the Eagles gave it to...
Shazier heads into the Steelers' facility every day and helps with 'personnel stuff'

Foles's life has completely changed by leading the Eagles to a win over the Patriots in Super...

For all of the attention Patrick Mahomes will receive, fixing the defense has to be Kansas...