Gayle Benson, Saints owner's wife, recovers sports writer's ring
The Saints might have lost Sunday, but Gayle Benson was one of the day's biggest heroes.
• 1 min read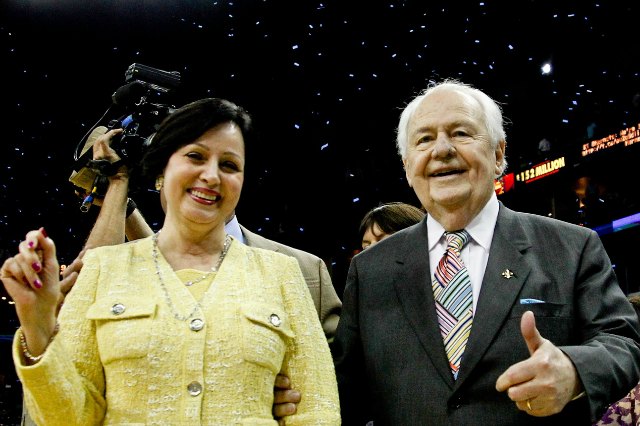 Perhaps you don't have a favorite NFL owner's spouse, but for at least one sportswriter, that honor now distinctly belongs to Gayle Benson, the wife of Saints owner Tom Benson.
That's because she found the accidently-discarded engagement ring of Jets beat writer Kimberley Martin in a press box bathroom Sunday during the Saints loss in New York. Benson then recovered it and handed it off to stadium security, according to Newsday -- Martin's employer.
"I am so happy she has her ring," Benson said. "So happy I saw it on the counter. I suspected it was an engagement ring. Very beautiful."
Martin left her ring in the bathroom while she was washing her hands, and she didn't discover that the ring wasn't on her finger until she was in the locker room conducting postgame interviews. Luckily for Martin, Benson already had recovered it for her.
"I am so touched that Mrs. Benson found the ring and was able to get it back to me," Martin said. "You have no idea what it means to me to have it back. I'm incredibly grateful."
All of this reminds me of a former South Carolina sports editor who apparently used to take off his wedding ring while he tapped out his stories on his computer. One day, while covering a Clemson game, he was bouncing his ring on a counter in the Georgia Dome and, from what my sources (and memory) tell me, he lost the ring for good.
I don't know how he left the press box without finding it, and I don't know how he would have explained that to his wife when he got home.
I'm just glad Martin didn't have to go through all of that after all. And hopefully she learned this very important lesson.
I think @KMart_LI just discovered how foolish it is to wash your hands. Let that be a lesson to you. (Glad you got it back, darling!)

— Jane McManus (@janesports) November 4, 2013
Follow Josh Katzowitz on Google+
Someone apparently threw a drink at Jefferson as he left the field and he was not happy about...

All of the best highlights from Week 14 are right here

Wentz suffered a knee injury while diving for the end zone
Lewis among several coaches on hot seat, Cam's amazing run, and more from Week 14 in the N...

Here are the Week 14 grades for every team that played Sunday

The legendary kicker added to his incredible career with a rare curveball XP