Geno Smith out Saturday for Jets
No Geno Smith on Friday for the Jets in the third preseason game. It's not a huge surprise but it obviously hurts his shot at winning the starting gig.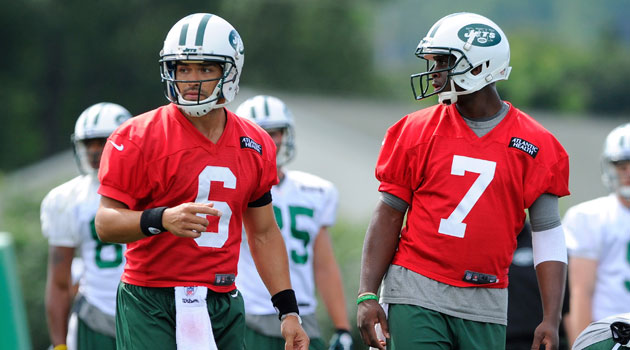 No huge surprise here, but the Jets won't have Geno Smith playing in their second preseason game when they face the Jaguars on Saturday night.
The Jags-Jets matchup -- a stinker on paper if there's ever been one -- actually had a sneaky-high level of intrigue with Blaine Gabbert/Chad Henne and Geno/Mark Sanchez battling it out to start for a pair of teams destined for the early portion of the 2013 NFL Draft.
But Geno suffered an ankle injury during the Jets first preseason game against the Lions and won't be taking the field as a result. Rex Ryan hinted at this earlier in the week that Smith could miss Saturday night's game when he referred to Smith's Wednesday practice session as "brutal." 
No Geno means plenty of time for Sanchez to cement the starting job. Jacksonville's defense was impressive their first time out in the preseason against the Dolphins.
But if Sanchez can put a dent in the Jags secondary he could also put a major dent in John Idzik's hopes of having his rookie steal the starting job in the preseason. It would also give Ryan precisely what he appears to want: the Sanchize stealing the show and giving the coach/quarterback combo one more shot at redemption.
Seeing how that works out should at the very least be entertaining.
The Eye on Football podcast brings you the best NFL analysis money doesn't have to buy. Subscribe on iTunes here!
Wentz rebounded from an awful interception with a 64-yard touchdown pass against the Redsk...

Cousins did not want to miss a meeting or his wife delivering their child, so he found a way...

Brock Osweiler is the Broncos' backup quarterback
A decision is expected to come down on Tuesday

Nick Kostos, a.k.a. 'Mr. Monday Night,' has a bold pick for Monday Night Football

Burfict, who has a lengthy history of suspensions, could still be fined for his actions