Geno Smith shows that Rex Ryan firing might not be a sure thing
With the Jets knocking off the Buccaneers in Week 1, maybe Rex Ryan can save his job.
• 2 min read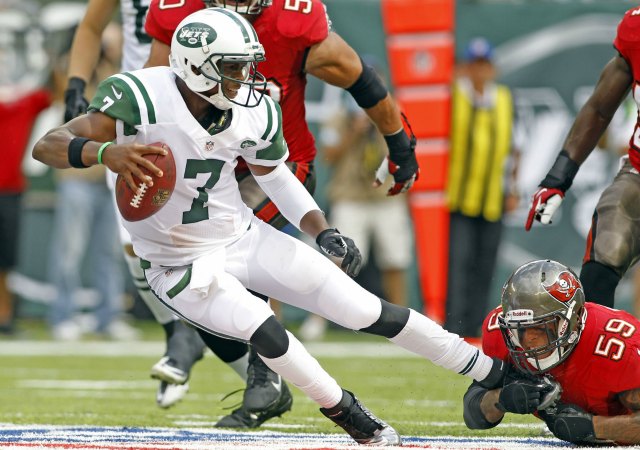 We all knew this entering the season: Rex Ryan would be fired in just four short months.
He had been lucky to keep his job in the offseason when former general manager Mike Tannenbaum had not. But he was unlucky because new GM John Idzik seemed intent on taking over the decision-making for Ryan and because Ryan, I don't know, seemed almost emasculated in the process.
So, it was an easy call: Ryan would lose his job after the season, because 1) the team would be awful again and 2) Idzik would want to hire his own coach.
Then, the Jets beat the Buccaneers, 18-17, in the season-opener after a Nick Folk game-winning 48-yard field goal, and now, we don't know what to think. The script that already had been written -- Rex Ryan would be gone by this time next year -- perhaps needs a rewrite.
Because the team is 1-0, and that's something. And maybe it's something on which Ryan can build.
Remember the quarterback controversy? Of course, you do. But with Mark Sanchez out for who knows how long with a shoulder injury and with Geno Smith coming off an unimpressive preseason, it seemed as though the Jets would have little-to-no offense. Even though receiver Santonio Holmes was making his return Sunday, the talent in New York's offense was so lacking that it would be near impossible for any quarterback to win with that squad.
But Smith looked more comfortable than I thought he could, completing 24 of 38 passes for 256 yards, a touchdown and an interception. He also rushed for 47 yards on six carries. Oh, and he led his team on two fourth-quarter comebacks. Mark Sanchez, who? Who cares.
The first comeback occurred early in the fourth quarter with the Jets losing 14-12. Smith took the team 60 yards on 14 plays to set up a 30-yard field goal, and after Buccaneers quarterback Josh Freeman countered with a field-goal drive of his own, it was up to Smith to help his team win the game with 34 seconds to play and his team on its own 20.  
Smith hit tight end Kellen Winslow across the middle of the field for a 25-yard gain, and then, Smith made his most important play of the day, scrambling for 10 yards but somehow goading Buccaneers linebacker Lavonte David into hitting him out of bounds for the 15-yard penalty. That set up Folk's game-winner.
And then there was the Jets defense. New York has talent on that side of the football, and it kept Tampa Bay in check for most of the day, holding Freeman to a pedestrian 210 passing yards and allowing running back Doug Martin a mediocre 65 yards on 24 carries. Yes, the 2-minute drill by Freeman was discouraging, but Smith helped change all that.
If the Jets are going to save their coaches job, that defense is probably going to have to pull most of the weight -- and will probably be bailing out the offense more often than not. The reality is that there really isn't much elite talent on offense and Smith probably won't continue to play this well on a consistent basis as he journeys through his rookie season.
But all that's for next week when the Jets face the Patriots on Thursday.
For a few days at least, Ryan and his team can celebrate a rather unexpected win -- and the first step toward reclaiming the job he supposedly already won't have in four months.


Follow Josh Katzowitz on Google+
The Blair Walsh revenge game got out of hand

The Seahawks just took a serious hit to their offensive line

Let's call it the Blair Walsh revenge game
Jeremy Lane also stood near Bennett along with pass rushers Cliff Avril and Frank Clark

Bennett also dedicated it to 'all of the other athletes using their platform to promote ch...

The Patriots quarterback shows commitment from Day One