Geno Smith still extremely angry about getting punched in the face
It's been five weeks since former Jets linebacker IK Enemkpali sucker-punched Geno Smith over a $600 plane ticket. Not surprisingly, Smith is still angry.
It has been five weeks since former Jets linebacker IK Enemkpali sucker-punched Geno Smith over a $600 plane ticket. Smith, sidelined after surgery, lost his starting job to journeyman Ryan Fitzpatrick, who helped the Jets to a season-opening win over the Browns last Sunday.
On Wednesday, Smith talked about all the missed training camp practices and preseason games, and what his role is now with the team that drafted him the second round in 2013.
"I'm extremely [angry]," he told Newsday. "But I have to keep my temper down. I can't exhibit that in the locker room, I can't exhibit that on a daily basis. I just feel for my family more because they enjoy seeing me out there."
As for whose team this is, Smith isn't sure.
"You know what? I'm on the team," he said. "The guys look at me as a leader. Whether it's my team or not, it's Woody's team. It's Coach Bowles' team. And it's a trickle-down effect," said Smith, who weighs 215 pounds, down from 223. "You want to say, OK, it's Fitz's team? But that's kind of pinning me and him against each other. We're all in this thing together. It's a collective bond, and it was that way when I was projected the starter and when I got hurt it was that way. And right now it's the same way."
For now, Smith remains buried on the depth chart as he works his way back into shape; first-year coach Todd Bowles said Smith won't be the backup behind Fitzpatrick for the Jets' Monday night showdown with the Colts.
"If I was playing bad and got benched, that's on me. But for something like that to happen, it's like ..." Smith said. "What can you do? You've just got to, kind of, weather the storm and move on from there."
Understandably, Smith says the last month hasn't been easy.
"Physically, I'm good," he said. "Emotionally, it's tough. But I've been getting good support in the locker room with the guys. Brandon [Marshall] has been one of the guys who's always been in my corner and he's been picking me up every day, if he sees me down. Cause it's natural to kind of get down. You want to play, you want to be out there. But he's keeping my spirits high and coach Bowles and Chan [Gailey], they put things in perspective for me. The key thing is, I've got to get healthy."
In the NFL, where opportunities are sometimes just a play away, it's reasonable to expect Smith on the field this season. What he does with that opportunity is another issue.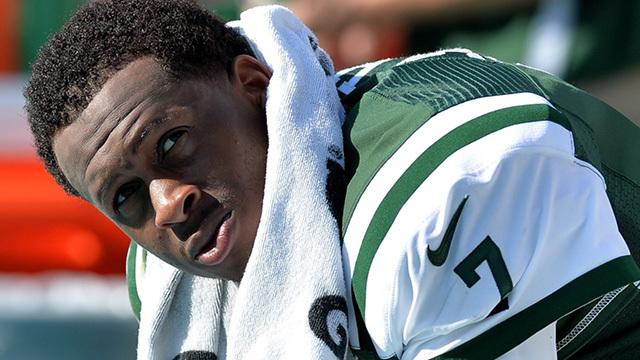 Martz unloaded on the Rams for hiring the youngest coach in the league

Jackson is deciding between Brock Osweiler, Cody Kessler, and DeShone Kizer

The Giants star receiver says he hopes his sprained ankle isn't serious after a scary hit Monday...
The Giants got a scare in the second quarter against the Browns

Welcome to the NFL's version of a dress rehearsal

The Browns protested the anthem on national television