Gerald McCoy on Bucs: 'A completely different feel around the building'
When the Buccaneers moved from coach Greg Schiano to Lovie Smith, they've helped change the locker room culture.
• 1 min read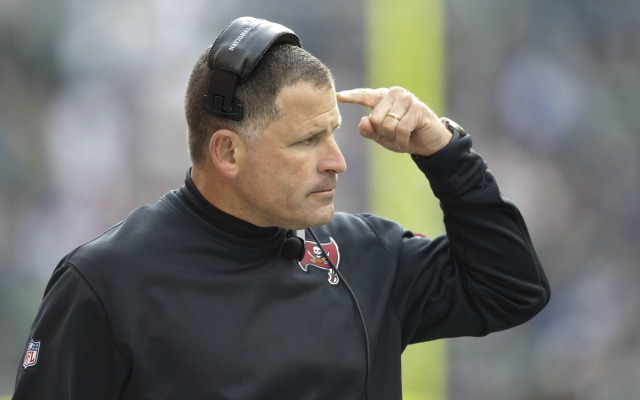 More NFL offseason: League minicamp dates | Latest news, notes
When the Buccaneers fired coach Raheem Morris, one explanation for the move was that the team members had gotten too comfortable in their environment. Morris, it was said, was too much of a players' coach and hadn't installed the correct amount of discipline, which partially explained why the team fell to a 4-12 record in 2011 after going 10-6 the previous season.
Thus, Tampa Bay hired Greg Schiano, who was going to take a more disciplined approach. An 11-21 record later and, after the second coaching change since 2012, the Buccaneers' pendulum has swung back the other way with Lovie Smith now in charge.  
Defensive tackle Gerald McCoy says that's a good thing.
"It's been a while since you've seen guys smile this much, have this much fun," McCoy said, via the Buccaneers official website (H/T to Bucsnation.com). "We were a tight-knit group last year, that's how we got through all that circus. However, this group is really tight-knit and having a lot of fun really throughout the whole building. I mean, it's just a completely different feel around the building."
One of the major criticisms of the Schiano era was that he was a college coach treating NFL players like college players. Understandably, that approach wasn't so popular among the players who believed they were leaving behind a college mentality after they, you know, left college.
Said McCoy; "We're professional. Trust us to be professionals."
That's what Smith seemingly is doing. Of course, he's had plenty of experience at the pro game, leading the Bears from 2004-12. To be fair, Schiano hadn't ever been a pro football head coach before he was hired before the 2012 season.
And sure, we were a little surprised when the Buccaneers fired Schiano after only two seasons. But if the team wanted a change in the organization's atmosphere, hiring Smith -- at least, to this point -- seems to be the answer that the Buccaneers players have been seeking.
Rodgers is eligible to return after eight weeks and the Packers reportedly aren't giving up...

The Packers think the hit is dirty, but the NFL apparently disagrees

Here's every official injury designation for each NFL team for Week 7
If it wasn't already clear, the Packers are not happy with the hit that injured Rodgers on...

Passengers were treated to some explicit chants from the Oakland running back, too

It's safe to say the Rams running back isn't a fan of traveling to London and back during the...