Giants coach Tom Coughlin's brother dies unexpectedly
John Coughlin, the 63-year-old younger brother of Giants coach Tom Coughlin, died unexpectedly on Monday.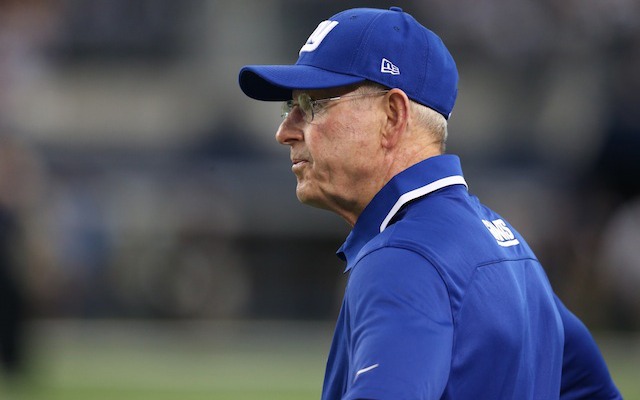 It's been an emotional week so far for New York Giants coach Tom Coughlin. Coughlin's younger brother John passed away unexpectedly on Monday in Bergen County, N.J., the team announced. 
The death was an tragic accident, according to the Newark Star-Ledger.
John Coughlin attended the Giants game against the Broncos on Sunday and on the way home, grabbed a cab. Once he arrived at his residence, John tripped and hit his head, a blow that caused bad bleeding.
John was then taken to the Hackensack Medical Center, where he later died. Tom was at his side when John's companion, Suzanne Malloy, decided to take John off of life support.  
The 63-year-old John Coughlin, who had lived in Hackensack, N.J., was Tom's only brother. Besides Tom, John Coughlin is survived by his companion, Suzanne Malloy, and five sisters, Carole Kingston of Canandaigua, N.Y., Kathleen Troutman of Waterloo, N.Y., Patricia Reed of Waterloo, Luann Coughlin of Waterloo and Christine Cohn of East Long Meadow, Mass.
"Our family is thankful for the expressions of sympathy and prayers for our brother John's passing," Tom Coughlin said in a statement. "We all appreciate them. John was a friend to all. He loved life, and he will be greatly missed. He left us way too soon."
John Coughlin was a horse trainer who actually operated a stable in East Rutherford, N.J., near where the Giants practice. John Coughlin had lived in New Jersey for over 20 years. 
The funeral for John Coughlin has been scheduled for Sept. 24.
Tom Coughlin's plan this week is to remain with Giants and coach against the Panthers on Sept. 22 before attending his brother's funeral on Sept. 24. 
The former Buccaneers kicker did not have things start well for him in Chicago

Bears special teams showed up in a big way against Arizona

Beast Mode got loose with Oakland and looked pretty impressive in the early going
Beast Mode was one of several players to sit during the Raiders-Rams game

The cleaning staff in Houston missed a couple of things while cleaning up after Super Bowl...

Marvin Jones had some serious fun in the end zone after scoring against the Jets