Giants DB Will Hill on Dez Bryant: He doesn't like to be touched
The Giants plan on getting physical with Cowboys wide receiver Dez Bryant on Sunday.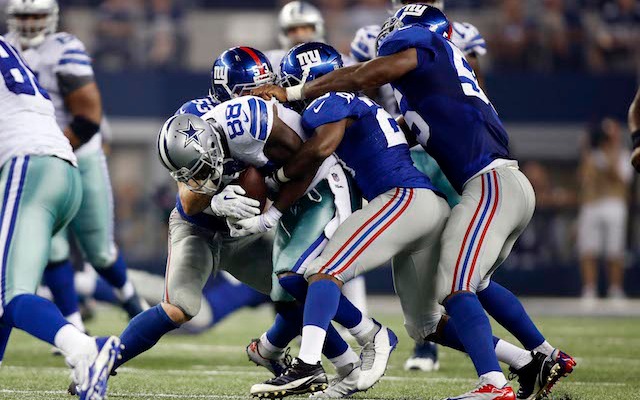 The last time Dez Bryant went up against the New York Giants secondary came in Week 1 when he finished with four catches for 22 yards. Ten games later, that 22-yard total still stands as Bryant's lowest output of the season. 
Why were the Giants so successful? According to safety Will Hill, it's because the Giants secondary gets physical with Bryant and Bryant doesn't like it. 
"Get your hands on him," Hill said, via NJ.com. "He doesn't like to be touched, like most receivers in this league. But really him. He doesn't like to be touched."
Giants cornerback Prince Amukamara agreed with Hill's assessment of how to stop the 6-2, 222-pound Bryant. "You just have to be physical with him," Amukamara said. "He's a big guy. You just have to use his medicine against him. I think that is the key."
Hill says the idea is to keep the ball out Bryant's hands because he can do some serious damage once he has it. Hill has a point too, Bryant is seventh in the NFL among wide receivers this year with 313 yards after catch. 
"Yeah, once he gets the ball, [he's physical]," Hill said. "He has to get in his route in order to get the ball. Just like any receiver, if you get your hands on him before they can get into their route, it's hard to get him the ball when you disrupt their routes."
The Giants better get ready for heavy does of Bryant, at least of Cowboys owner Jerry Jones is to be believed. Before the Cowboys bye last week, Jones said the team would work on ways to get Bryant more during the team's week off. 
Sunday's game is a big one for both teams, but it's probably slightly bigger for the Giants because a loss could put an end to any playoff hopes the team has. However, a win over the Cowboys would leave the Giants only one game behind the first place Eagles with five games remaining. 
Here are the Week 3 grades for every team that played on Sunday

Plus Lynch sputters, the Raiders defense falls flat and the response to Trump continues on...

From Brady's perfect pass to controversy in Detroit, we have it all covered from a crazy Week...
It's been a rough Sunday night for the Raiders

From London to Sunday Night Football, teams around the league demonstrated in response to...

The Raiders reportedly wanted to stay in the locker room, but came out to avoid a 15-yard...