Giants' Jason Pierre-Paul: Doctors wanted to cut my 'whole hand off'
Jason Pierre-Paul hasn't returned to his pre-fireworks-injury form just yet.
Jason Pierre-Paul hasn't returned to his pre-fireworks-injury form, but he's also played in just three games this season for the Giants after losing his index finger and the tip of his thumb in a July 4 incident that could've been much worse.
Pierre-Paul, who had 12.5 sacks in 2014 but has yet to register one this season, talked to the New York Post about the accident.
"It wasn't scary at all. I just went straight to the hospital. Didn't panic, no nothing, I just went straight to the hospital. One of my friends took me there," he said. "It wasn't painful at all. It was no pain, no nothing at the time. I was just like, 'I gotta get my hand treated.' I lost a lot of blood."
EXCLUSIVE PHOTOS: First look at Jason Pierre-Paul's hand without a bandage. http://t.co/G8FSGgKEck pic.twitter.com/Vaf0dj8aGk

— NY Daily News Sports (@NYDNSports) September 17, 2015
Initially, it wasn't clear if Pierre-Paul would ever play football again. In fact, there were concerns that he could lose his hand.
"Even the doctors counted me out," Pierre-Paul said. "They were like, 'Yeah, we're gonna have to cut his whole hand off' and, you know … I just told the doctor not to cut my hand and passed out.
"It's easier to take a shortcut out. I knew for a fact that my hand … I might say it's severely damaged or whatever, but I knew it wasn't that bad, like I can still play football."
And Pierre-Paul is back on the field trying to help the Giants, and their 27th-ranked defense, according to Football Outsiders, win the division (at 5-6 they're currently tied with the Redskins). Next up: the Jets.
And after the season, JPP says he'll give all the details of what happened last July.
"That's a story I'm gonna give at the end of the season," he said. "That's a big story right there."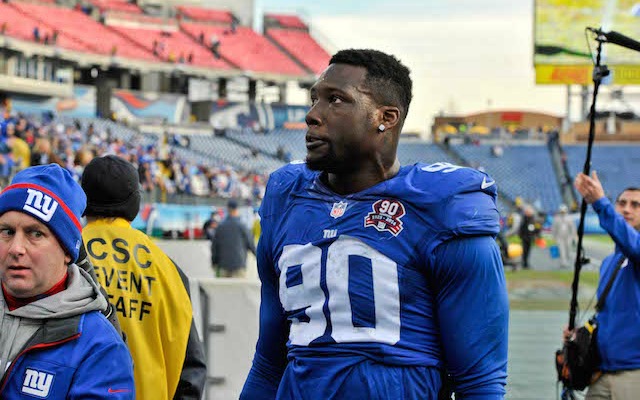 It had been rumored that the Jaguars might cut ties with Bortles, but instead he'll stay in...

Dez has struggled with injuries over the last few seasons

Cohen started last season red-hot before falling off dramatically but he has a ton of tale...
Beckham got injured during the 2017 preseason and then fractured his ankle after just four...

The Eagles were one of the most aggressive teams in the NFL in 2017, and it helped them win...

The ex-Dolphins offensive lineman was detained over a threatening social media post